I struggled with the title of this tutorial. "11 Ways to Get More Facebook Fans." I've seen too many articles with a similar title full of empty promises. And they're all written by shady social media "gurus" or "ninjas" who claim you're missing an opportunity to get rich quick with your Facebook page.
Let me be clear up front what this post is not… It's not a guarantee. It's not a get rich quick scheme. It's not a sales pitch to buy a product from me. It's not some secret recipe. It's a "real world" guide for real business owners based on what other real business owners do to successfully increase the number of their engaged Facebook fans.
1. Invite Friends and Customers

This is the first thing that you should do after creating your Facebook page. Invite your Facebook friends, share the page on Facebook and have your employees do the same. Then put your email list to work by announcing your new page to your customers with an email promotion. You should then make sure that "Like Us on Facebook" is part of your email templates — both promotional and corporate signatures.
2. Grow Naturally — Be Interesting!

No one wants to Like a boring Facebook page. And even if you do somehow drive 100,000 fans to your page, if you aren't interesting there is no value in those 100,000 people. You can grow naturally by simply being interesting enough that your current fans interact with you. When they like or share your posts, comment or post content on your wall, those activities are spread to their friends. Your fans' activities act as a recommendation to their friends to like your page.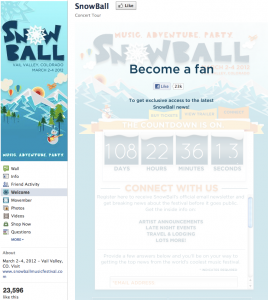 3. Fangate with a Welcome Tab

A Welcome Tab should be the first thing a prospective new fan sees when they come to your page. It should lay out what to expect when they "like" you, and there should be a clear call to actionA call-to-action is a button or link on your ad that suggests the action you want your audience to take. Examples: "Learn More" or "Sign Up." More to like the page.

A truly effective fangate has something of value the brand can offer if the person likes the page that they can't otherwise get. It's providing incentive to like the page.

To the right is an example I really like for the Snowball Music Festival in Vail Valley, Colorado by Movement Strategy. You can either click the image to get a close-up view or go to their fan page to see it in action.
4. Facebook Plugins

These seem so automatic, but I've seen far too many companies that have Facebook pages and you'd never know it by looking at their websites. They either bury mention of their page or don't mention it at all. A Facebook icon directing to your page needs to be part of the template of every page on your site. That part doesn't even need to be a plugin, though you can certainly use the Like Box plugin as well. And of course, you must have a Like Button on every page post.
5. Promote Your Page Offline

Don't stop at promoting your page online. You need to create offline promotional materials as well. Put "Like Us on Facebook" with a vanity URL to your page on receipts. Create flyers that you can place in windows and by registers. Drive customers to your page on any printed materials you may have, including business cards and mailers. Also use those materials to encourage customers to checkin (more on that later).
6. Tag Relevant Pages in Posts

Is the update you're about to make about a brand that already has a page? Tag them! When you do so, your update will also appear on their wall. If they have a large audience, your update then has a chance of reaching more people. At the very least, you may be setting the building blocks for starting a relationship with that brand since you are driving people to their page (and they may return the favor).
7. Partner with other Brands

Leverage the audience of other brands to drive traffic to one another. Offer a giveaway of your product if your fans like the other brand's page. Then have the other brand return the favor. Or maybe it's as simple as promoting one another in posts. Obviously, this partner shouldn't be a competitor but a brand that may provide you a whole new audience in your target demo.
8. Deals Exclusive to Facebook Fans

One of the main reasons that people become fans of brand pages is to get exclusive deals. If you offer deals that are available only to your Facebook fans, you are bound to have a more engaged audience that pays attention to your posts.

Run a "whisper campaignThe campaign is the foundation of your Facebook ad. This is where you'll set an advertising objective, which defines what you want your ad to achieve. More." Once a week, announce a new deal. Maybe even mention a secret code word for fun so that when they go to check out, they whisper that word to the cashier for their discount. Or maybe it's a matter of getting a blanket discounted rate if you're a Facebook fan. Or provide a coupon that fans can print out and bring to your store.

It could even be as simple as letting your fans know of the deals that are available to everyone. Every morning, announce your lunch specials. In the early afternoon, announce your happy hour specials.
9. Facebook Ads

I'll get into the details of Facebook ads in another post, but this is a really good — and affordable — way to attract new fans. You can target Facebook users by interests or location and target friends of current fans. And the amount you want to spend works into any budgetA budget is an amount you're willing to spend on your Facebook campaigns or ad sets on a daily or lifetime basis. More. The minimum cost of an ad is $1.

Depending on the barrier to entry, I've seen ads that drive 10 fans per dollar spent. I've seen others where it costs $1-2 per fan. Depending on your line of business and the potential revenue per fan, either may be acceptable. But it's so cheap, there's really no reason not to experiment and see if it can work for you.
10. Encourage Fans to Promote You

Your first fans are your biggest advocates. There's a link on the left hand side of your page for "Share" that allows fans to share you page. Ask your fans to share your page with their friends. You'll be amazed how far that goes!
11. Encourage Checkins

Do you have a physical location? Encourage checkins on your page. Ask your fans to checkin when they're at your restaurant and share a picture of their meal. Ask them to checkin and share a picture of the item of clothing they want to buy. Place signage in your store reminding them to checkin. When they do so, they are letting their friends know that they are at your location. This acts as a recommendation and is a very effective way of driving new fans and customers.
Other Ways?

This is a general guide, but what other methods have you used to successfully drive more fans to your Facebook page?