Mashable reports that Facebook is introducing sponsored stories to the Ticker.
Alright, before you get out your pitchforks, let's make sure we establish why we're angry. What is a sponsored story?
First, here's the generic definition of a sponsored story, as it applies to the typical (non-advertising) user:
Sponsored Stories are stories that are eligible to appear in your News Feed. These show up on the right-hand column of pages on Facebook. The types of stories that can be surfaced include: Page likes, Page posts, Page post likes, check-ins, app shares, apps used and games played, and domain stories.
Now here's a more detailed definition, as it applies to advertisers:
Sponsored Stories allow you to surface word-of-mouth recommendations about your brand that exist organically in the Facebook News Feed. To promote your Page, you can use Sponsored Stories to surface both Page posts and Page Likes. For example, if a person's friends like a Page, in addition to potentially seeing that news story in their News Feed, they can now also see the same story on the right-hand column on Facebook. Additionally, if you create a Page post it can now appear on the right-hand column for users that have liked your Page.

Sponsored Stories are different from ads, and including them with your Facebook Ad campaignThe campaign is the foundation of your Facebook ad. This is where you'll set an advertising objective, which defines what you want your ad to achieve. More amplifies the actions your target audience takes with your ads.
For advertisers, it means leveraging the activity of your fans to get more people involved. Things can get lost in a news feed, but sponsored stories are essentially a reminder of the awesomeness of your page. Hey. Come get involved.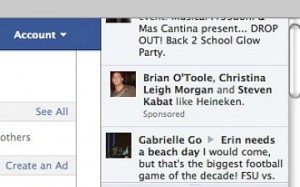 I haven't yet seen a sponsored story in my Ticker in the wild, but it's possible it's not fully rolled out. To the right is an example captured by Mashable.
What it Means for Brands

Obviously, any way to get more eyes for your brand is a good thing. More people see that their friends like or interact with your page, more people are likely to follow. I'll cover more details on sponsored stories later, but this is a nice little development for anyone looking to promote a brand page.
What it Means for Users

Two words: More noise.

Now… That's not necessarily a terrible thing. The Ticker, from the start, was meant to be noisy. It's all the stuff that your friends are doing, but not necessarily the important stuff. You catch bits and pieces of things that you would have otherwise missed.

The big concern, of course, is that that we have only started to taste how noisy the Ticker can be. Apps like Spotify that publish stories with frictionless sharing are still quite rare. They'll become more and more common, as will sponsored stories.

So the question becomes: Will the Ticker eventually become worthless? I love the Ticker now, but if it becomes flooded with sponsored stories and app activity, will people begin to ignore it?
The Verdict

I'll withhold judgment for now. My guess is that the information that comes through your Ticker will be adjusted as it gets noisier. And if it turns out that apps that use frictionless sharing don't provide information about friends that people care about, I'm sure Facebook will adjust that as well.

Personally, I think this is small. Yes, it's helpful for brands. But most brands still haven't started using sponsored stories. They should. I don't think this is going to result in a flood of advertising posts that you don't care about.

I think you'll rarely notice the difference. And you probably won't care. And maybe, just maybe, you'll interact with a brand you wouldn't have otherwise because of it.

What do you think? Does this change add value to users and/or brands?