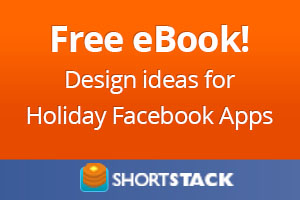 This is something we MUST get behind!
While everyone knows that I'm a big fan of ShortStack to create Facebook apps (and they are also now a sponsor of this site), I've become increasingly impressed with their content. The Socially Stacked blog regularly churns out great articles, and now they've put out The Ultimate Facebook Holiday Idea Book.
I'll get to the substance of the eBook in a second, but first the main reason I'm so excited about it:
ShortStack will donate $100 for every 1,000 downloads (up to $2,000) to the Make-A-Wish Foundation!
How can you not get behind that? And it's free! As the father of a cancer survivor, this is a goal I want to help them reachReach measures the number of Accounts Center accounts (formerly users) that saw your ads at least once. You can have one account reached with multiple impressions. More!
The "Idea Book" is info and superstar packed, loaded with quick tips from some of my favorites. You're bound to recognize most of these names as I've written about many of them here before:
Amy Porterfield
Amy Jo Martin (Digital Royalty)
Andrea Vahl
Ann Handley (Marketing Profs)
Ching Ya
Jesse Stanchak (SmartBrief on Social Media)
Jim Belosic
John Haydon (Inbound Zombie)
Melanie Duncan
Michael Stelzner (Social Media Examiner)
Shamba Kabanl (Marketing Zen)
Not surprisingly, the content is terrific. Here are some highlights…
Facebook Holiday Basics
Everything you need to know about the basics of your Facebook Page, including dimensions and basic how-tos.
Interactive Apps
Case studies and ideas around specific types of apps that you could create, including:
Cover Photo Design Contest
Holiday Photo Vote Contest
Virtual Gifts
Some awesome ideas in here, and I love the details.
Giveaway Apps
Even more ideas for apps, this time around giveaways. They include:
Refer-A-Friend Contest
Wishlist Giveaway
30 Days of Giving
Once again, I love that they provide details on how you can run your own promotions around each one of these ideas.
Non-Promotional Apps
Ideas behind using apps to crowdsource for information, feature the faces behind your brand and running a product countdown.
Charitable Apps
Some ideas here around how you can run a successful charitable drive, including:
Inspire Time Donations
Match Your Users' Gifts
Like-Drive Template
So check it out. Some great information. In the process, help a terrific cause!
Click on the button below for a direct link to the Idea Book!