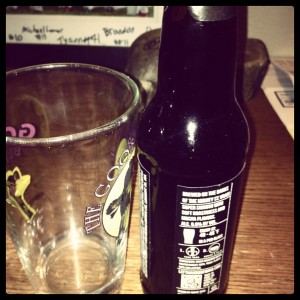 In this week's Social Media Pubcast, I get drunk on Facebook marketing all by myself. Yep, I had a guest this week. Unfortunately, I completely screwed up the recording and it didn't record my guest. So it instead sounded like I was talking to my imaginary friend for 30 minutes.
But this gave me a chance to expand on, reflect on and preview some of the content I've been writing. I want to provide more insight into the specific steps I took to get to where I am now — most recently named as one of the Social Media Examiner Top 10 Social Media Blogs of 2013.
I took these 30 minutes to reflect on what this means as well as talk about the specific turning points associated with my success. Those include:
New Years Resolutions
Building an Email List
Launch of Timeline for Pages
Redesign and Site Investment
Recognition from Big Names
Creating my First Products
Sponsorships
I also reveal the shocking dollar figure that I invested in my business in 2012. Any guesses? Make sure you listen…

Take a listen here:

[audio:https://www.jonloomer.com/podcast/podcastgen/media/2013-02-02_podcast35.mp3|titles=Social Media Pubcast – Episode #34]

Also, I'm pleased to announce that you can now listen and subscribe to my podcast on Stitcher!.

Don't forget to subscribe via iTunes, and make sure to rate and review!