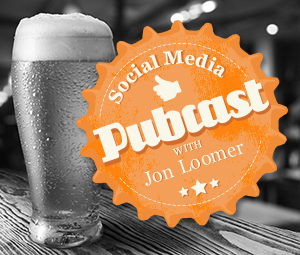 My special guest this week is YOU! Welcome to the virtual pub, where you and I get drunk on social media.
For the first time in a while, I didn't have a guest this week. But it actually gave me the opportunity to catch you up on some things and give you a look inside what goes on behind the scenes.
Of course, I stuck to the Pubcast format! I sipped on a Sam Adams Porch Rocker this week while I discussed the following topics…
The Life of an Entrepreneur and Life/Work Balance
The nice thing about recording by myself this week is that it gave me an opportunity to give you some insight into some of the things I'm dealing with. I don't have it all figured out, and I go through many of the struggles you do.
My life has been incredibly busy lately, and a big reason for that is baseball. I'm a huge baseball fan, and my three boys are all now playing. I coached my two oldest boys this year, and it was definitely the most fulfilling season I've had.
This busy baseball season came at the expense of business. I simply didn't have time to take on another client, start an online program or redesign my site. You pick and choose what is worthwhile, right?
That said, I am working on the redesign of my site. I'll continue to use Genesis Framework, but I am moving to a mobile responsive theme (more on that soon!).
I'm also working on a new online training program. I've been working on and delaying this for months, but I'm hoping to finally go public soon. I'll be opening for pre-pays shortly, giving early arrivals a big discount. Stay tuned!
If you haven't noticed, I'm making my One-on-One Coaching Sessions a higher priority for my business. This has been a hugely successful program, both for my clients and for my business. Simply go to JonLoomer.com to reserve a session. You'll have 45 minutes to get one-on-one time with me to talk about whatever your issues are with Facebook or content marketing.
Just for listening to today's show, you get a discount. Listen for the promo code!
Facebook Hashtags
The big news is that Facebook has launched hashtags. So, what are they? How should you use them? And what are the problems with hashtags? I discuss these things in great detail.
Tools I Use
People often ask me about what tools I use or recommend that make my Facebook marketing easier. I wrote a post on this, but here are the main ones and a short description:
ShortStack: What I've used for a year and a half to build all of my Facebook tabs. Love this tool!
AgoraPulse: Can be used for creating tabs, community management and a whole lot more. I use it for data analysis.
PerfectAudience: One of the tools I use to create FBX — Facebook retargeted ads. This is the future of Facebook marketing. Use this link to get a free $70 trial — this covers the ads themselves, too!
AdRoll: Another service that I use to create FBX ads. Use this link to get a free $60 trial that covers everything including the ads.
PropelAd: Helps you understand which posts you should promote based on interaction. I also use this to get alerts when posts are doing especially well.
PostPlanner: This tool has been a lifesaver for me regarding bulk scheduling Facebook posts. But also great for many problems associated with Facebook community management and content development.
Sit back and enjoy. CHEERS!
Take a listen below. You also have several ways to access the Pubcast:
Like the Pubcast? Don't forget to subscribe, rate and review!