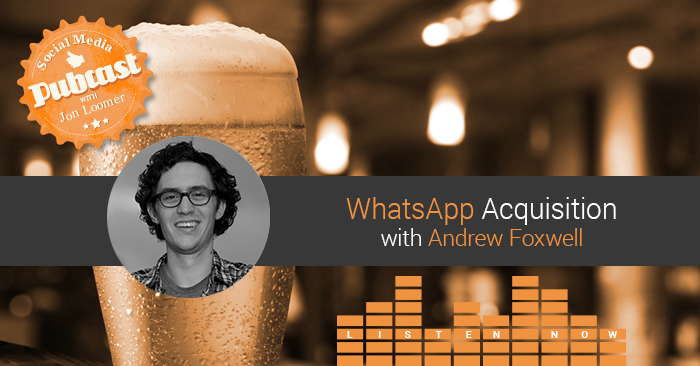 This episode was broken down into the following sections:
WhatsApp Acquisition
The Value of Facebook Ads
The Power of Website Custom AudiencesA website custom audience matches people who visit your website with people on Facebook. You can then create ads to show to that audience. More
Using Facebook Ad Reports
[Tweet "Geek Out! Jon Loomer and Andrew Foxwell chat about WhatsApp over a beer…"]
Thanks to my friend and fellow Wisconsinite Andrew Foxwell of Foxwell Media for sharing a beer, his worldly travels and his wisdom on ads.
Mentioned and Related Links
Following are links that were either mentioned during this episode or are relevant to the discussion:
Website Custom Audiences, Interest Targeting, or Facebook Ads leave you confused? Let's Talk! Schedule a one-on-one session.
Listen, Subscribe, Rate and Review!
Listen from either the player or clicking the iTunes button below.
If you use iTunes, please subscribe, rate and review! That's how I end up reaching more people.