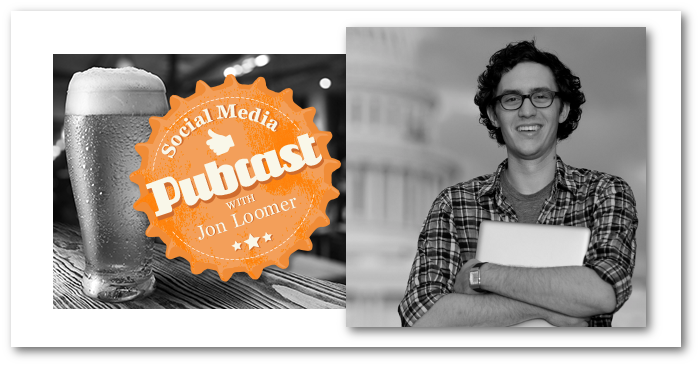 I've been hosting a lot of private Pubcasts lately, just you and me and a couple of drinks. But I decided it was time to bring an old show favorite back to the pub.
Andrew Foxwell is one of those guys I love chatting with about Facebook because he not only gets it, but I'll always learn something new from him. He's handled big accounts from the ad agency side, so he sees things at a different scale than I do.
Last time we had Andrew on the show, he was working for the man. Since then, he's traveled the world and started his own business. Love that!
Andrew brought a Monks Ale to the bar this week while I worked a No. 3 India Pale Ale.
Here are a few of the main topics we covered…
Sidebar vs. News Feed vs. Mobile
I wrote about my surprising findings earlier this week, but I wanted to get Andrew's take on it as well to see if it was consistent with what he's seen.
This led to a deeper discussion about mobile, why it costs what it does, costs per acquisition and the future of Facebook advertising.
FBX
I've been tinkering with FBX on and off for the past several months. For those uninitiated, this is Facebook retargeting. It allows you to reach users who have previously visited your website with an ad on Facebook. Very powerful!
You need to use an approved third party to run these ads (I use Perfect Audience in most cases), and it's become a very popular option for advanced Facebook marketers. This allows you to reach yet another highly relevant audience beyond your Facebook Fans and email subscribers.
Andrew provides some nice insights here regarding how brands can use it.
Budgets and Frequencies
Should you never use lifetime budgets? We have controversy! Andrew and I discuss our differing perspectives.
Also, we drool over the possibility of controlling frequencyCalculated as (Impressions/Reach), Frequency is a Facebook ads metric that measures the average number of times users have seen your ad. More in our advertising. Until then, Andrew drops some great tips on what your limits should be on frequency.
Boost Post Update
Neither of us recommend boosting posts, but the recent changes at least make it a better option for smaller brands. We break down what happened for you.
Need an Ads Manager?
More and more lately, I've been getting requests to manage ads for others. More and more, I've been turning those requests down because I want to focus more on my own products.
However, I see this as an opportunity. I am assembling a Facebook Ads Management Referral Network, and Andrew is a part of it. If you are looking for someone I trust to manage your ads, let me know and I'll put you into contact with them. Minimum monthly budgetA budget is an amount you're willing to spend on your Facebook campaigns or ad sets on a daily or lifetime basis. More should be at least $2,500.
Want to Be a Referral Partner?
I'm assembling this network and looking for the right people. You need to be someone I trust. So feel free to reach out to start that conversation.
Become a Featured Fan!
Want to be featured on the Pubcast? Go to jonloomer.com/awesome to submit your question!