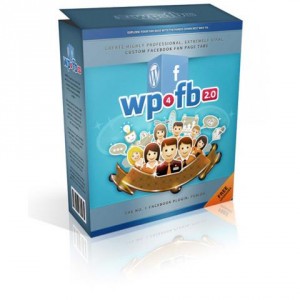 The most powerful WordPress plugin for Facebook Page design has been upgraded. WP4FB 2.0 was released today, loaded with amazing features.
I've just begun to mess around with it, but WP4FB 2.0 offers the following:
Create custom Facebook tabs for your Page
Drag and drop interface within WordPress to design tabs
Templates for those without coding or design skills
Run sweepstakes, capture email addresses and auto-post to walls
Create image galleries and embed video
Out of the box short codes to easily build your page
As you know, I build my tabs with ShortStack, which is a third party application (read my review here). But WP4FB 2.0 certainly an interesting option for anyone wanting to create Facebook tabs directly within WordPress. It's also a one-time licensing fee instead of the recurring monthly expense, which some people may prefer.
I'll write a full review later once I've had more time to mess with the tool. In the meantime, I was able to track down an interview with the founder of WP4FB 2.0, Wilco de Kreij. Watch the quick video and read more about the benefits of WP4FB 2.0 below…
Jon: Tell me about your company. When did you get this started? Who is involved?
Wilco: My business officially started in 2006, but "unofficially" I became an entrepreneur in 2003 – at age 16 – when I started importing and selling various goods (e.g. sunglasses) online. By the time I officially started I didn't sell any tangible products anymore and was focusing at online marketing, mainly for the Dutch market. I'm the only owner, but I do have a few "in-house" developers to help me develop things.
---
J: Tell me about the product. What problems does it solve?
W: WP4FB 2.0 helps Facebook Page owners set up custom tabs inside their Facebook Fan Pages that will help them get more out of their Facebook Fan Pages.
---
J: What new features are available in 2.0 that weren't available in 1.0?
W: It's a long list – there are many small things that we added as well. I'll just stick to the main ones:
Drag & drop interface to style/design the Facebook fan pages
FriendGate, a feature that lets users reward their fans for referring their friends over. For example, a visitor will only get access to the content when X of their Facebook friends joins as well.
Users can now create viral sweepstakes and contests inside their Facebook Tabs.
Auto-wall poster that can post messages on the user's wall on their behalf.
Ability to collect your fans' email addresses and send it to your email subscriber list.
Ability to create and manage unlimited tabs from a single WP4FB 2.0 install.
---
J: Impressive list! So, how is your product different than other WordPress products as well as other third party products that aren't managed through WordPress? What separates WP4FB from the rest?
W: There are a few other WordPress plugins to create custom Facebook Tabs, but they don't offer much more than a 810px-theme and some basic Facebook features such as as LikeGate (which WP4FB 2.0 offers as well, of course). So far, there's no WordPress plugin to create fan page tabs that has features such as drag and drop interface, friendgate, sweepstakes and contests, auto-wall poster and email collector, to name a few.
The difference between a WordPress plugin and other third party services is – for starters – that a WordPress plugin doesn't have any monthly costs. All the Page Tab services out there do. More importantly, a WordPress plugin gives the user the freedom to create what he wants without being limited to the makers' imagination. There are literally tens of thousands of other WordPress plugins out there that could enrich the Facebook Tabs created with WP4FB 2.0. More advanced users can even create their own modifications to their need.
---
J: Why did you decide to build this as a WordPress plugin instead of a product separate of WordPress?
W: I'm a big WordPress fan and try to do everything with WordPress, that's the first reason. Secondly I discovered there was quite a demand for it which was (at the time of the first release) unfulfilled.
---
J: Who can benefit most from this — who is your target customer?
W: Every business owner and/or fan page owner. However, if you don't know what WordPress is (or how it works) then it might be better to go with a monthly subscription service. Looking at our existing user base it's also being used by many social media agencies to set their clients up with custom Facebook Tabs without paying hundreds or sometimes even thousands a month for licensing fees. With WP4FB 2.0 they pay a one-time-fee and they're good to go.
---
J: What are the licensing options? Any special offers available to my readers?
W: There are 3 licensing options:
A single fan page license that allows the user to use WP4FB 2.0 on a single fan page.
An unlimited personal license that allows the user to use it on an unlimited amount of fan pages, as long as all fan pages are his/hers.
An unlimited agency license that allows the user to use it on an unlimited amount of fan pages, even for their clients.

Since it's easy to sell custom tabs to clients for $800+, the third is a no-brainer if you'd ask me :)

When they purchase in the first seven days (expires 8/28) we'll also make sure they'll get access to their own free SSL certificate :)

---

J: What can we expect from your product in the future? Any other exciting plans? How often will you be making updates and enhancements to the feature set?

W: I have one fulltime developer on WP4FB 2.0 who will keep doing updates as I'm aiming to make this plugin even better than it already is. We'll make sure to keep this up to date with every Facebook change, and we also appreciate any sort of feature request.

Outside of WP4FB 2.0, I have various projects planned – but I can't reveal too much about that yet ;-)