I started writing this blog post about why I'm doubting the power of Twitter to drive traffic consistently or efficiently. I did more than start, I finished it.
Then I read it and realized I wasn't buying my own argument. I wasn't buying it because that initial argument ultimately wasn't what I really wanted to prove.
No one should tell you that "X" social network doesn't work. There is no universal truth. Your results are dependent on your brand, your target audience, your methods, the work you put in and what you are looking to get out.
For me, however, there is no question that I get more out of Facebook. The purpose of this post is to explain why I spend more time on Facebook than Twitter.
My History on Facebook and Twitter

It wasn't until I went through my Facebook Timeline recently that I realized something startling: I've been on Facebook for five years. That's insane.

I've not only been on Facebook for five years, but I was first exposed to using Facebook for business purposes five years ago. It was only because I worked for the NBA in 2007 that I created a Facebook account in the first place.

How long ago was it? It was so long ago, that you couldn't build your own app. We had to partner with Facebook, who built a playoff bracket application for us. It was so long ago that I created a group for the NBA that I managed instead of a page.

Meanwhile, I've only been on Twitter for about three years. That said, I've been consistently active on Facebook through that entire five years. This is not the case with my main Twitter account, where I didn't really get going until around two years ago.
My Presence on Facebook and Twitter

I've managed a slew of Facebook pages over the years, but the one that is core to my business is Jon Loomer Digital, focusing on Facebook tips, mainly involving brand marketing. This page is only a few months old, but I spend a lot of time on it, and the little community is up to over 1,800 people now and going strong.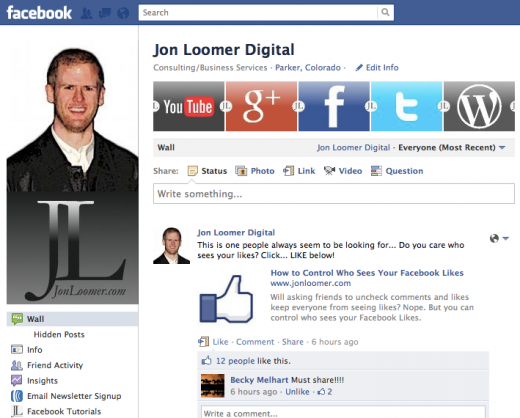 A labor of love I have is Brewers Updates From 1982, which is part of a larger network of websites, Facebook and Twitter accounts. The purpose of it is to retell the 1982 season of the Milwaukee Brewers in real time, as if it were happening today (with no knowledge of the future). This could get fun when pages get switched to Timeline!
I've managed a long list of Twitter accounts over the years, but the three I focus on most these days are @TweetsFrom1982 (retelling the 1982 season of the Milwaukee Brewers in real time), @BrewCrewLive (news and reactions about the current team) and my personal account @JonLoomer. Needless to say, my personal account is a bit more boring than the other two. I have a lot of fun with @TweetsFrom1982 and @BrewCrewLive during the season. I'm in a bit of a lull right now before the season starts.
Right now, my @JonLoomer account is admittedly boring. I promote my latest blog post every morning. I schedule six other tweets that promote old posts. I reply to anyone who replies to me. But otherwise, I don't spend much time on it. I'll explain why shortly.
How My Time is Spent

The rest of this post will focus only on Jon Loomer Digital on Facebook and @JonLoomer on Twitter. Those are the two accounts I use to build my personal brand and drive traffic to this site.

There's an important point to make about these two accounts. After waffling for some time about whether I could survive on Facebook subscriptions or needed a business page, I decided that a page was necessary. I'm glad I did it. It allows me to separate personal from business, but it also allows me to separate my various interests. Of course, there's also the matter of Facebook Insights and Facebook Ads, which are only available to pages.

On Twitter, I made no such change. To be honest, my account has suffered as a result. I've gone from focusing @JonLoomer on baseball to non-profit technology to baseball to social media. My list of followers is a crazy mishmash, and they all have to be a bit confused.

But I never set up @JonLoomerDigital on Twitter (okay, so just after typing that I went and reserved it). And there's a reason why.
The Business Reasons for Why I Lean Facebook

After starting my business as a very general social media consultant, I have shifted more and more of my focus to Facebook. It wasn't necessarily intentional. I knew I needed a niche. But the content flowed naturally and topics about Facebook were generating the most response.

Since I brand myself as being a Facebook expert, I realize my subject matter is less interesting to a Twitter audience. As a result, I spend less time there.
The Statistical Reasons for Why I Lean Facebook

I am so much more efficient on Facebook than on Twitter. I feel like every minute I spend on Facebook could bring a new click, a new lead or a new customer. Meanwhile, I feel like I'm wasting my time with each minute on Twitter (again, this is only in regards to @JonLoomer).

Here are the statistical reasons that back that up, using yesterday as an example…

Based on my count, links to my website were shared 15 times on Twitter yesterday, which includes seven of my own tweets. Of those tweets, one was by @MikeSansone, who has over 8,000 followers.

Those 15 tweets netted my website a grand total of 11 referrals from Twitter. Let's assume that all eight people who retweeted me had visited the site from a link of mine. That leaves three more clicks between my eight tweets and the people who read the retweets. And that includes one person with a large audience.

In other words: Twitter is grossly inefficient for me.

Looking at data like that makes me wonder why I spend any time on Twitter. I spent five minutes on LinkedIn yesterday and got 33 referrals from there.

Meanwhile, I shared two of my own links on Facebook yesterday. I'm not able to track who shared what as well there, but 33 people shared my links directly from my page. My total number of Facebook referrals to my site: about 1,400.

I posted four updates to Facebook compared to eight on Twitter. While those posts themselves can't be considered the source of all of the traffic in either case, it's clear that I can't even get off the ground on Twitter, even when people with an audience can share. Meanwhile, Facebook is like a well-oiled referral machine.

In other words: Facebook is incredibly efficient for me.
What it Means

It's important to reiterate that this is not an argument meant to apply globally for Twitter users. Twitter doesn't work for me when it comes to this website. But it could work for you.

The key is to understand your brand. Understand your goals. Understand your audience. But most importantly, understand your limitations.

I decided, not too long ago, to start focusing my business on Facebook. I realized I couldn't be everything for everybody. And being great at one thing could be an asset.

Meanwhile, I also understand that if I try to be great at everything, I'll undoubtedly spread myself too thin. As it is, I never feel like I have the time to do what I know I need to do — and this is not coming from a guy who is swimming in new business.

Don't let anyone tell you that you need to be on social network X, Y and Z. The days of having to be everywhere all the time are gone. You can't possibly do well everywhere at once, and anyone who says they can is either lying or has no time to do anything other than manage their social media accounts.

Where you focus your time should be determined by your audience. Let them tell you where you should be. They will tell you by how they react to your content. The data will reflect it.

I've heard Robert Scoble (@Scobleizer) say that he gets more referrals from both Twitter and Google+ than he does Facebook. It can be done. It has a lot to do with his audience.

For me, it's all about Facebook. It's not even close. And it's because of the need to use my time wisely that I spend more of it on Facebook than Twitter, Google+ or anywhere else.

How about you? Where do you spend most of your time? Where have you seen your greatest returns?