Getting an online business off the ground is hard. My personal struggle is between giving away as much valuable, free information as I can (complementing my work as a consultant) while somehow building a profitable business. I'm confident it can be done, but there's an awful lot of trial and error that goes along with finding that perfect combination.
For those of you who don't know my background, a quick introduction. Up until last August, I had six pretty awesome years of employment that started with three seasons as the Senior Manager of Fantasy Games for the NBA and ended as VP of Strategic Marketing for the American Cancer Society. But then I was laid off on August 18, and things went crazy in a hurry.
I tell you this because it's an important factor in my business. I didn't plan for it. I didn't have time to wait for it to work. And monetization had to be a priority.
So while I wanted to keep my site as focused on the product as possible, it became apparent that I'd need to consider monetizing with ads. Let me be clear about something: I hate ads. I wanted to keep my site free of ads, but I realized that they would be a good way to at least cover the expenses associated with the site.
While I have experimented with Google AdSense, I'm realizing that participating in affiliate programs may be the perfect fit for me. And it may just be the right fit for you.
What Are Affiliate Programs?

While you have little to no control over who advertises on your site with Google AdSense, you have full control with affiliate programs. You place an ad for the company of your choice and bring in a set amount or percentage of any revenue you direct.

There are only three services that I pay for to make my site run: Hosting (BlueHost), my premium WordPress theme (U-Design by ThemeForest) and my newsletter (AWeber). What better choices for affiliate programs than brands I use and recommend?

Maybe these three brands are right for your site. Maybe you want to become an affiliate. Let me describe the benefits of both for each product.
BlueHost Hosting and Affiliate Program
BlueHost is the only hosting company I have used. For $6.95 per month ($5.95 with a two year commitment), I get the following:
UNLIMITED Domain Hosting
UNLIMITED GB Hosting Space
UNLIMITED GB File Transfer
UNLIMITED E-mail Accounts
FREE Domain
Depending on the traffic your site generates, BlueHost may or may not be right for you. My site has peaked at about 13,000 page views in a day, and I've had few problems. If you don't expect massive traffic and budgetA budget is an amount you're willing to spend on your Facebook campaigns or ad sets on a daily or lifetime basis. More is a priority, you should definitely check out BlueHost.
In terms of the affiliate program, it's a very nice deal. For each new conversion from my site, I get $65. Not bad for a service that costs me $72 per year. If I send one referral, I essentially get my hosting for free.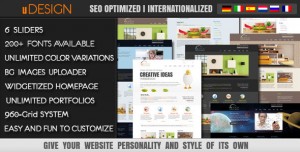 I love this theme. It's a bit overwhelming at first because there are so many options, but it's professional, stable, clean, SEO friendly and has excellent support. It's pretty amazing. You can see the preview here. The theme costs $35 and you can buy it here.

As an affiliate, I receive 30% of any first purchase. It's a pretty basic program. But I believe in the product, so I'm more than willing to promote it!
AWeber Email Marketing Software and Affiliate Program
My first newsletter finally goes out today, and it will be through AWeber. I originally had an account with MailChimp and waffled for some time on which to go with. But I had heard repeatedly that it gets messy to move (and it was), so it's better to do it sooner than later. And I received several recommendations from bloggers with large audiences that AWeber is the way to go. It may be more than enough now, but it's a service that I can grow into.

Here are a few of the benefits:
Create and send professional email marketing newsletters
Build your list with great looking signup forms
Collect, manage and send to specific segments of subscribers
Send a sequence of automatically delivered emails
Over 150 HTML email templates to choose from
Automatically create emails from your latest blog posts
Track the performance of each email or campaignThe campaign is the foundation of your Facebook ad. This is where you'll set an advertising objective, which defines what you want your ad to achieve. More
Integrate third party applications
Target subscribers based on their actions
Excellent customer support
The service is $19 per month, but $1 for the first month (pricing goes up a little if you have more than 500 subscribers). Just a solid, scalable product.
As with the U-Design premium theme, I receive 30% for any referrals from this site who sign up for AWeber. Even better, though, is that I continue to receive 30% for any subsequent purchases. That's pretty sweet!
The Verdict on Affiliate Programs?

I've just started using these programs, so I can't vouch for how profitable they may be. But that's not the top priority for me. If ads on my site are a necessary evil, I might as well promote something I use and passionately support.

Interested in BlueHost, U-Design or AWeber? Support my site by purchasing these products through the links on this page!

How about you? Are you involved in any affiliate programs? Which ones, and what results are you seeing?