A big, big thank you to Amy Porterfield (Amy's website, Facebook Page, Twitter and Google+) for inviting me to write a guest post about Facebook Promoted posts on her website. As someone I respect, this was a true honor.
Following is the intro. You can read the entire blog post here: The 5 Myths of Facebook Promoted Posts
---
The Facebook Promoted Posts feature is the simplest way to start an online advertising campaignThe campaign is the foundation of your Facebook ad. This is where you'll set an advertising objective, which defines what you want your ad to achieve. More anywhere. Hands down.
Click "Promote." Click "Save." Campaign starts…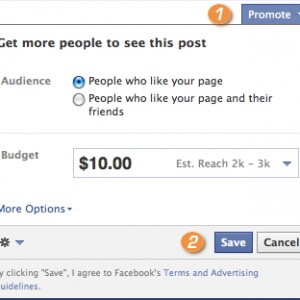 Sure, if you're a first time advertiser you'll need to enter a billing method. And you can adjust your budgetA budget is an amount you're willing to spend on your Facebook campaigns or ad sets on a daily or lifetime basis. More and whether you're targeting Fans or Fans and Friends of Fans.
But man. That's easy!
Because it's so easy, it's incredibly tempting to promote nearly every post I write. The ReachReach measures the number of Accounts Center accounts (formerly users) that saw your ads at least once. You can have one account reached with multiple impressions. More screams at me immediately after publishing. It's no coincidence that this statistic is right… next… to the Promote button.
So it's easy. Almost too easy. And I've gotten great results from Promoted Posts. But I know that many of you still need to be sold. In fact, you've already been sold something, and that's a bag of lies.
There are several myths about Facebook Promoted Posts that are making their rounds, likely started by people who don't know what they're talking about. Don't perpetuate these myths. Educate!