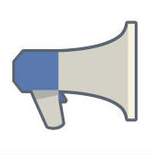 Prior to starting a Facebook advertising project for a client, we reviewed their current and prior efforts. What I found was a common mistake that I see small businesses making. Luckily, it is easy to correct.
The problem I saw with my client was this: They were creating Facebook ads that drove traffic to their website's home page.
The biggest transgression here is creating a Facebook advertising campaign that drives users to a page that lacks measurable results.
The second is that the ad drove users off of Facebook. Granted, you can create a successful campaign that drives users to an external website, but I would not recommend it.
Facebook Ads Must Drive Measurable Actions
Were their campaignsThe campaign is the foundation of your Facebook ad. This is where you'll set an advertising objective, which defines what you want your ad to achieve. More successful? I have no idea because we don't know what users did after clicking on these ads. Did they convert? Subscribe? Buy a product? The evidence went into the ether. In all likelihood, though, this client spent over $500 to send people to a website and got nothing out of it.
When creating a Facebook advertising campaign — or any advertising campaign, for that matter — you must have clear goals with measurable results. What ultimately do you want to have happen? As a marketer, you need to have data beyond the click.
The destination of those ads must then lead to those goals. There needs to be a contact form, product purchase page, subscription form or something else that requires another action. This way, you can easily determine success of your campaign.
Facebook Ads Should Drive Traffic to Facebook
Technically, you could successfully create a Facebook ad that drives people to your website. You would drive that traffic to a landing page with a contact form, product purchase page, subscription form, etc.
But there are two main reasons why you shouldn't do this:
Facebook ads with an external destination are more expensive; and
Facebook users prefer to stay on Facebook.
Not surprisingly, Facebook wants you to keep its users on their website. As a result, they will make it more cost effective to use ads that drive people to your Facebook Page instead of another site.
Likewise, Facebook users don't like to interrupt their activity on Facebook. Your ad that drives them to an external website is an interruption. Expect most of such clicks to result in immediate exits.
Your Facebook ad should do one of two things:
Increase Facebook Likes; or
Drive users to a Facebook tab that leads to a measurable action.
This is the biggest advantage of using a Facebook tab as your destination instead of an external landing page. Let's say that you recreate your external website's product purchase landing page within a Facebook tab. The user has two options:
Make the purchase; or
Like the Page.
If you drive them to a landing page on an external website, there is only one option: Make the purchase. Now, you can at least open the lines of future communication if they Like your Page, allowing for an increased possibility of a future purchase.
The Solution: ShortStack
Now that you're convinced of the value of Facebook landing tabs for your advertising, you need to create them. How?
If you're a developer or have access to a developer, you can create an app yourself. Or if you have some programming knowledge, you can use the Static HTML application.
If you aren't a developer, ShortStack is a great third party solution that provides dozens of templates to create the landing tab that is right for your you. I use ShortStack for all of my tabs, including the tabs I develop for clients. You can read my review of ShortStack here.
If you'd like me to develop your Facebook tabs for you or help you with your Facebook marketing strategy, you can view my services here.
Do you use Facebook ads to drive users to a tab within Facebook? Tell me about your experiences below!