Back in December, I wrote an article called the 5 Step Facebook Marketing Plan which covers how to manage your social media marketing in times of tragedy.
Four months later, it's time for a reminder. I'd also like to make some additions.
The 5 Step Action Plan
As a reminder, the five things you should do in such a situation are as follows:
Stop Everything
Listen and Observe
Contribute or React
Evaluate Planned Content
Reboot
What I Did
As soon as I heard the news from Boston, I did the following:
Paused scheduled posts to Facebook
Paused Facebook ads
Checked for any planned email marketing
Paused scheduled posts to Twitter via Buffer
Paused scheduled posts to Twitter via Tweet Old Post
Paused scheduled posts to Twitter via Hootlet
I then started observing what other brands were sharing as well as how users were reacting to those posts.
I decided to only share this post: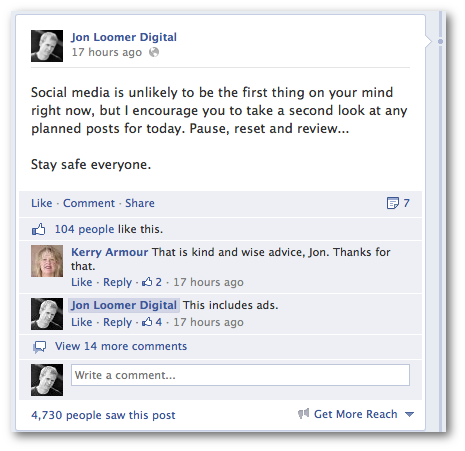 Brand messaging can often come off as insincere during these times, so I decided to keep it quick and to the point.
My reboot begins this morning (one day later), but I will check to make sure all posts stay on message.
Addition: Have a Backup
I'd like to add an item to my 5-Step Action Plan. It's imperative that you have a backup who can help you if you aren't available.
Scheduled messaging is great since it helps you stay "present" when you're not. It also allows you to spread out your messaging instead of focusing it all during times when you're available.
But you should consider turning it off during times of tragedy when your messaging is no longer relevant. And it's entirely possible you won't be available to do this.
Some brands left their auto-posting on. In many cases, I completely get it. Maybe they hadn't heard the news yet. Or maybe they were not in a place where they could turn this off.
That's why it's important to have a backup who can turn this messaging off if necessary. It could be an employee, but it could also be a spouse or friend.
Just make sure to communicate this with someone who can help you next time.
Final Point: Don't Be a Jerk
When people ask whether it's necessary to shut off auto-posts, I say that it's better to be safe than sorry. There's little to gain by keeping it on. And there's plenty to lose.
But there were some who not only left their auto-posts on, but they were defiant and rude about it.
See this post from Guy Kawasaki: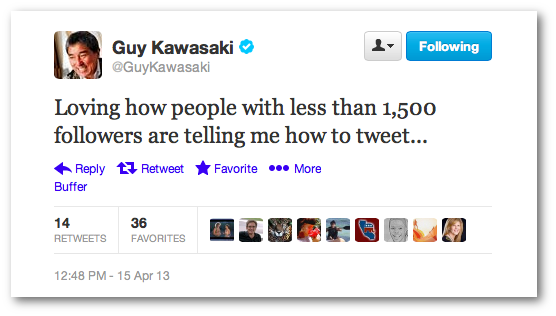 It baffled me that such a big name would act like this. He not only willingly kept his auto-posts on, but he thumbed his nose at the "little guys" — which are most of us.
Guy would have been better off saying nothing yesterday. He surely lost some followers and took a hit to his reputation.
Anything to Add?
Let us know in the comments below if there are other steps you take in such a situation.