[This is the second of a two part series. Make sure to read Part 1 here. Also make sure to read my post about how much I invested in my business to get there.]
Last week, I detailed the emotions that go along with being named to the Social Media Examiner Top 10 Social Media Blogs of 2013. It's not just a matter of being named to the list, but what I've been through to get there.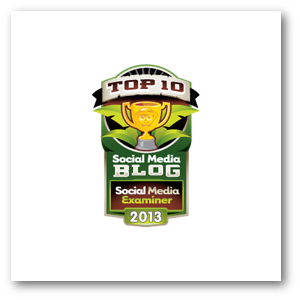 I share my story because I know it can provide hope for those who are struggling. You may be me one year ago.

When I saw the 2012 list of top blogs, I used it as inspiration to fuel my year. I used it as my roadmap. Many of those writers helped provide the encouragement and direction I needed to restart on the right path.

I could have easily stayed on the wrong path. One year ago, the most likely scenario was that this blog would now be inactive. Vegas probably put the greatest odds on me throwing in the towel and going back to work for "the man."

But here I am. Why I'm here can be tracked back to seven important turning points.

Maybe you're at a similar crossroads. I hope that you can find a lesson in my failures and successes during the past year to keep you on the right path.

I also talked about these turning points in last week's podcast. You can listen to it here:

[audio:https://www.jonloomer.com/podcast/podcastgen/media/2013-02-02_podcast35.mp3|titles=Social Media Pubcast – Episode #34]
Where I Was
On August 18, 2011, I was laid off.
I don't think I've ever mentioned this in my story publicly before, but it was actually the second time I had been laid off in three years. The first time was from a start-up, six months after leaving the NBA.
I am the father of three, and my wife does not bring in an income. I was scared. I felt the pressure to produce. And given it was the second time I was in that predicament, I was lacking confidence and felt like a failure.
But I also have a strong support group. Friends and former co-workers and bosses were there to offer their encouragement and whatever help they could. They kept my head up during a critical time.
Understand this: I had no vision for this website when I wrote my first blog post on August 29, 2011.
I wanted to showcase my skills and knowledge to hopefully get another job. My sights were not set that high. At the time, I did not envision what I am doing today.
Since budgetA budget is an amount you're willing to spend on your Facebook campaigns or ad sets on a daily or lifetime basis. More was a concern, I started with a free theme for this site. I kept expenses to a bare minimum. "Investment" was not part of my vocabulary.
I wrote about general social media topics and my job search. I lacked focus. I wrote when I felt inspired and would sometimes go through droughts without writing at all. I received something equivalent to what I put in.
The first "hit" of my blog was a post regarding a Facebook hoax. In relation to my other content, it went viral, driving as much as 13,000 page views in a day.
It was a blessing and a curse. I started chasing traffic. I'd go back to that topic when traffic dipped. It led to empty traffic — traffic that didn't lead to business or much revenue of any kind.
But soon, things changed…
The First Turning Point: Resolutions
Some people view New Years Resolutions as being empty and pointless, but I have found the process to be necessary. It helps me reflect on what has and hasn't worked and refocus on a new approach and new goals for the coming year.
Starting in January of 2011, I established a routine. After publishing eight posts in October and 13 in December, I focused on publishing consistently. I wrote 23 posts in January, 26 in February and 41 in March. I would never again publish fewer than 22 posts in a month during 2012.
That refocus and commitment to a routine was critical. I am the creature of habit. It is not easy for me to create a routine. But when it's established, it's difficult for me to break it.
I forced myself to write a blog post every Monday through Friday (and sometimes more). It was incredibly rare that I would ever miss a day. I knew that breaking my routine could easily snap me out of it, establishing an excuse to break it again.
Looking back, it is now so obvious why this routine was beneficial.
I wrote well over 300 blog posts in 2012. I have now published well over 400 posts in all. When you have 400 active pieces of content (not including landing pages), you are giving Google a whole lot of options.
When you write less often, the importance of viral content goes up. When you write every day, the importance not only goes down but the odds of hitting the viral jackpot increase.
I always have at least one blog post that is doing better than the most recent post. Even more, I tend to have 15-20 posts every day that get at least 100 views.
That's entirely due to sticking to a routine.
The Second Turning Point: Email
It wasn't until February that I finally learned my lesson: Build an email list.
After asking around, I started an account with AWeber. It started slowly, but it was important that I started. I offered a free eBook and I began a weekly newsletter. A consistent following was being driven back to my content.
I notify my subscribers every time I've written a new blog post. It's not just a generic email either. I put thought into how I will frame the email to explain the background behind my blog post.
I get an open rate close to 30% on most emails. Click rates tend to be between 5-10%. Once again, when you combine these numbers with the routine of posting nearly every day and you start seeing how favorably the math begins to work.
I wish I had started my email list on the day I launched my website. I did not. Do not make this mistake!
The Third Turning Point: Timeline
It wasn't until February 29 that I finally found my niche in blogging: Facebook Marketing.
Let me rephrase that: my niche found me. I had been writing some about Facebook marketing until then. I also wrote about Twitter and Google+ and Pinterest. But it wasn't until Facebook launched Timeline for Pages that I found my calling as a blogger.
I started by writing four tutorials about Timeline on the first day alone. By March 9, I had written 13 blog posts about Facebook marketing in 10 days.
I was inspired, and I found a topic that I loved writing about.
You must find this niche. People weren't coming to my site to read about Twitter or Google+ or Pinterest. Once my passion for Facebook marketing became clear, people began turning to me when looking for answers on that subject.
I'm often asked by bloggers if they should start with a tight niche. That's a tough call. It's a bit of a risk. If you're going to start in a tight niche, you must be certain that it's your calling.
I don't regret starting broad because it allowed me to figure out what worked and what didn't; what resonated with readers and what was ignored; and what I actually enjoyed writing.
The Fourth Turning Point: Redesign
By this point, I was already on the second design of my website. I had at least paid for a premium theme this time, but I did so without enough knowledge on the subject. It looked pretty good, but it was also the source of some security issues. It — or my cut rate hosting service — may have also been the source of significant slowness of the site.
On April 26, I did three things that were critical to the growth of my online business:
1) I went with the Genesis Framework premium theme
2) I had a designer create a new logo
3) I went with an Amazon Cloud Server to host my content (message me if you're interested)
I was finally investing in the success of my business. About a month earlier, I had also switched my Facebook Page to Timeline, complete with professionally taken photos.
What's interesting about this is that at the time I was in a worse position financially than I was in August when I refused to spend money. But the benefits of this finally became clear.
The Fifth Turning Point: Social Proof
On August 8, I was tagged on this post by Mari Smith.
The Holy Grail of getting noticed in Facebook marketing.
Mari, possibly the biggest name in Facebook marketing, had thought enough of a post I wrote to share it with her extensive audience. Around the same time (I don't think I was tagged in the post since I can't find it), Amy Porterfield shared something I wrote.
This was huge. It was huge for the obvious reason that I was reaching more people and traffic was spiking. But it was also huge because I was being accepted by these people I looked up to.
You also can't underestimate what this does for confidence. This was clear proof that I was on the right path.
Strangely, it wasn't long before this time that I had set the goal of networking with the big names in Facebook marketing. These two were at the top of the list.
Similar to my inclusion on the Social Media Examiner List of 2013, the fact that these two shared my content was not as a result of intentional networking, but it also wasn't completely by mistake.
Being accepted among the big names was possibly the most important development of 2012 for my business.
The Sixth Turning Point: A Product
Right around the time that Amy and Mari started sharing my content, I finally broke down and developed my first online product: Facebook Page Strategic Review.
Up until this point, the only revenue I made on these pages was through advertising and affiliate links. Creating and selling a product was intimidating. But in the span of an afternoon, I finally decided to wing it.
The results were eye-opening. Sales came in. Too many to keep up with demand. I increased the price and then amended the pricing structure to include two other options. Once I felt comfortable, I created a One-on-One Coaching product.
Before then, I opened myself up to "free consultations" that led to nowhere. They were a complete waste of my time.
An amazing thing happened when I began charging for coaching: More people paid for them than requested the free consultations.
Adding these products legitimized me as a business person. And it added an important layer to this website.
The Seventh Turning Point: Sponsorships
I had finally created my first online product, but I was still doing a poor job of monetizing the extensive traffic that was coming across these pages. So far, I had only used AdSense.
Beginning in mid-November, ShortStack became my first website sponsor. While I have had a handful of affiliate arrangements (ShortStack being the biggest one), this was the first "official" advertising partnership on my site.
It was a way to drive more relevant advertising to my readers while also giving those sponsors greater visibility.
Eventually, I sold out every ad unit I had. In fact, last week I even decided to forgo the monthly revenues I received from AdSense in exchange for a cleaner sidebar and faster load time.
Getting that first sponsor was a major landmark. But possibly more important was getting to the point where I no longer needed the money from AdSense.
The Results
It is now 17 months since the day I wrote my first blog post. Here are a few highlights of where I stand today:
More than 9,000 Facebook Fans and counting
Approaching 2 Million page views, with five consecutive months of between 140k and 200k
More than 6,000 email subscribers
In the grand scheme of things, these are only peripheral numbers that mean very little. Nice numbers, but fluff.
The most important number is the bottom line. I am now making more than I was when I had a full-time job.
But numbers? That's not what I'm doing this. I'm doing this for the flexibility and freedom that goes along with being your own boss. And I freaking love it.
The Future
It has been an absolute blast seeing this come together over the past 17 months. So… what about the next 17?
While I may have a better feel for the future than I did when I started, I still see this as being extremely fluid. You should set goals and have a vision, but always be ready to change and adjust.
I see a future of products, services and expansion. Building a team, partnering to create awesome things and expanding beyond these pages.
To get there, I need to have a different mindset than I had during the first 17 months. One of the biggest things that will have to change is my level of investment.
If you listened to my podcast above, you're probably in shock by the small amount of money that I invested in my business to get where I am now. But I fully understand that I will need to invest significantly more to reach these new goals.
How did I invest my money in 2012, you ask? I'll detail that next week. Stay tuned!