I hate excuses. Far too often, small business owners tell me that they don't have the time or money to get digital. The thing is, many of the steps they can take cost nothing or close to nothing to execute. There is no excuse. If you don't take these steps, you are leaving money on the table.
An effective, integrated digital strategy goes well beyond these six steps. But if you are truly strapped, these are the six nearly free and free digital marketing steps that are absolutely essential to your business. They take little to no time, effort or money.
Create or Claim a Place on Facebook

There are 850 Million (or so) users on Facebook. Many of them like to "check in" and tell their friends where they are. It's likely that people are already checking in at your business.

Step 1: Create a Place. You can do this simply by attempting to check in with your Facebook app on your smartphone. If your business does not already exist, create it. (Read More: How to Create or Claim a Place on Facebook)

Step 2: Claim a Place. Your place may exist, but you need to take ownership of it. That will then allow you to manage how the page itself looks to users. (Read More: How to Create or Claim a Place on Facebook)

Step 3: Update your Page. If a friend checks in at your business, it will appear in my newsfeed with a link to your page. That page needs to provide useful information about your business.
Maybe you don't have time to update your Facebook page regularly. But at least add appropriate details about your company so that when people check in, the page provides where you are, when you're open, profile photo and anything else that a possible new customer would need to know. (Read More: The Anatomy of a Facebook Page)
Claim a Venue on Foursquare
Claiming a venue on Foursquare provides you the ability to offer deals to your customers who check in. But it also gives you access to important information:
[custom_list style="list-1″]
Total daily check-ins over time
Your most recent visitors
Your most frequent visitors
Gender breakdown

Breakdown is a way to get insights into your ad performance related to time, delivery, action, or dynamic creative element.

of your customers
What time of day people check in
Portion of your venue's foursquare check-ins that are broadcast to Twitter and Facebook
[/custom_list]
This is critical information that can help you make business decisions in the future.
Claim your venue on Foursquare by going here.
Claim Your Business on Google
When I run a Google search for "Coffee in Parker, CO," the first results that come up are Google Places.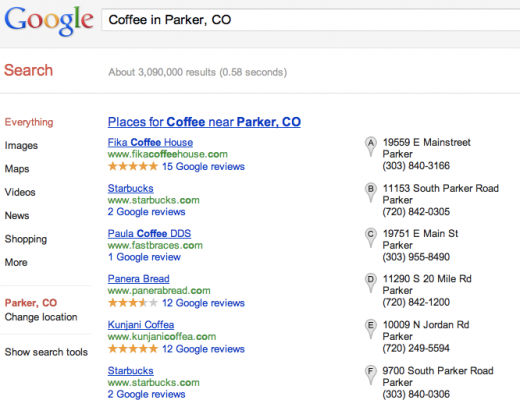 You want to show up high on search results in Google? Well, a first step is creating a Google Place.
Step 1: Claim your business on Google here.
Step 2: Add photos and company info from the owner that will be displayed on your Google place page, and you can also link it to your company website.
Claim a Business on Bing

As is the case with any of these services, it's possible that your business already exists on Bing. Unless you claim it, though, it may not be represented the way you'd prefer. Bing provides several very cool tools to you in the Bing Business Portal:

[custom_list style="list-1″]
Add photos, logos, contact information, payment types, menus, and other business details that help your business stand out.
Create deals to entice customers to visit your business.
Create a QR code that will direct customers to your mobile Bing listing.
[/custom_list]
Bing also allows you to control key words so that people find you when running an applicable search.
Claim a Business on Yelp
One complaint about Yelp is that people will often use it only to complain and write bad reviews. By claiming your business, you at least add some control to the equation. You can:
[custom_list style="list-1″]
Track and respond to reviews of your business
Create Yelp Deals to convert your visitors to paying customers
Add photos and information about your business
Monitor views of your business page on Yelp
[/custom_list]
Claim your business on Yelp here.
Purchase a Domain or Domains

This is the only item on the list that has any direct cost associated with it. And before you say, "I don't have the time or money to design and manage a website," understand this has nothing to do with creating a website. It's simply making sure that when you reach the point in the maturity of your business when you can pay for a website, you'll already have a domain.

Don't get cute. Avoid dashes and anything that isn't implied. If possible, purchase a domain that simply combines the key words of your business name. And if there are any important variations that apply to your brand, buy those, too.

At minimum, spend the $10 per year on a basic domain name. One day, you'll be happy you did.
That's a Start

You can take this a step further and encourage customers to check in on Facebook and Foursquare or to leave reviews or photos on Google, Bing or Yelp. Signage for such an effort will cost close to nothing. But this list is meant to be a starting point — the bare essential six items that you need to do right now to get your business on the digital map.

What steps are you taking to get digital?

[message type="custom" width="100%" start_color="#FFFCB5″ end_color="#F4CBCB" border="#BBBBBB" color="#333333″]Need help with your digital marketing? Let's talk![/message]