This is part of a continuing series covering My Favorite Things for blogging and content marketing. Each week, I'll review a tool I use and explain why I love it!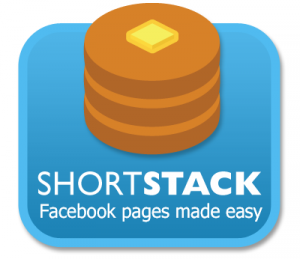 Have you figured out yet that I'm a major ShortStack fanboy? It's true. Really, believe it. What, you're being sarcastic? Okay then. It's obvious.
Every custom Facebook tab that I create these days, whether for myself or for clients, is done with ShortStack. This is easily one of my favorite tools that makes my life easier and also makes me a much better marketer.
In a nutshell, ShortStack makes it easy to create custom tabs (the content that lives immediately below your Cover Photo). They provide more than 60 templates to work off of for such needs as contests, contact forms, featured products, coupons, videos, industry specific needs and more.
I've already written my review of ShortStack as well as an overview of how you can use ShortStack to run Facebook contests. So in this space, I'm going to simply focus on the three main reasons it is one of my favorite things.
Ease of Use
I've tried similar tools. I hated the interface. But ShortStack's drag-and-drop interface is dead-simple to use.
It's easy from start to finish:
Create a new tab from a template
Add content to the tab with widgets
Choose a custom theme
Easily publish your tab to the Page of your choice
Manage and edit your tab in the future
You can even use custom CSS if you know some code. I occasionally do, but I find that I can make great looking tabs without it.
Great Customer Service
These guys are awesome.
Whenever I have a question, I send out a quick message and get a quick, helpful response. And these aren't canned, robotic responses. They are real people.
They are also easy to get a hold of on Twitter and Facebook. I've even received help from CEO Jim Belosic. They're simply good, helpful, down-to-earth people who help make this an even better product with their service.
Even if you don't want to deal with people (who does?), ShortStack has a great repository of video tutorials, including several webinars.
Free or Pay
ShortStack is for both the little guy and the big brand. It's also an amazing tool for consultants and agencies.
Don't have any budgetA budget is an amount you're willing to spend on your Facebook campaigns or ad sets on a daily or lifetime basis. More for a great tool like ShortStack? Well, if your Facebook Page has fewer than 2,000 Likes, you get access to the free version that includes some ShortStack branding.
Spend a few dollars, though, and you get access to some pretty powerful features. Pay $15 per month for the following:
All free options
One Facebook Page
White labeling
Up to 25,000 Likes
Access to Contests
Voting
Database Storage
The $30 per month option gives you unlimited pages and multi-user support.
Essentially, the first is for the little guy without a budget. The second is for the small business that wants to rock it. And the third is for big brands or agencies.
Need Help?
Need help, either with ShortStack or your Facebook marketing strategy? Drop me a line here!