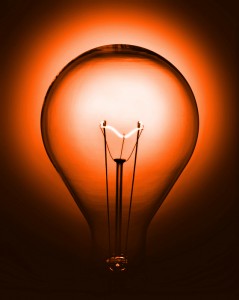 After pasting in my last entry to this week's Shedding Light on Social Media, I thought to myself… 33? Did I really need to share 33 blog posts from the past week?
Well, yeah. I did. In the grand scheme of things, 33 is nothing. I don't know how many articles were in my Google Reader during the past week, but it was likely close to or exceeding 1,000. From there, I starred about one in 15. And I present to you about one in five of those stars (please don't do the math on that).
So this is the stuff that I care most about. It was helpful in one way or another and provided information that I didn't previously know. I won't bore you with repetition (there's a lot of stuff out there about Timeline for Pages right now!).
Basically, if you didn't read anything during the past week, you should be able to get a lot of goodness right here. Enjoy!
Illuminating Posts About Facebook Marketing
Facebook Premium Ads: What, Where & Why? – Likeable
Description: My biggest takeaway here is that Facebook Premium ads are not intended for small businesses. The price will be hefty.
Facebook Timeline for Business Pages – 21 Key Points To Know – Mari Smith
Description: Mari Smith knows her Facebook stuff, and she lays it all out in one comprehensive post.
1 In 4 Brands Have Upgraded To Facebook's Timeline – AllFacebook
Description: This is consistent with what I'm seeing. Even among the big brands, most have not yet converted.
10 Innovative Uses of Facebook Timeline for Brands – Mashable
Description: Some great inspiration for creative ways to use Timeline that go beyond the Cover Photo.
How Beth Kanter Redesigned Her Facebook Page Timeline – John Haydon
Description: Need some Facebook Timeline inspiration? Some great work here by John Haydon.
Why Facebook Page Tabs Work Better As Timeline Apps – AllFacebook
Description: I agree, I think the new featured apps format is much improved. Some great tips here on how to use them.
New Facebook Brand Page for Beth's Blog: With A Little Help from My Friends – Beth Kanter
Description: Great post from Beth Kanter as she details her Timeline anxiety and how she fought through her own deficiencies in time and skills (with help from her friends) to create an awesome Timeline for her blog.
Facebook Timeline Pages Add 'Created' And 'Launched' – AllFacebook
Description: You are no longer stuck with just being "founded."
The Timeline Checklist All Facebook Pages Must Have – AllFacebook
Description: Very valuable, comprehensive list of to-do's for any brand looking to manage a Facebook page.
7 Tools For Updating Facebook Timeline Pages, Profiles – AllFacebook
Description: I strongly advise that you don't use third party tools to update your Facebook page, but if it's a matter of not updating or using a third party tool, AllFacebook has some good suggestions.
Illuminating Posts About Using Facebook
The 10 Patents Yahoo Is Suing Facebook Over – AllFacebook
Description: Yahoo stuns everyone by suing Facebook for patent infringement. AllFacebook breaks down the accusations as well as potential response from Facebook.
WARNING: Facebook Events Can Link To Viruses! – AllFacebook
Description: Something to watch for. Don't accept admin access from someone you don't know to an event!
Foursquare on Facebook: Hands on With the New Timeline Integration – Mashable
Description: Foursquare has been on Facebook for quite some time now, but now Foursquare has deeper integration into Timeline.
Facebook Offers More Details On Location Tagging – AllFacebook
Description: AllFacebook reports on the motivation behind a new location tagging feature added to Timelines.
Facebook Mobile News Feed Gets Like, Comment Buttons – AllFacebook
Description: It used to be two steps, now Facebook makes liking and commenting much easier on their mobile apps. Did you notice a difference?
8 Facebook Apps Unveil Timeline Upgrades At SXSW – AllFacebook
Description: Timelines are about to get cooler, more organized or more annoying, depending on how you look at it!
Facebook Puts 'Add App To Page' In Pull-Down Menus – AllFacebook
Description: Thank you! This had become a missing link of late with no apparent way to add some apps from a page.
Facebook Streamlines The Creation Of Events – AllFacebook
Description: You may have noticed that Facebook Events have been a bit buggy lately. Well, there may have been a reason as Facebook was in the process of updating the feature.
Illuminating Posts About Blogging and SEO
5 Things to Email Your Subscribers About Today – ProBlogger
Description: My newsletter is only about a month old, so I'm always trying to find ways of adding value to it outside of simply recapping what was on my site during the past week. Very helpful!
23 Tips to Build Blog Awareness Beyond Great Content! – Heidi Cohen
Description: A very extensive list by Heidi about the 23 things you could/should be doing to build your blog's audience that go well beyond simply writing good content. Building an audience is a lot of work!
How to Awe Your Readers to Take Action – ProBlogger
Description: I nearly clicked away from this post after the first few paragraphs, but further down there are some very helpful tips on how to get readers to do more than just read your blog post before leaving.
10 Must Have WordPress Plugins Of 2012 Every Blogger Should Know About – Jeff Bullas
Description: I love posts like this — I should since I've written two in the last four months. I always pick up a new plugin or two as a result.
Google Search: Change is Coming – Mashable
Description: First Panda, now more change. Having trouble keeping up? Me, too!
How to Convert Visitors from Your About Page – ProBlogger
Description: I need to do this! I wrote my About page about six months ago, and have barely touched it since. It only makes sense to at least convert visitors to that page into newsletter subscribers.
Why "Interesting" is a Very Overrated Blogging Quality – The Sales Lion
Description: Marcus is absolutely right. You shouldn't worry too much about being interesting or entertaining. Just be helpful and provide a solution to problems!
3 Blogging Rules You Should Break – ProBlogger
Description: I could stand to break a few more rules. I've fallen in line a bit and need to get back to my casual writing style more often. Good reminders here!
The Ultimate Guide to Publishing Your eBook on Amazon's Kindle Platform – CopyBlogger
Description: I'm working on an eBook right now, and I may just have to do this…
10 Types of Killer Filler Content for Your Blog – ProBlogger
Description: Some great tips on how to fill a weekly schedule with content without killing yourself to write it all. It's about focusing a couple of days on well-researched blog posts and using the rest to find quicker, creative ways to post.
3 Myths of Guest Writing for Big Websites… and 6 Tactics for Doing it Well – CopyBlogger
Description: The six tactics for writing a guest post are actually good tactics for writing a good post in general.
Other Illuminating Posts
Better Email Results… Instantly! – ProBlogger
Description: I'm still working out the kinks in my email marketing strategy, so I found this post to be very helpful.
What People Are Pinning on Pinterest – Mashable
Description: Amazingly, they are pinning things that aren't on JonLoomer.com!
Ten Social Networking Mistakes to Avoid When Marketing Your Business – Jeff Bullas
Description: Great tips from Jeff. If a company fails in their marketing, if often comes down to a handful of these 10 items.
How to Track Your Website's Content on Pinterest – Mashable
Description: Now that I finally have an infographic that is being pinned on Pinterest, this is something I've been doing lately. Very helpful tips!
As always, if there are any illuminating posts that you think are missing from the past week, make sure to list them below!