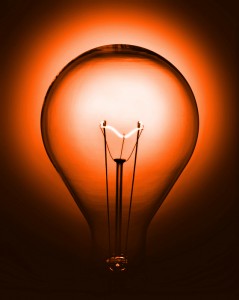 It's that time of the week, eh? While everyone may be talking about Facebook Timeline for Pages (it's live for everyone now — you know that, right?), I'd like to shift gears and cover the most thought provoking blog posts that I read during the past week.
Sure, some of it's about Facebook. Some is about blogging, SEO, Pinterest, juggling business with family or something else. But this is the stuff that kept me reading this week. As always, if you've read something particularly illuminating during the past week that isn't listed here, feel free to link to it in the comments below!
Illuminating Posts About Facebook Marketing
What To Pin To The Top Of Your Facebook Timeline – AllFacebook
Description: You know that you can pin a post to the top of your Timeline for up to seven days, but what type of updates should you pin? Good overview.
Facebook Timeline Provides 46% Lift in Brand Page Engagement [STUDY] – Mashable
Description: That's what I like to hear! That said, this is a study that includes only 15 (large) brands, and one has to think that early bumps could be due to curiosity after brands convert to Timeline. So is it sustainable? Will small businesses also benefit?
Facebook Timeline Lowers Engagement On Big Pages – AllFacebook
Description: There is actually far more good news than bad here as the only brands seeing significant negative impact were those with more than 10 Million fans. Let them pay for ads!
Facebook Page Like Sponsored Stories More Prominent – AllFacebook
Description: While I have success with "social" ads, page like stories haven't been effective for me. This may change that!
4 In 5 Top Brands Accept Facebook Timeline Messages – AllFacebook
Description: Really interesting stats about which industries have and haven't enabled private messaging, how often people are messaging, and what they're messaging about.
ALERT: Facebook Page Audiences Will Plummet – AllFacebook
Description: Be on the lookout for an email from Facebook explaining that metrics are about to change. Your "Talking About This" and Checkins will appear to suffer, though it's not because fewer people are interacting with your page.
Facebook Pages See 192% More Engagement On Timeline – AllFacebook
Description: The title is a bit misleading, but still some interesting info here. Main point being that if you follow some simple best practices, you should see improved engagement.
Facebook Gives Comments Permanent Links – AllFacebook
Description: You can now link directly to a comment on your page's post. Low quality, spam-likely comments are also now grayed out until you approve them. Good moves!
Illuminating Posts about Blogging and SEO
Are you doing a quarterly metrics review? – Christopher S. Penn
Description: Excellent dive into analysis of metrics on a quarterly basis. I admittedly pay far too much attention to day-to-day stats, but those aren't always as telling as monthly or quarterly statistics.
How I Created a Ghost Town on the Web – Social Media Explorer
Description: Very insightful, revealing and honest look at what we can learn from failure.
The Ultimate Step-By-Step Guide to Dealing with Blog Trolls and Stupid Comments – The Sales Lion
Description: I haven't had to deal with this (much) yet, but some good insight from Marcus on handling comments that offer no value on your digital real estate.
Brand Yourself in Four Simple Steps – ProBlogger
Description: I follow steps two through four pretty effortlessly, but the first (colors and fonts) is more difficult. It's taking a redesign to get it right.
10 WordPress Plugins You Can't Live Without – Social Strand
Description: Posts like this one are invaluable because the number of plugins available is so overwhelming, and it's often impossible to know what works well and what doesn't.
20 Ways to Get Your Content Marketing Discovered – Heidi Cohen
Description: Heidi compares getting your content noticed to meeting someone special at a crowded dance. Some really good tips here.
Current Trends in SEO: From Tactics to Strategy – Just Ask Kim
Description: I don't consider myself an SEO expert by any means, so it's always illuminating to read posts like this one from people who are well versed on SEO, how it's changing and how to take advantage.
Who Is The Google Ranking Champion (& What it Means for Your Content Marketing) – Heidi Cohen
Description: I don't wanna ruin it for you but… Aw, hell, it's Amazon, taking over the top spot from Wikipedia. Some things to consider if you're selling stuff.
5 Ebook Publishing Hurdles, and How to Beat Them – ProBlogger
Description: I'm looking to publish my second ebook, so I found this a very valuable piece!
Other Illuminating Posts
Google Building Third-Party Commenting Platform [REPORT] – Mashable
Description: Google+ isn't enough, Google is going all-out on Facebook. Such a move would be disruptive, though not necessarily bad if there are benefits. Competition is good!
14 Ways to Build Strategic Relationships With the Who's Who of Social Media – CopyBlogger
Description: I thought I would hate this post. I'm annoyed by insincerity, butt kissing and yes-men. But it's true that strategic relationships (whether intentional or not) are important to your success. And there are actually some good tips in here. So there…
LinkedIn Up, Twitter Down for Small Business Owners – Marketing Pilgrim
Description: The biggest surprise to me was how few small businesses are on social media or have a website. Get with it, people!
For Better or For Work: 7 Lessons For Entrepreneurs With Families – Likeable
Description: This was an eye opener for me. No matter how busy I am, I need to start setting aside some device-free day with my family!
Have anything to add? Share it in the comments below!