This continues my weekly series of Shedding Light on Social Media, where I highlight all of the illuminating posts I read throughout the week.
This is the fourth edition, so I'm always tweaking what I share and how I share it. Please provide your feedback: Do you like this feature? Do you find value in it?
After reading through, provide your feedback in your comments below.
Enjoy!
Illuminating Posts About Facebook Marketing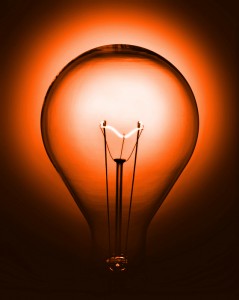 5 Facebook Timeline Tips for Companies – Christopher Penn
Description: Some good tips from Chris, including using Insights to better focus your messaging and doing some spring cleaning.

Is Facebook Betraying Small Businesses? – Media Tapper
Description: I agree with Michael here. Facebook (generally) and Timeline (specifically) are giving small businesses an amazing opportunity. There is no need to spend gobs of money on it to get great results. There is no betrayal.

15 Really Cool Facebook Timeline Cover Photo Hacks – AllFacebook
Description: Still need a Cover Photo (like me)? Some pretty cool templates here from Fake Science. Whether you use these or not, they serve as great inspiration.

Viral? Not! Only 2% Of Fans Share Facebook Page Posts – AllFacebook
Description: Interesting study by EdgeRank.com. It actually led me to find out what my actual EdgeRank was… Not tellin'!

New Study: Social Ads Provide Much Needed Lift – Marketing Pilgrim
Description: According to a study by Nielsen, Social ads perform 55% better than regular ads. In other words, target your Facebook ads at friends of fans!

Facebook's New Ad Feature; Reach Generator – SplashMedia
Description: I almost didn't share this post because of the incorrect use of a semicolon, but I'm not a snob. This is probably the most complete overview of the yet-to-be-launched Facebook ad unit that I've seen. Always something in the pipeline from Facebook!

Eleven Ways Facebook Page Timelines Change Your Content Strategy – John Haydon
Description: Very good post by my friend John Haydon as he explains the impact of Timeline on how you message your customers or fans.

How To Pimp Your Company's Facebook Timeline – ReadWriteWeb
Description: It was actually John Haydon who pointed out to me that I received a mention in this post. Pretty sweet. Oh, and an informative post!

5 Kinds Of Admins Every Facebook Page Should Have – AllFacebook
Description: Rumors are spreading that Facebook will create five admin levels for Facebook pages by the end of the month. AllFacebook speculates on what those levels may be and how you might be able to use that to your advantage.

How To Create A Terrific Facebook Cover Image If You Don't Have Resources To Hire A Designer – Beth Kanter
Description: Beth is great for marketing tips to nonprofits, but many of her posts (like this one) apply to everyone. I'm still trying to figure out what to do with my cover photo before publishing my Timeline, and this certainly serves as inspiration.

Facebook Merges Rules For Ads And Timeline Pages – AllFacebook
Description: AllFacebook is always on top of it, and they reveal a change to the official rules around your Timeline and ads.

Facebook Offers – Facebook
Description: Some helpful information from Facebook about their Offers product. It's not available to everyone right now (including me), but this is definitely something to keep a close eye on.

What You Need to Know Before Running a Facebook Promotion – Mashable
Description: The rules for what you can and can't do when running a Facebook promotion are often confusing, but this post does a great job of breaking it down.

Retailers, Get More Facebook Exposure With Want Button – AllFacebook
Description: I included this under Facebook marketing, but it could be a separate category entirely. Want lives as an independent community (like Pinterest) that is/can be integrated into Facebook. Some very big possibilities here for retailers.
Illuminating Posts About Blogging and SEO
The 5 Keys to Blog Usability – Neil Patel for ProBlogger
Description: Neil Patel is brilliant. His explanations are concise and easy to understand. I'll be applying some of his suggestions shortly!
10 Thrills We Newbies Experience That the Top Earners Have Forgotten – ProBlogger
Description: My blog is about six months old, so I still get the thrill associated with new milestones and growth. It's exciting!
New FREE Tool Alert: Find Broken Links and Errors – Search Engine Journal
Description: I ran this tool and didn't find a single error or broken link. That's a relief!
SEO Strategy for New Domains – Search Engine Journal
Description: If you're starting a new site, read this blog post. Great tips for jumping out of the gates quickly.
The Keys to Creating Unmissable Content – ProBlogger
Description: Great tips from ProBlogger on how to create content that people not only want to read by can't miss.
How to Write Blog Posts that Search Engines Like – Smedio
Description: I actually had no idea that using outbound links to strong websites was good for SEO. So I guess writing this weekly post has been a great idea!
Content Dilution (And How to Avoid it) – Social Media Explorer
Description: Good reminder that it never helps to write for the sake of writing, watering down your product. Serve something that you'll be proud of!
Other Illuminating Posts
How To Find Balance As We Juggle Work, Family, and Life – The Sales Lion
Description: I admittedly find a very hard time trying to juggle my work-from-home business with the rest of my life. I ultimately feel like I never have enough time for everything. Very helpful post by someone who has done it successfully.
Make Sense, Not Cents – Why Outsourcing is Sometimes the Way to Go – Justine Writes
Description: Justine is right. I need to stop being a control freak and start outsourcing design, sales and other responsibilities. Great post!
Does Your Company Own and Operate its Website? – Converstations
Description: Mike Sansone highlights some startling statistics about the number of small businesses that don't have a website. It's painful to see these businesses struggle!
How to get motivated – Christopher Penn
Description: A blogger who has found success shares his secrets.
21 Warning Signs You're Becoming a Social Media Snob – CopyBlogger
Description: It looks like I'm on my way to social media snobbery, according to this. But it appears there's hope!
4 Simple Ways to Lose Traffic and Build Your Business – Erika Napoletano for SocialMouths
Description: It sounds crazy, but Erika is exactly right. Focus on the people and topics that matter, weed out those that don't!
Some Cool Stats About Pinterest & Why You Should Care – Media First
Description: Becky Boyd breezes through some impressive stats on Pinterest, some of which I hadn't seen before. I'm trying to get some traction there, Becky!
Pinterest Drives More Traffic to Blogs Than Twitter – Mashable
Description: Twitter drove more traffic than Pinterest to this site last month, but after the infographic I shamelessly produced (more than 100 pins!), that may change this month!
What Facebook Marketers Need To Know About Pinners – AllFacebook
Description: Leave it to AllFacebook.com to help us get to know Pinterest users better!
That's it! Are there any posts you read during the week that is missing from this list? Share it in the comments below!