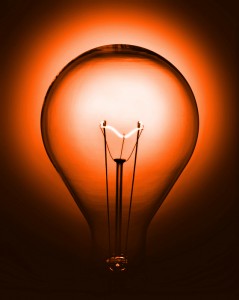 I make reading blogs a regular part of my daily routine. I read a ton of blogs. Whether it's about Facebook, Blogging and SEO or something more general about social media and digital marketing for businesses, I read a lot of it.
When possible, I try to remember sharing these gems when I read them throughout the week on Facebook, Twitter, Google+ and Pinterest. I often forget. But I want to make sure that the writers of these posts get the attention they deserve and you get the information you need.
So this is part of a new weekly Friday feature on my blog. I call it Shedding Light on Social Media, and each week I'll use it as a place to feature my favorite "illuminating" blog posts. Catchy? Maybe. Corny? Likely.
So here it is. My Google Reader was filled to the brim this week. But here are the posts that made me think, kept me informed, and shed some light on what was an otherwise cloudy subject.
Illuminating Posts About Facebook Marketing
Facebook Timelines for Brands? Time to Start Thinking Inside the Box – Marketing Pilgrim
Yes, Facebook May Debut Timeline For Brand Pages 2/29, More Sources Say – AllFacebook
Five Reasons Why You Don't Need to Freak Out About Facebook Timelines for Brands (Which are Coming Soon) – John Haydon
Facebook Likes Don't Necessarily Mean Brand Loyalty – AllFacebook
Big Changes To Facebook Advertising And What To Expect – Likeable Media
10 Companies Using Facebook To Grow Their Likes – Search Engine Journal
The Importance of Facebook Pages – Digital Brand Marketing Education
Why Many Links On Facebook Don't Get Click-Throughs – AllFacebook
7 Proven Tactics For Boosting Your Brand On Facebook – AllFacebook
UPDATE: 5 Predictions For Facebook Marketing This Year – AllFacebook
3 Easy Tips to Drive More Facebook Traffic to Your Website – Amy Porterfield
Getting Your Brand's Content In the News Feed on Facebook – Social Strand Media
7 Unbelievably Cool Facebook Ad Tactics – AllFacebook
How To Use Facebook Metrics To Give Your Audience the Content They Want Most – Beth's Blog
Facebook Location Pages Get 'Add To Map' Buttons – AllFacebook
Deals 2.0? Facebook Tests Discount Offers Via Pages – AllFacebook
Illuminating Posts About Using Facebook
Facebook Search: The Little Engine That Can't – Marketing Pilgrim
Who Screens Flagged Facebook Content? Not Who You'd Expect – AllFacebook
12 More Companies Upgrade Apps For Facebook Timeline – AllFacebook
Facebook Finally Rolls Out Verified Accounts – AllFacebook
Illuminating Posts About Blogging and SEO
Bounce Rate Demystified [Infographic] – GetElastic
10 Advanced SEO Tactics That Will Increase Your Blog's Traffic – Search Engine Journal
Why Guest Posting is Often a Major Waste of Time – The Sales Lion
7 Powerful Ways to End Your Next Blog Post – Pro Blogger
Are You Making These 7 Mistakes with Your About Page? – @CopyBlogger
Other Illuminating Posts
Pinterest: Everything You Wanted to Know About 2012's Hottest Startup [INFOGRAPHIC] – Mashable
What NOT to Pin on Pinterest – John Haydon
Google+ Most Popular With Male Users, Students [INFOGRAPHIC] – Mashable
Does Your Social Media Generate Sales? [Research] – Heidi Cohen
TALK TO ME, NOT AT ME – Justine Writes
How to Fail At Social Media By Not Really Trying – Heidi Cohen
Why User Experience Is Critical To Customer Relationships – FastCompany
That's it. Were there any great blog posts you read this week that I missed and we should add to the list? Let me know in the comments below!
I'd also love to hear whether you think this feature is valuable. Thanks for reading!