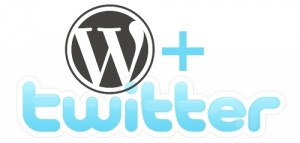 I've written before about my content curation strategy. I spend more time on Facebook than Twitter because Facebook is where I get the most results. But there's still value in sharing to Twitter.
The thing is, I lack time to manage Twitter effectively. As a result, I've turned to tools like Timely to schedule out my tweets of my old content.
Timely is a great tool, but there is a manual element to it. I'll load in about 20-30 tweets, and depending on the interval I set it will last about three to five days. Then I have to do it again.
That's what makes Tweet Old Post so awesome. It's completely automated. No work for me whatsoever.
What is Tweet Old Post?
Tweet Old Post is a WordPress plugin that connects to your Twitter account and automatically tweets out links to your old blog posts at a predetermined interval. It's simple, highly customizable and free.
Yes, it is almost always best practice to manually manage your Twitter account. But if you're like me and the time necessary to manage Twitter doesn't fit in your strategy, Tweet Old Post is a great tool for sharing your own old content (I'd recommend also using a tool like Timely or Buffer to share the content of others).
How to Use Tweet Old Post

It's very easy to use the Tweet Old Post WordPress plugin. After installing, go to the settings. There are two views: Tweet Old Post and Exclude Posts. Let's start with the main Tweet Old Post view.

First you need to connect your Twitter account. There are some instructions there if you have any issues (I did). But once you get set up, you're golden.

Then you have a whole slew of options:
Tweet Title Only, Body Only or Title and Body (I tweet Title only)
Tack on additional text at the beginning or end (I don't)
Fetch the URL from a custom field (I don't)
Use one of eight link shorteners (I use bit.ly)
Use hashtags: same for all tweets, based on category, based on tag, based on custom field (I don't use hashtags)
Set a minimum time interval between tweets (I kept the four hour default)
Set a random time interval after minimum interval (I stuck with the four hours)
Minimum age of post to be eligible for tweet (I'm using 1 day)
Maximum age of post to be eligible for tweet (I'm using 30 days)
Save log in log folder (I have no idea what this is, but I checked it)
Omit Categories (I omit anything from the Shedding Light on Social Media series since it's time sensitive)
You could just run with this. That's a lot of customizations. But there are additional options in the Exclude Posts view.
It's good to look at this every now and then (or when you post). I want to tweet old content that is evergreen. As a result, I've gone in and excluded a handful of posts. Now that I have this installed, I should have a general idea of whether I want to exclude a post when I write it going forward.