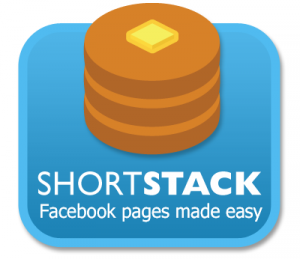 I've written this so many times during the past month that you're getting tired of reading it: Due to Facebook Timeline, apps (formerly known as tabs) on your Page are more important than ever.
Due to the prominence of apps in the new Facebook design, you should completely reassess how you use this functionality. You should focus your efforts on what you want your fans to know about you and what you want them to do (think subscription forms, videos, products and services, coupons and sales).

In the past I've talked about creating your own iFrames or using the Static HTML application. Those take some knowledge of programming and design to be effective.
I know what a lot of you are thinking: This sounds great, Jon, but I can't do this.
Sure you can. You can create custom Facebook tabs with ShortStack.
About ShortStack
I don't know what took me so long. I had heard about ShortStack, but I was stubborn. I thought that I was better off starting from scratch. I was wrong.
All eight of my Facebook Timeline apps (or tabs) were built with ShortStack. It's made my life much easier (and my Facebook Page better).
ShortStack allows both programmers and non-programmers to easily build beautiful tabs for their Facebook Pages. My fear was that such a tool would be cookie cutter, eliminating your ability to customize. That's not true at all.
With ShortStack, you can either build an app from scratch or make minor edits to a template. It's completely up to you and your comfort level.
Templates

ShortStack templates are great for both code geeks and non-code geeks. I'm not quite a code geek (I know enough to make me dangerous, but it's not my forte), and it's great to have a starting place. But you can also customize or create your own template to give you a head start each time you create a new app.

ShortStack currently has 63 different standard templates to choose from.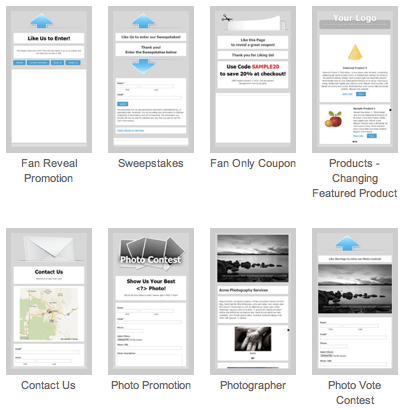 As of this moment, 22 of the templates are related to format (columns, rows, colors, that sort of thing). But the other 41 are focused on features, functionality and industries:
10 Templates for Contests and Promotions
11 Templates for Specific Industries (Real Estate, Restaurants, etc.)
6 Templates focused on Video and Photo Display
3 Templates featuring Social Media Activity (Pinterest, LinkedIn, Foursquare)
11 "Other" Templates (Contact Forms, Virtual Gifts, Blog RSS, etc.)
Widgets

Whether or not you use a standard template or start from scratch, ShortStack provides 30 different widgets (as of now) to help you easily build your Facebook tab.

Widgets are broken down as follows:
Basic Tools (Rich Text, Images, Links, Gallery, Products)
Facebook Features (Comments, Like, Friend Invite)
Promotions (Promotions Form, Voting, Entry Count)
Forms (Custom Form, Contact/Entry Form, Newsletter Signup)
Integrations (Video, Twitter, RSS, SoundCloud, Flickr, Foursquare, MailChimp, Google Maps, Google Analytics)
Tool Box (Virtual Gifts, Poll, Countdown)
Advanced (Plain Text, Code, iFrames, Flash)
Sweepstakes and Contests

You probably know that there are some very strict and hard to understand rules when it comes to running sweepstakes and contests on Facebook. Some people ignore them. Some wince and trudge forward, having no idea whether they are breaking rules or not. Still others don't run contests at all due to the confusion.

If you use a third party application like ShortStack to run your promotion, it's much easier. A requirement of Facebook promotions is that you use a third party application instead of having people perform specific actions within Facebook. Additionally, ShortStack provides some standard wording that removes liability from Facebook (which they require).

Are sweepstakes and promotions now a piece of cake with ShortStack? Maybe not. But they are much, much easier.
Custom CSS, HTML and iFrames (if you want)

It's important to remember that even if you are a code junky, a tool like this still has value. You are allowed to customize CSS, enter raw HTML (as well as Javascript and jQuery) and create iFrames. It's all there if you want it.

Other than being able to create custom templates, additional value comes in the ability to organize your apps within this very easy to use interface.
Lots of Other Stuff

This is the thing: I'm still figuring this very robust tool out. I've tried it out for about a month now, and there is still plenty I know that I haven't seen, tried or experienced.

Here are some other features that I haven't mentioned or tried yet:
Use widget scheduling to create time-based promotions and rotate content automatically
Set visibility options to show different content for fans and non-fans
Customize tab icons and logos
User friendly interface
Excellent tutorials, documentation and customer support
ShortStack in Action
As I mentioned before, you can view ShortStack in action by visiting my Facebook Page. Additionally, I've created a Sandbox to test out and display how some of these apps work. I've also created ShortStack apps on other Facebook Pages. Here are a few examples:
The thing is that I doubt I'm doing this tool justice. I've only begun working with it, and you're only limited by your own creativity.
Pricing

ShortStack offers five main pricing plans, including a free option. If you have fewer than 2,000 Likes, you can get away with using ShortStack for free. But that free model does not include the following:
Remove ShortStack Logo
Photo Upload and Voting
View/export form and contest entries
Custom tab icons, application names
Priority Support
Unlimited Tabs Per Page
Multiple User Collaboration
Tab Analytics
Could you get away with the free option? Maybe. But if you're a consultant, agency, have a large audienceThis is the group of people who can potentially see your ads. You help influence this by adjusting age, gender, location, detailed targeting (interests and behaviors), custom audiences, and more. More or want to make your tabs extra awesome, you should upgrade.
In Conclusion

I will not recommend a product unless I use and love it. I use and love ShortStack. It's made my life easier and has helped me create Facebook tabs for my new Timeline that look much better than anything I could have created (and have previously created) from scratch or another tool.

Check it out!