Facebook Offers is rolling out to small businesses, but those with access still remain in the minority. Of the Pages that I have admin access, only one has been granted into the Facebook Offers beta.
Facebook says that Offers are only available to certain types of businesses, though it's not clear specifically which businesses qualify. It would be easy to assume that brick and mortar businesses would get top priority, with a possible emphasis on restaurants and retail.
But if you don't have Facebook Offers yet for your Page, you may be able to help speed up the process. Simply go here to request Facebook Offers for your Page.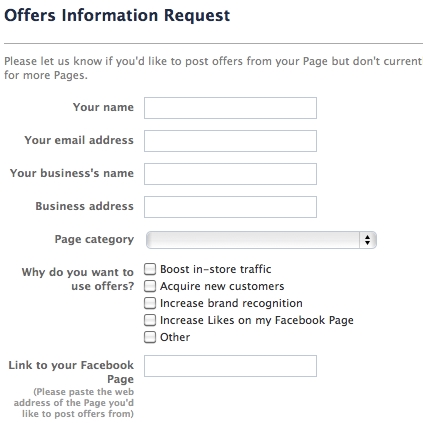 As tends to be the case, there is no guarantee that contacting Facebook will help, but it can't hurt!
Do you have Facebook Offers yet? Have you had success getting the feature by contacting Facebook? Let me know in the comments below!