Tonight my wife complained about getting hacked on Pinterest, saying that shortly after noticing a suspicious pin about a free Best Buy gift card by a friend, the same item was pinned in her name as well.
I laughed.
Then I went to Pinterest. The moment I did, the offending free Best Buy gift card pin flashed in my name.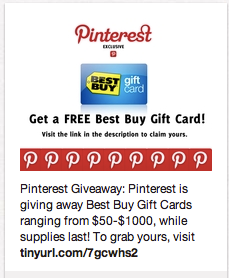 Pinterest hacked? Yep.
I've never seen anything like this. Sure, spam and hoaxes have infiltrated Pinterest. People will share things, hoping they are legit. Or, like on Facebook, someone will click a link that they shouldn't.
But this is different. I didn't click anything. All I did was go to the Pinterest home page when that pin showed up under someone else's name. I didn't click to view a close-up. I didn't do anything. Within seconds, a new one was in the feed under my name.
When this happens, it's easy to panic since the button to edit or remove it is not on the pin. You instead need to go to your Pins in your account drop-down at the top right.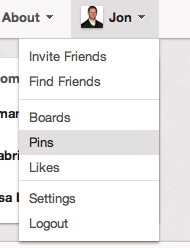 This appears to be a widespread problem hitting today with other hacks around Diet Pills and Starbucks Gift cards. So be vigilant.
First of all: I hate people who do this crap. I just thought I'd say that.
Second: This is alarming. I'm still trying to figure out how someone could hack my account when all I did was SEE the Best Buy Gift Card pin. So this is a pretty significant security flaw on the part of Pinterest.
Are you still at risk if you were hit? I have no idea what the impact is of this. I'm not an expert on getting hacked. But I'd suggest changing your password and then make sure to contact Pinterest about what happened.
Did this happen to you? Let me know what happened below!