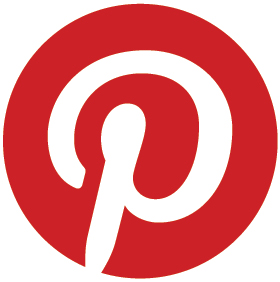 First thing's first. What's Pinterest? Let's allow them to define it:
Pinterest lets you organize and share all the beautiful things you find on the web. People use pinboards to plan their weddings, decorate their homes, and organize their favorite recipes.

Best of all, you can browse pinboards created by other people. Browsing pinboards is a fun way to discover new things and get inspiration from people who share your interests.
It's more than that, but it's a start. It's really not a complicated concept. You create "pinboards" by a certain category (food, clothes, beer, whatever) and fill that board with stuff you've found on the social network from other people or from around the internet.
It's a slick interface that puts the emphasis on imagery over words. You still add your own comments, like stuff, follow people and whatnot, but the stars here are the pictures.
I signed up last week and sat… And sat…
Look, I get it. For the most part, Pinterest is dominated by women. I've only had one or two of my guy friends follow me there. And I have yet to see any of my guy friends "pin" anything.
I'll say this: Male or female, this appeals to a certain personality type. Getting started was difficult for me because I couldn't think of a single topic I wanted to build a pinboard around. It's really good for organizing and planning if you're looking to redesign your house or, I don't know… get married or something.
So finally, I popped my Pinterest cherry tonight. What was my pinboard? What else? Bacon.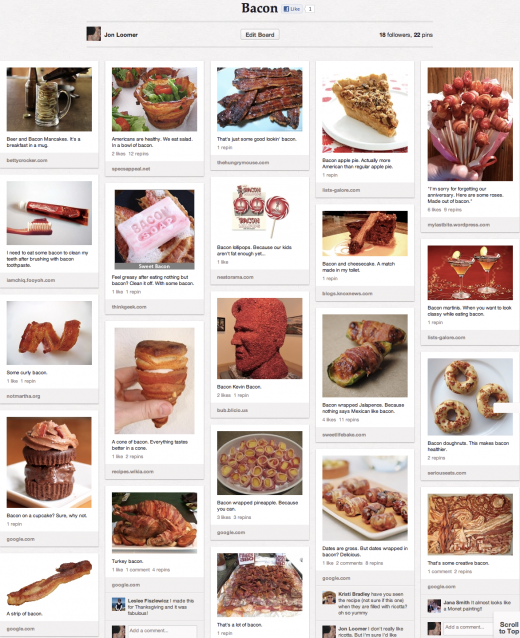 I don't know why someone would follow my pinboard about bacon, but 18 people have. You can follow it, too, if you really feel the need. Even stranger might be that 13 people are following my pinboard about caulk. It was jokingly created out of the suggestion of a friend in response to my status update on New Year's Eve about shopping for some caulk.
Yes, I have an exciting life.
My thoughts on Pinterest? I don't know that I'll ever get into it. But that doesn't matter. It was still fun. And the people who are using it are obsessed. It more than likely won't be big for a site like mine (though I did get a referral link from someone who pinned one of my articles). The sites that will benefit are those that win with imagery: photographers, artists, fashion, foods, designers, etc. Really big for those groups.
Not on Pinterest yet? Try it out. Are you on it? What do you think? Is there a future in pinning?