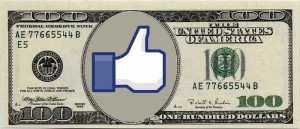 By now, you've likely heard about Facebook's Small Business Boost contest that gives small business owners in the US with a Facebook page of at least 50 likes the opportunity to get $50, $150 or even $10,000 in free Facebook advertising.
This is nuts!
Is there a catch? Not really. The $50 is automatic to anyone who enters. The additional $100 goes to anyone who accrues 100 or more likes to their entered page before April 1 (piece of cake with the help of that $50 in advertising). And $10,000 in advertising goes to the 10 participating small business owners who accrue the most likes by April 1.
This post isn't about how you can get that $50. It isn't about how you can scoop up that extra $100 (read this for help with both). I want to help you get that $10,000.
Pages With an Advantage

I want to help you win because I have a built in disadvantage. I don't have a store with foot traffic. I don't have an established email list. And since I just started my business a couple of months back, I don't have a loyal following.

The pages with the biggest advantage aren't necessarily those that already have thousands of fans, though that wouldn't hurt. What they need more than anything else is easy access to lots of people. Whether that's in the form of signage at your store, emails to your customers or messages on your website and social media accounts (or a combination thereof), companies with access to a strong base of customers will have a leg up.

Does that mean that brands without a large base can't win? Nope. A mobilized fan base is powerful. Even if it starts with a small core.
Plan a Strategy

This contest isn't ending for more than two months. So plan accordingly. Keep things fresh. Build up to the final day of March. You want to avoid wearing people out and exhausting them.

The best bet here is to make a decent push in the beginning to announce the contest, pull back and then incrementally increase your attention to it, building to a crescendo at the end. The goal should be to get your biggest push on March 31. If you blow all of your promotion on Day 1, the buzz will fizzle out prematurely.
Set Goals

Saying "we want to win" is too ambiguous. How will we get there? What is needed to get there? It's not clear if Facebook will be posting any standings, so you need to set some goals that your customers can help you reach.

Help us get to 10,000 likes by the end of tomorrow to put us closer to our goal of winning the Facebook Small Business Boost contest!

Keep things fresh. It doesn't always have to be about getting new likes to your page. Maybe it's number of times a post has been shared or retweets on Twitter. Make sure the goals are attainable. But keep setting them. And if you blow them away, adjust accordingly.
Tell Your Customers

There's no reason to hide what you're doing. Scream it from the mountaintops: We're participating in this contest, and we want to win that $10,000. We need your help!

I've already alluded to some of the resources you need to tap into. But here's a quick list. Feel free to add to it:

[custom_list style="list-1″]
Announce it on your Facebook page
Write a blog post
Create an ad on your website
Announce it from all of your social media accounts
Create signs in your store and at tables (if applicable)
Send an email to your entire list, asking for the help of your loyal customers
Create a video talking about the contest and put it on YouTube and Vimeo
Get the help of local media to help spread your cause
Create Facebook ads that target your current fans
Create a tab or default landing page on Facebook about the contest
Have your employees remind customers about the contest
Create a press release announcing your participation
[/custom_list]
Of course, you need to build this up. Write about how excited you are and why you want to win. Feel free to show the human side of your business.
Seem over the top? It depends on how badly you want and need it. If you're a struggling small business owner, that $10,000 is going to mean a whole lot to you.
Ask Your Customers to Share

It's important that this isn't just a matter of you trying to win something. Make this about us. It's got to be a group effort. Involve your customers. Get them excited. Make them feel like they are a part of your community. And ask them to spread the word.
Create a Contest Within a Contest

People have to really like you to get this pumped up about helping you get $10,000 in Facebook advertising. They may like you that much. But you're still bound to have a few customers who will shrug and ask…

What's in it for me?

So give them something. First, share a post about the contest, asking for the like and asking to share. Be very clear and concise, including a goal. And also tell your fans that if they share that post publicly to their friends directly from your wall, they get X.

Maybe it's a free appetizer. Maybe it's 20% off. Maybe it's a free beer. Whatever. But incentive never hurts.

And ask them to share publicly so that it can be proven. You can only see when people share your content publicly. And it also maximizes the number of eyeballs that will see it.

[Note: As pointed out by a very astute reader, running a contest to get more likes may actually be a violation of the Small Business Boost terms. So be careful here.]
Create Promotions

Maybe every Friday is "Bring a Friend Friday." If you and your friend have both liked the page, you get a unique happy hour special.

If you are a bar, throw a party on March 31. Chart how far you've gotten, and announce your milestones throughout the night, building up to midnight.
Share in the Successes

Did you reach a small milestone? Share it with your customers! Thank them for their help! Recognize those who are helping. Share photos of those who received a discount for helping on your page. Just keep your customers involved and never stop reminding them how grateful you are.
Don't Lose Focus

While it may be easy to lose yourself in this promotion, don't stray too far from your initial strategy for the page. The entire focus for two months should not be on the contest. You will burn people out. You need new fans, but you also need retention.

So keep your page fun and upbeat. Don't ever lose site of your main goal: Engaging.
You Can't Lose

Whether or not you win the $10,000, the focus to run this campaignThe campaign is the foundation of your Facebook ad. This is where you'll set an advertising objective, which defines what you want your ad to achieve. More will add buzz to your brand and bring new customers to your business. And after all… If you add 10,000 new likes to your page but don't win the $10,000, did you really "lose?"
What Will You Do?

Are you participating in the promotion? How will you win the $10,000?

Here are some helpful links to get you to the promised land:

[custom_list style="list-1″]

[/custom_list]