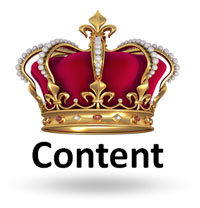 Content is King
Yeah, yeah. We've all heard it a million times. You need content. You need good content. You need a lot of it. It's what keeps your social media accounts fresh and drives up your search engine results.
But we often say things with authority that simply aren't true. It's nice to have the data to support such a statement, even if we believe it to our core.
I've had a Facebook page for about two and a half months. I maintain a blog that is four months old and I've spent about $125 in Facebook coupons (cheap bastard here) on ads to drive more likes. I'm active with my page, consciously interacting and trying to keep it fresh.
As of this moment, my page has 1,345 likes. There are three main sources of those likes, in alphabetical order:
Ads and Sponsored Stories
Like Box and Like Button (from my site)
On Page
How would you expect these sources to be broken down? I've gotta admit, this is a metric I haven't followed particularly closely. So when I saw it on my Insights tonight, I was a bit surprised.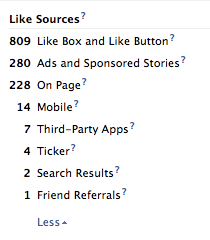 So, 60% of my likes comes simply from natural traffic to my blog; 21% comes from $125 in advertising; 17% comes from people who stumbled to my page; and the remaining 2% comes from mobile, third party apps, Ticker, search results and friend referrals.
Wow.
First, I'm surprised that so few come from the Ticker. Then again, I guess some could go from the Ticker to the page and then like it. But I expected that number to be higher.
But 60% of my likes comes from my website? A majority of my Facebook audience comes from simply writing content? An active website is the Holy Grail in the quest for how to get more Facebook Likes?
That's crazy to me. It's a good kind of crazy. But it shows just how important content is to your Facebook strategy. Sure, it's how I keep my page interesting. It feeds the content of my page. But people are liking my page before they even see it. A full 60% hit my website first.
This tells me something very basic:
Focus on your website first. Create a good content strategy. Write good content. Don't neglect SEO. Have well-placed Like buttons on the site. The Likes will come.
Can you run an active Facebook page without a well trafficked website? Sure, you can. There are some good examples of people who work entirely out of Facebook, and they do it successfully. But it's like catching lightning in a bottle.
It's also not so simple as saying write good content. It's an integrated strategy. I regularly update content, keep an eye on SEO and publish to Facebook. People then share on Facebook, go to my site, and my traffic increases. As a result of the sharing on Facebook and traffic to my site, my search engine ranking goes up. People then find me on Google, go to my site and like my page.
I created a very awesome flowchart in an effort to show this graphically. It's something like this (click on the image for a close-up to see this polished flowchart in all its glory)…
Feel free to put that in your white papers.
Needless to say, it's complicated. Each piece is necessary. But the website is the engine that makes it all happen. It was obvious all along, but now I have the data to prove it.
How about you? Do you see similar data? Does content drive the majority of likes to your Facebook page?