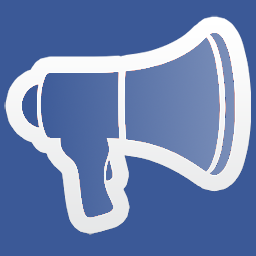 During the past several months, Facebook created a metric called Talking About This that refers to both the Facebook page itself as well as individual posts. The purpose of this post is to discuss what it is, why it's important and how you should use it as part of your Facebook page strategy.
What is Talking About This?

Go to any Facebook page and under the number of total likes you'll see another metric for Talking About This. Facebook defines it as follows: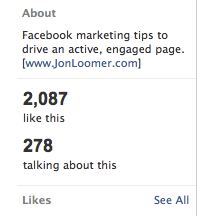 The number of unique people who have created a story about your Page from XX/XX/XXXX to XX/XX/XXXX (one week period). A story is created when someone likes your Page; posts to your Page Wall; likes, comments on or shares one of your Page posts; answers a question you posted; responds to your event; mentions your Page; tags your Page in a photo; checks in at your Place; or recommends your Place.
That's a lot of stuff that qualifies. Here are some things that don't:
Visiting your page
Viewing your post in their News Feed
Clicking a link, photo or video that you shared
Seeing your ad
Basically, someone needs to do more than simply see you. They need to do something that alerts their friends that they are interacting with you in order to be considered talking about you.
Why Talking About This Matters
Oh, it matters a lot. Before, you could pad your numbers. Your focus was entirely on getting as many likes as you could because that would reflect a good, respectable page. And eventually, you'd get value out of those people.
Thing is, people were regularly conned into liking fluff pages as a result. Big numbers? Must be interesting. And often those likes were purchased or picked up through lame "tagging sessions."
But now you can't hide. If you buy your likes or pick them up through unethical means, it will be reflected by the Talking About This metric. If your page is simply not interesting, it will be reflected in that metric. If you started out with an engaging page and then dropped the ball, it will be reflected by that metric.
Come out from behind your couch. Don't be scared. There's value here. You are ethical. As a result, this is good for you.
This number gives you a more accurate representation of how many engaged fans you have. You may have 10,000 likes, but how many are actually sharing stories about you? That matters. A lot.
Talking About This: Digging Deeper

Hopefully you look beyond Likes and Talking About This on the front facing portion of your page. You should also dig into your Insights.

Click on Insights, and the initial screen will present data that looks a little like this: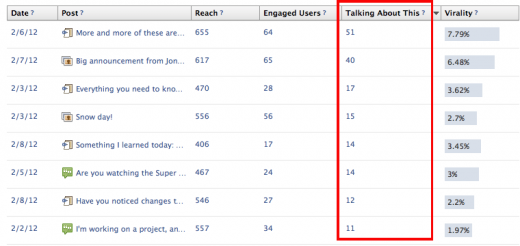 Not only do we now have an understanding of how many people have been talking about our page during the past week, but we can break it down by post. As you can see above, two of my posts during the past week received more activity than the others. One was a link about How to Spot a Facebook Hoax and the other was a photo of my three-year-old in a sport coat (my new Director of Operations).
How to Use Talking About This Statistics Strategically

First of all, the main Talking About This statistic statistic isn't only an outward tip to fans and potential fans about the creativity of your blog, but it's also a good measuring stick for you. If you see that number dropping, you know you need to pick it up a notch.

I know I do. It's easy to get stuck in a routine. But if that routine grows stale, your fans will stop reacting. So while it's depressing to see that number drop (and embarrassing that others will see it), it's good motivation to quickly shake things up before it gets worse.

When it comes to posts, this is a really good way to measure what works and what doesn't. For me, I shared two photos during the past week. They were both among my top four pieces of content that generated the most response.

A key to those photos, though, may have been more than the fact that they were visual. One, as I said earlier, was of my three-year-old. The other was the view out my front door after getting hit with two feet of snow.

Did either post have anything to do with Facebook, social media or digital marketing for businesses? Nope. But that's partly the point. Your page shouldn't be all about business. Showing a human side is important. And your fans will respond accordingly.

The posts that received the worst response were all links. In almost every case, those links were either of blog posts written by others or my own blog posts that were about a subject other than Facebook.

Does that mean I shouldn't share content by others or write about topics other than Facebook? Not necessarily. But maybe I need to address frequencyCalculated as (Impressions/Reach), Frequency is a Facebook ads metric that measures the average number of times users have seen your ad. More and how I present that type of content.

Overall, one week of content isn't enough to make a strategic judgment. That's why you need to stay on top of this data to make changes according to what your fans like — or, more precisely, what they are talking about.
Your Turn

This is how I use Talking About This. How do you use it to make your Facebook page better?