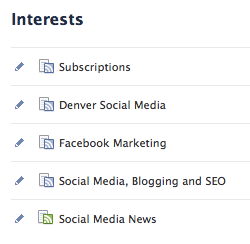 On Thursday, Facebook launched a new featured called Interest Lists. Facebook Interest Lists allow you to group subscribed content by category for easier viewing.
I had a concern about this feature. I didn't want it to be like Twitter Lists or Google+ public circles. Here's why, how Facebook Interest Lists are different and how you can use Interest Lists as a marketer.
The Evil of Social Lists
The one thing I hate more than anything else on social media is the abuse of reciprocity to gain exposure and hollow numbers. People will add you to Twitter lists and Google+ circles so that you'll notice them and return the favor.
Maybe not always, but usually. It's all about reciprocity. In an effort to extend one's own reach, they add and follow, hoping the individual with the established audience takes notice and adds them back.
This happens because whenever you are added to a Twitter list or someone adds you to a Google+ circle, you receive a notification. Hey, someone thinks I'm special! You add them back. You fell into their trap.
I hate this because the entire process is insincere. You are adding and recognizing people in an effort to get added and recognized in return. It's not to create value.
Why Facebook Interest Lists are Different

I need to add a caveat to what I'm about to say: So far. Facebook Interest Lists are completely new and the rules can change in a heartbeat. But this is how things are different right now.

Facebook Interest Lists are different because you do not receive notification that you've been added to someone else's list. So when I create a list that includes big time Facebook marketers like Mari Smith and Beth Kanter, they are unlikely to know that list exists. In other words, the only reason to create such a list is if it provides value.

The value may either be personal or for your audience. You can keep lists private, share them with friends or make them discoverable publicly. But unless the people on those lists actively search them out, they'll never know they are on them.

This is good. It keeps the purpose and value of Facebook Interest Lists pure.
How Marketers Can Benefit from Facebook Interest Lists

That doesn't mean that there is no value in Facebook Interest Lists for marketers. It just means that the value is actual value as opposed to the grime that is Twitter Lists and Google+ Circles.

There are two ways that marketers can use Facebook Interest Lists to their advantage:
Aggregate the best content for your audience
Get discovered by creating lists that service a niche
Aggregate the Best Content for Your Audience

I created and shared the Facebook Interest List called Facebook Marketing on my Facebook page. I did this because my audience cares about Facebook Marketing and they are likely to find value in the list.

The people on the list are unlikely to ever know that they are on it. It's all about creating value. The only bit of "self-serving" would be putting myself on that list. But since those in my community listen to me for Facebook marketing info, I think this is reasonable.
Get Discovered by Creating Lists that Service a Niche

You can also leverage public Facebook Interest Lists to get discovered. The first instinct will be to create an Interest List about Baseball or Sports or Technology or Social Media and put yourself on it. You sit and wait, hoping people start subscribing to it.

And wait.

The thing is, hundreds or thousands of others will have the same idea, and your list will drown in a sea of other Interest Lists about the same topic. What you need to do is find a smaller niche that is relevant to you.

Maybe it's Denver Facebook Marketers or Nonprofit Timeline Tips. Make it specific to limit the competition. Those searching for such a list will thank you for it. And of course, if your content is relevant to that niche, add your page or personal profile to it.

Then share it to your audience so that others are made aware of the list. Once they follow, their friends are notified and others may join them. And the more people who subscribe, the more authority that list has when searching for lists to follow.

Of course, this could all change tomorrow. Maybe Facebook will add notifications that alert you when you've been added to a list. And maybe they'll add a box that displays all of the lists you are currently on.

But I hope not.

What do you think? Do you like the way Facebook Interest Lists currently work?