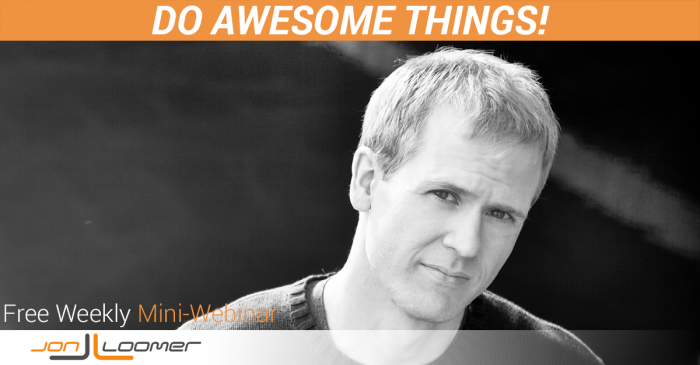 [Go here to register for Do Awesome Things, my weekly (and free) mini-webinar.]
A few days ago, I received an interesting suggestion from reader Barry Tubwell: Host free, weekly mini-webinars.
At first I thought it was a crazy idea. But the more I thought about it, the more I warmed up to it.
Not to be corny, but I'm constantly listening to your feedback. So much of what I do and what you see are reflections of what you've said to me (even the mean stuff that made me cry!).
So thanks for the feedback, Barry! Here's the what, why and how of my new mini-webinars (and an investigation of whether I'm nuts)…
The What
Every Wednesday at 4pm EDT, I'll be hosting a 30-minute mini-webinar. That's also…
1pm PDT (San Francisco)
9pm BST (London)
6am Thursday AEDT (Sydney)
My audienceThis is the group of people who can potentially see your ads. You help influence this by adjusting age, gender, location, detailed targeting (interests and behaviors), custom audiences, and more. More is international and whatnot (that was humble, right?), so I wanted to pick the best possible time that would work for the most possible people. That's a tough job. The main thing was that I didn't want this to air in the middle of the night for my Aussie friends.
I call it a mini-webinar because it won't be nearly as structured as the traditional webinar. I'm not going to prepare a professional looking Powerpoint and it won't take 45-minutes to an hour.
This will have a very casual structure. I'll spend the first 15 minutes covering the things you need to know since the last webinar. So that includes a round-up of changes and tips that are designed to help you, the advanced Facebook marketer.
The final 15 minutes will be spent answering your questions.
Oh, and the sessions will be recorded. But you have to register to get access to those recordings.
The Why
There are a couple of reasons for this.
First, diversity is always important to me. I wanted another medium to reachReach measures the number of Accounts Center accounts (formerly users) that saw your ads at least once. You can have one account reached with multiple impressions. More people. Some may prefer this over my written or video content, and it will be more interactive than my Pubcasts.
Second, there is certainly a revenue element. I'm always looking for new ways to promote my products. That doesn't mean that this will be 30 (or even five) minutes of self-promotion. I hate hard sells.
Instead, this allows me to casually remind or refer you back to my products. This would actually take pressure off of me regarding the other advertising I do across Facebook and on my website. Pretty important.
Third, this is a way to build my email list. I'm always looking for new ways to do that.
Fourth, I need more webinar and public speaking experience. Consider it a skills development move.
Finally, the dumb reason: I'm paying for a GoToWebinar membership, so I might as well use it. I hate seeing things go to waste!
The How
When you sign up, you'll receive both a welcome email and a message from GoToWebinar with details.
Easy, right? Yep…
ARE YOU CRAZY?
Possibly.
I wrote a teaser status update that announced this was on the horizon. Here's a comment I received from David Lorentzen:
Hmmm. I'd much rather see more content like your PE course. You do plenty free content.
My knee-jerk response: Crap. I should've charged for this.
After thinking it through more, I don't think that's necessary. My email list is still rather modest. I need to work more on building it up. And this gives me a really unique way to communicate with my readers — all of them, not just those who can afford it.
If I do it right, revenues will still flow from it. That's the hope, at least.
The other reason I might be crazy is due to the overwhelming thought that hosting a weekly webinar is going to be too much to handle.
But like I said, this is going to be very casual. I think it will be less work than a one-on-one coaching session, which I love to do.
So am I crazy? Possibly. But I don't regret this. And I can always fold this into a premium membership later on down the road if I determine the work is too much.
Your Turn
So what do you think about this idea? And what would format would you like to see in a typical mini-webinar?
Let me know in the comments below!