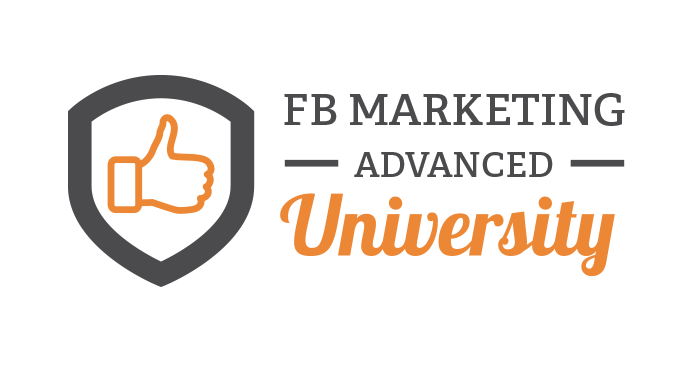 Three months ago, my business took a completely new path. When I launched FB Marketing Advanced University: Power Editor, I had no idea what to expect.
Three months later, that course has more than 500 members with new people being added every day. Creating training courses is now central to my business.
That's why I'm psyched to announce my new training course, FB Marketing Advanced University: Insights.
It is exactly what you think it is. It's a comprehensive course that will help you fully understand all Facebook metrics and how to apply them.
As was the case with the Power Editor course, I am releasing it first on a pre-pay basis. The course is not completely ready yet, but if you buy before it's 100% finished you can get it for half off ($73.50).
Launching a New Product
I've gotta tell you… There is no better rush for an entrepreneur than what is felt when launching a new product.
When I finally hit "publish," I was overcome with all sorts of emotions. Nervousness. Excitement. Paranoia. Fear. Anxiety. Anticipation.
Building this course on a new platform only added to my mixture of emotions. But it sure is exciting!
Filtering Out the Metrics that Don't Matter
If you're the typical marketer, you spend a lot of time stressing about two metrics: Page Likes and Post ReachReach measures the number of Accounts Center accounts (formerly users) that saw your ads at least once. You can have one account reached with multiple impressions. More.
The truth is that these two metrics don't mean all that much in the grand scheme of things. And there are dozens of other metrics you need to understand and leverage to your benefit.
Of course, you won't know that most of these metrics even exist without downloading the Page and post level export files.
Mastering the Metrics that Matter
What matters to my business doesn't necessarily matter to you. That's why it's so important to understand all of the metrics available so that you can focus on what matters most to you.
But here are just a few of the metrics you are possibly ignoring now:
Consumers
Consumptions
Link ClicksThe link click metric measures all clicks on links that drive users to properties on and off of Facebook. More
Photo Views
Video Plays
Engaged Users
Engaged Fans
Fan Reach
Fan Demographics
Day of Week and Time of Day
This is just a small sampling of important metrics you may be ignoring.
Building the Course
Unlike the last course, I will be building the Insights Course with Infusionsoft and Customer Hub. I also plan to slowly migrate the Power Editor course to this platform.
One of the reasons for this is so that I could offer an affiliate program. Many have asked me about this. It will be available for the Insights program once the course is finished (and full price), and it will be ready for the Power Editor course once it's migrated to Infusionsoft.
If you're a member of the Power Editor course, you know the drill. The Insights course will be the most comprehensive training available anywhere on the topic of Facebook Insights.
Here are a few things you should expect:
Sections broken up from beginner to advanced
Dozens of written lessons
Dozens of video lessons
A daily assignment to keep you accountable
Completely self-served
The ability to subscribe to daily lessons emailed to you every weekday
Get Started!
So, are you ready to master the metrics that matter and optimize your brand's presence on Facebook? Then get started today!