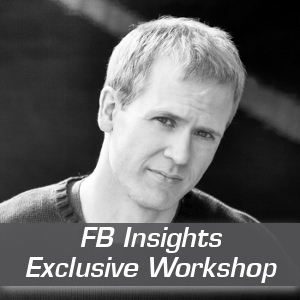 I've been looking forward to this!
After weeks of planning, the FB Insights Exclusive Workshop is ready to take off. You have until the end of the day April 1 to join me and save your seat.
>> Use promo code FBINSIGHTS to save $100 <<
So, what can you expect? Here's the course calendar:
Date
Topic
April 1
Introduction: Web Insights
April 2
Introduction: Page Level Export
April 3
Introduction: Post Level Export
April 4
Reach and Impressions
April 5
Engaged Users
April 6
Consumers and Consumptions: Link Clicks

The link click metric measures all clicks on links that drive users to properties on and off of Facebook.

, Photo Views, Video Plays, Other Clicks
April 7
Talking About This and Stories: Claims, Comments, Likes and Shares
April 8
Organic Reach
April 9
Paid Reach and Impressions
April 10
Viral Reach and Impressions
April 11
Negative Feedback
April 12
Fan Stats: Impressions, Reach, Paid, Engaged, Stories and Talking About This
April 12
Workshop: Mastering Your Post Level Stats
April 13
Negative Feedback: Hide, Hide All, Report Spam, Unlike, X Button
April 13
Round 1: One-on-One Sessions
April 14
Total Likes, Unlikes and New Likes
April 14
Round 1: One-on-One Sessions
April 15
Check-ins
April 15
Round 1: One-on-One Sessions
April 16
Like Sources
April 16
Round 1: One-on-One Sessions
April 17
Viral Reach and Impressions by Story Type
April 18
Frequency

Calculated as (Impressions/Reach), Frequency is a Facebook ads metric that measures the average number of times users have seen your ad.

Distribution: Total, Page Posts, Viral
April 19
Talking About This and Stories by Story Type
April 20
Consumptions: Link clicks, photo views, video plays, other clicks
April 21
Likes Demographics
April 22
Reach Demographics
April 23
Talking About This Demographics
April 24
Tab Views
April 25
External Referrers
April 26
Measure Success #1
April 26
Workshop: Mastering Your Page Level Stats
April 27
Measure Success #2
April 27
Round 2: One-on-One Sessions
April 28
Measure Success #3
April 28
Round 2: One-on-One Sessions
April 29
Measure Success #4
April 29
Round 2: One-on-One Sessions
April 30
In Review
April 30
Round 2: One-on-One Sessions
May 1-7
Facebook Page Reviews Delivered
Each day will have a different theme. I'll email you a daily lesson and you'll be responsible for completing some homework (up to you on whether you complete it!). Twice per month we'll have a small group webinar and twice we will also sit down for a one-on-one session.
If you want to join the group after the April 1 deadline, contact me to see if there is an opening.
I hope to see you there!