On August 1, Facebook announced that as many as 9-percent of its profiles were duplicates, misclassified or undesirable accounts. Facebook said that it would take aggressive steps to remove them.
It's started. Facebook has begun that purge of fake and undesirable accounts.
According to TechCrunch, "illegitimately created accounts are being deleted, and Likes gained from malware, compromised accounts, or deceived users are being removed."
On average, this should impact fewer than 1-percent of your current Fan count. So unless you have a large following or participated in some shady practices to acquire your Fans, you may hardly notice a difference.
The purge is, however, noticeable on popular Pages like Zynga's Texas HoldEm Poker, which lost about 100,000 Likes yesterday.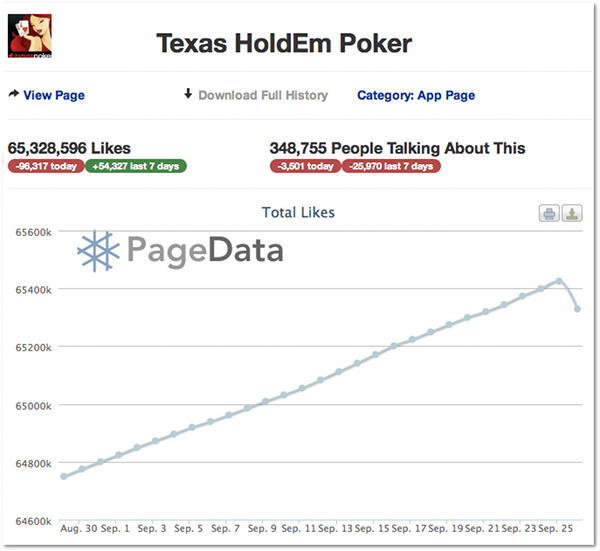 A scan of the 30 top Facebook Pages (according to PageData) shows that 24 of those Pages saw significant daily drops in Likes: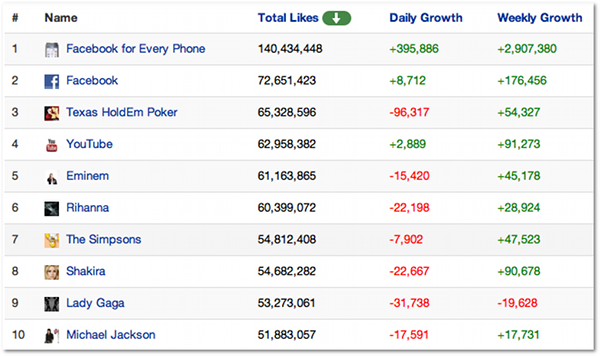 The Purge Will Impact More Than Likes

We can only theorize the impact of this purge on Facebook Pages. But my suspicion is that we'll see positive and negative changes, and it will go beyond simple Like counts.

This quote from TechCrunch oversimplifies the impact of removing these accounts:
If a Page had 10,000 fans but 4,000 were fake and it published an update that got 2,500 Likes, it might think only a quarter of its fans were interested in that content. But with an accurate fan count of 6,000, the admin would know nearly half the fans enjoyed that post and that they should post more with a similar vibe.
This suggests that the fake accounts are essentially dead profiles that have an associated Like but don't interact. These fake profiles, according to this theory, are harming your percentages since they only boost your Like count.
However, anyone with a large following (or who views the comments of a Page with a large following) knows that spam and possibly bot accounts are very active within posts as well. These accounts are a target of Facebook's purge, though it's not clear what types of accounts have been cleaned out so far.
I've noticed that as my reachReach measures the number of Accounts Center accounts (formerly users) that saw your ads at least once. You can have one account reached with multiple impressions. More has grown, I'm seeing more and more spam and gibberish on my posts. But not only am I getting comments from these accounts, but Likes and even shares.
What this means: You are going to lose more than Page Likes; you will also lose some of the activities that make up "Talking About This."
The Bad News
As your Page is cleaned up of these "undesirables," your numbers are going to drop. You're going to lose Likes and it's possible you're going to lose some interaction as well. You're going to have some explaining to do come reporting time.
This will also be a splash of cold water if you have built your page through shady means. You may lose a very large chunk of your faux following over night. You'll no longer be able to hide.
Even if you have done everything through ethical means, you'll undoubtedly see some dips. This could mean that the way you evaluate performance in Facebook Insights will need to change.
That, of course, is frustrating. If you're like me and countless others, you're already dealing with a strange drop in Viral Reach. You're already questioning the validity of some of these stats.
So it's going to take some time to sort all of this out.
The Good News
Come on, quit yer whinin'!
If it means getting rid of spam, this is good!
If it means getting a more accurate measurement of your audienceThis is the group of people who can potentially see your ads. You help influence this by adjusting age, gender, location, detailed targeting (interests and behaviors), custom audiences, and more. More and interaction, this is good!
If it means having a better understanding of where you stand with your Facebook marketing efforts, this is good!
Once again, you can't hide now. Strip away the fraudulent activities that have provided a false sense of security, and you may not like what you see.
But it's true.
We'll never completely get rid of spam and all of these shady methods of manipulating data, but the less you run the more you can focus on tangible — not imagined — success.
So why is this good? It will be nice to look at your Likes and know that you earned them. That they're people who are there for the picking. That when you get X interactions, it's because they actually cared.
It means that we'll be able to run ads without feeling cheated when we notice that we spent a large chunk of our Facebook ad dollars on fake profiles.
By the way, you're not going to give us our money back on that, are you Facebook? Yeah, I didn't think so…
Have You Seen an Impact?

Have you noticed a dip in your Likes suddenly? Has this also spilled over into interaction? Are you seeing less spam?

Let me know in the comments below!