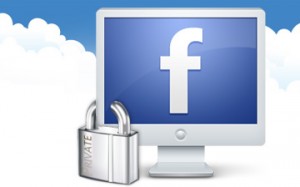 So… Timeline is here. If you've been careful about your Facebook privacy up until now, you have nothing to fear. Going through the following steps will be a piece of cake. But if you've ignored your privacy, thinking no one would notice… Well, you might wanna block off some time.
The following is a very thorough instructional on how to make sure your Timeline privacy is set up the way you want it. And I mean… really thorough. I don't want to overwhelm you, but I also want to make sure you know about all of the options available to you. You don't want surprises.
Ultimately, we all need to take responsibility for our own privacy. If you do that, you have nothing to worry about.
A Step Back
I wrote a post called 6 Steps to Controlling Your Facebook Privacy back in September. Read it. I won't recreate the wheel here, but the main steps you need to consider for this exercise before you get started are as follows:
Create a Close Friends list… and use it!
Set default privacy
Who can see posts by others on your Timeline?
Getting tagged — Who can see it?
Once again, read that article first. If you take care of these four items, you've won half the battle. Of course in some cases (like using lists and setting default privacy), it won't impact what's been done retroactively. We'll get to that.
Photo Albums
Go to your photo albums.
With some photos (Mobile Uploads and Wall Photos), you can adjust the privacy of each individual photo. Otherwise, you can edit the privacy of each remaining album.
This is good and bad. You can't adjust the privacy of individual photos within your custom albums. But it sure makes it easy for this exercise.
Photos of You are taken care of if you update the Getting Tagged step above. You can't edit the privacy for these photos individually, which is probably a good thing for your sanity.
Update Info
Below your cover photo is a button for Update Info. Click on that, won't you?

This is a collection of all of your personal information. You can edit the privacy of each category along with some subcategories:
Work and Education (including individual controls for College and High School)
Living (Current City and Hometown privacy can be edited here)
Relationship Status and Family (click Edit on either one for privacy access)
About You
Basic Info (Birthday, Interested In, Relationship Status, Languages, Religion, Political Views)
Contact Info (Emails, Phones, IM Screen Names, Address, Website)
Favorite Quotations
That's a lot of info. If you've gotten this far, you're in good shape!
Edit Favorites
That bar of boxes of info under your cover photo that includes Friends, Photos, Map, Likes, Subscriptions, Subscribers, Notes, Music or any other apps you have in there are called your favorites. That's public facing stuff, so you should probably take a close look at them.
You can edit who sees your Friends on your Timeline by clicking on the Friends box and clicking the Edit link. Easy.
For Likes, click on the Likes box in your Favorites. Then click on Edit. From there, you'll be able to edit individual privacy for the following types of likes:
Music
Books
Movies
Television
Games
Athletes
Sports Teams
Activities
Interests
Inspirational People
Other Pages You Like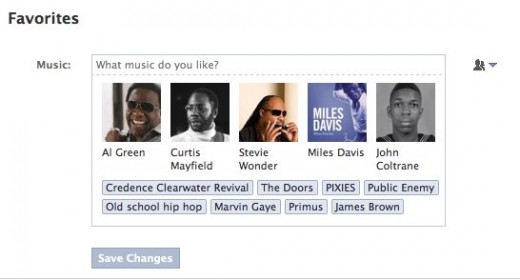 If you like the Chicago Bears, you should probably keep that private. If you're a fan of the Green Bay Packers, scream it from the mountain tops. Make it public!
Of course, it's up to you…
Alright, so back to the Favorites. The other boxes don't give you that refined control. You can swap boxes around, but that doesn't affect privacy. You can remove boxes entirely, and that may be something to consider with certain types of content, particularly music.
I'm looking at you, fan of 2LiveCrew.
Apps
If you need a reason to set your default privacy, it's apps. When you add Spotify to your Timeline, it's very easy to miss the prompt to adjust your privacy settings. If you have your default privacy set, you're fine. If not, you're broadcasting to the world.
So go to Privacy Settings and click Edit Settings for Apps and Websites. Okay, so a few things…
1) Apps you use
Click Edit Settings. This is ugly. If you've been on Facebook for five years like I have, there's a lot to sort through. I have 242 apps (yep, I need to clean that up). A first step may be to go through and click the "x" to delete any app you no longer use. After that, it's kind of a pain.
To adjust the privacy of individual apps, click Edit by the app name. It will open some settings for you that includes App Activity Privacy. There you can control who sees your activity with that application.
2) How people bring your info to apps they use
Back on the Apps page is this section. Click Edit Settings. This is the type of info your friends can bring into their apps. Lots of stuff to choose from. Personal preferences here. This is how I see it: If your lowest level friend can see X on your Timeline, who cares if they can see it in an app? So I'd just consider the lowest level friend when adjusting these settings.
3) Instant Personalization
This caused a big flap quite a while ago, but most people have come to accept it. When you go to eight different Facebook partner sites, your experience is automatically personalized based on your Facebook info. Some people are freaked out by this. I think it improves my experience at those sites. But it's up to you. Click Edit Settings to add or remove it.
4) Public Search
Do you want people to be able to see a preview of your Timeline if they run a search for you on Google? Of course, they'd only be able to see what you make available to the "public." So once again, this is one of those things that I think people will freak out about without thinking it through. The search engine will only pull up what you determine should be accessible to the public (in all other steps we've gone through here).
Go through the old stuff
You've taken care of most of it. But you're worried there may still be some old stuff lingering. And that's entirely possible since the steps we've taken so far won't necessarily take care of everything retroactively. It'll take care of anything other people have posted on your wall or tagged of you. But you may have posted some things in the past that you didn't think was a big deal then, but… you've grown up and whatnot.
There's no real easy way around this. Go through your Timeline. From the top to the bottom. When you see something that makes you a little uneasy, take the following steps:
What is the privacy setting? Feel free to change it.
Hide from Timeline by selecting from the Edit icon dropdown. This does not completely remove it, however.
Delete Post by selecting from the Edit icon dropdown. This takes care of it for good.
This is probably the ugliest part of the process. It's up to you. Maybe you just want to make sure the most recent few months and first year or so are in order. The most recent months are important since those are the items people are most likely to see. The oldest items are important since those are the items we're most likely to regret.
Timeline, of course, doesn't show everything (hence, the "Hide from Timeline" option). You can see everything by going to Activity Log.
This is actually a pretty cool feature. You can see everything you've ever posted (and only you can see this page). Even better, you can sort it by category. You can filter by a long list of categories of content that I won't list here. But it's a lot.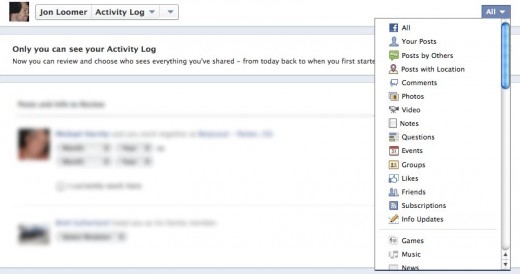 Since we've taken care of most of it already, a good place to start would be Your Posts. If you so desire, you can even control which of these posts go on your Timeline here.
Check Your Work
This is a lot of work. And it's easy to think you missed something. So let's check your work.
Next to Activity Log is a little dropdown. Click it and select View As…

Go to town. Enter old boyfriends or girlfriends. Enter your parents. Enter someone you hate. You can also view your Timeline as any non-friend can see it by clicking the Public link at the top. That may be the ultimate test.
Be careful when you comment on others' content
Don't forget this one, folks. You can lock your Timeline down. But if you aren't smart about what you post on other people's content, you're going to get yourself into trouble. Remember: You don't control the privacy of your own comments when you post on someone else's content. They own that content. Even if it appears to be for Friends Only now, they can change it to Public. Just be smart.
That's It!
That wasn't bad, right? Okay, it was.
But in all honesty, it's just housekeeping if you've been smart until now. I don't have any surprises. You may not either. But it never hurts to make sure.
Spread the Word!
I can't reach everyone with this. But there are a lot of people who need to read it. You probably know someone who fits this description. They post public photos of their kids. They write profane comments on public posts of others. They complain that they don't understand what is private and what isn't.
Do them a public service. Share this post!