It's so difficult to keep up with Facebook changes that I often wonder if I'm imagining a change that either didn't happen or has been in effect for months. The changes are often subtle, and Facebook slips them through without fanfare.
An example is the latest change to the Facebook photo viewer. As confirmed by AllFacebook.com, Facebook is indeed testing out new photo viewer designs. No announcement has been made since not everyone has the change — and it's also apparent that there are variations floating around as Facebook tests out what works best.
Here's what I've got (click the photo for a close-up):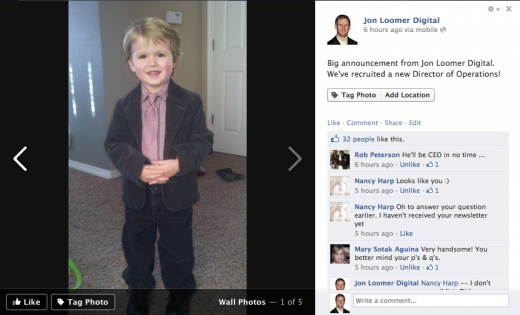 Some things to note:
Photo description and comments moved from below the photo to the right of it
The comments now scroll, keeping the image in view
Hover over the photo to get back/forward arrows, Like and Tag buttons
I think it's great. Previously, I'd pull up the photo and not even realize the conversation going on below it. Now, it's all pulled up in one view. And now the comments scroll within that view, so I never lose site of the image. This is great for commenting so you don't have to scroll around to look back at what it is exactly you're commenting about.
This is an example of Facebook making subtle changes that easily go unnoticed. Another is that they are testing seven ads on a page instead of six.
Have you noticed a difference? What do you think?