When Facebook provided brands with the ability to schedule Page posts in the end of May, I was cautiously optimistic. I saw potential for good and bad as a result, depending on how brands used it.
I tested it out for a while. I used it to target non-US and Canada countries while I was sleeping. But I eventually became frustrated with it and stopped.
There were several reasons I stopped. One was that I didn't want to duplicate content, so I targeted specific countries. But then that made it too complicated as I only entered a handful of countries, and it was always a pain doing that every time.
But starting July 21, I came up with a strategy that worked. Following is what I did and the eye-opening results.
My Facebook Scheduling Strategy
Every morning, I post a new piece of content between 7-8 AM MT. I will occasionally publish at another time during the afternoon, but the morning is the one set time.
What I didn't have was a way to resurface older, evergreen content. I wanted to do this for anyone who missed it the first time. This could be for a number of reasons, but one of the biggest is due to time zones.
I know I must neglect anyone in Asia, Europe, Africa and Australia. I post when it's convenient for me, so people in these countries likely miss my content regularly. This doesn't even consider people who simply have access to Facebook in the evenings only.
So the first thing I did was go through my old blog posts and make a list of evergreen content that I could share again. Since I write every day, this wasn't that hard. I found a solid list of 18 posts.
The second thing was to determine a time to schedule each post. I decided that I wanted to go with two times: 7 PM and 2 AM MT. I would also only schedule one of these posts per day, so I would alternate whether that post would be shared at 7 PM or 2 AM.
The Analysis

Now that my test is complete, I want to compare some important data. I pulled Facebook Insights for the 18 days that I scheduled these posts (July 21 – August 7) as well as the 18 days immediately before scheduling (July 3 – July 20).

I focused on the following:
Number of Posts Per Day
Percentage of Daily Organic ReachReach measures the number of Accounts Center accounts (formerly users) that saw your ads at least once. You can have one account reached with multiple impressions. More to Total Likes
Number of Daily Unlikes
It's important to use Percentage Organic Reach. First, it needs to be organic to cut out virality and paid reach. I also used a percentage over Likes since a raw number would provide misleading data as Likes were constantly increasing.
Finally, I wondered if there would be any negative feedback as a result of posting more often. I expected daily reach to increase, but would that also result in more unlikes?
The Results

In the 18 days prior to my test, I posted on 16 of 18 days, averaging 1.4 updates per day. During the scheduling period starting July 21, I averaged 3.1 updates.

First, let's look at Percentage Reach. The line in the middle separates the two periods (dates on the left are without scheduling):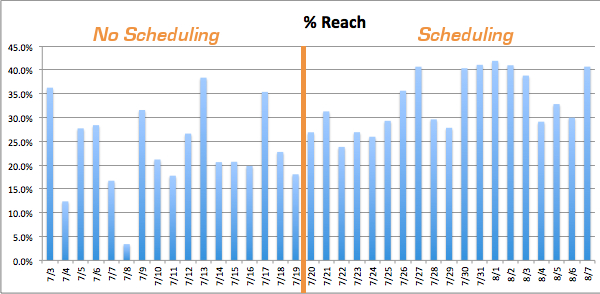 Whoa, how about that? The two lowest days were on 7/4 and 7/8, days on which I didn't post anything. If the difference doesn't look obvious to you, the numbers may make it clearer.
The average reach without scheduling was 23.6% while average reach with scheduling was 33.8%.
Next I wanted to look at Unlikes. One can assume that as I more than doubled my frequencyCalculated as (Impressions/Reach), Frequency is a Facebook ads metric that measures the average number of times users have seen your ad. More of posts that I'd begin getting more people unliking my Page. Let's take a look…
This was not the case. In fact, I never had more than two people unlike my Page after I began scheduling. I've gotta admit that this was a bit surprising!
This may be partly coincidental, but the main explanation for this is that users didn't notice a sudden change. Those who were already seeing my posts before weren't likely to see much difference since they probably weren't seeing my late night posts. And people who were now seeing my late night posts went from nothin' to somethin'.
The Verdict

I'd say this was a very successful test. This strategy of scheduling evergreen content at night and in the very early morning resulted in a significantly higher reach without the negative of losing Fans.

Oh, and this doesn't even consider another added benefit: More website traffic!

So will I continue this going forward? You're dang right I will. Now that the test is complete, I will go back through those 18 posts to determine what will remain relevant for a second round. I will then pull in other more recent posts written during this test that may qualify as evergreen.

I know what you're thinking: But won't you now be sharing the same evergreen content to the same people again? You'll recall that I schedule at a different time every day: 7 PM and 2 AM. I will simply make sure that any content that was scheduled at 7 PM before is scheduled at 2 AM this time, and vice versa.

Sure, some may still see content and think, "Hey, I saw that recently." Will there be backlash? I guess we'll see. Stay tuned!

What strategy do you use for scheduling Facebook posts? Share your story below!