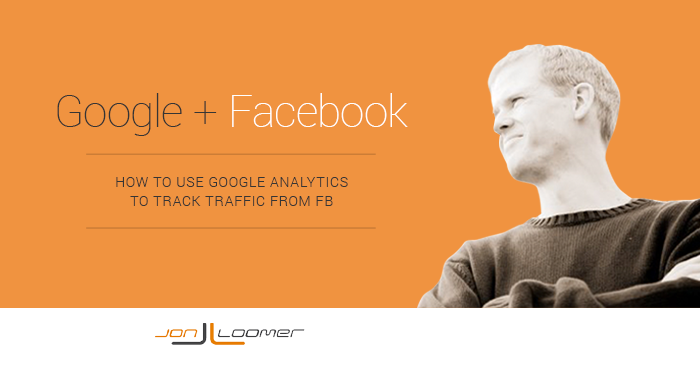 [The following is a guest post by Andrew Foxwell.]
Do you use Google Analytics?
If you do, chances are you know how to use it on the surface but might not know some of the more in-depth tactics that would allow you to gain tons of insights about how your Facebook page and website interact with one another.
In this article, I'll show you how to dive into your Google Analytics account and see…
How people are finding you,
What they are looking for,
How to set up proper tracking on Google; and
How to set up Facebook to track goals (e.g. sales).
Ready? Let's go…
[Tweet "Do you combine Google Analytics with your Facebook advertising strategy? Check this out…"]
Traffic Sources – Referrals
When you log in to Google Analytics, you see the date on the upper right hand corner. Go ahead and set that to the date range you care about.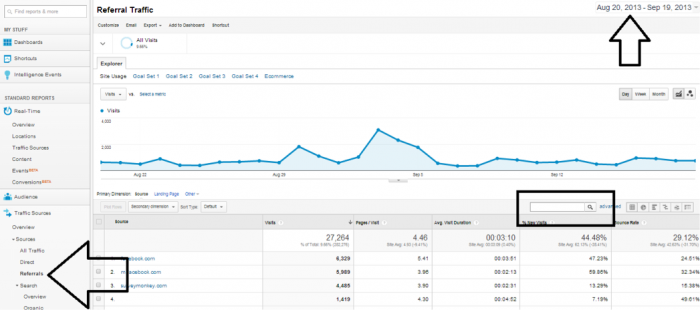 Then click on Traffic Sources > Sources > Referrals.
This gives you insights into the sites that send people to your website the most often. Go to the search bar and type in "facebook" and see what comes up.

In the example above, you can see the following:
In the period of time I chose, I had 6,329 visits from Facebook and 5,989 from Facebook's mobile site.
These visitors went to 5.41 pages on average from desktop and almost 4 pages on the site from mobile.
They spent over two minutes on the website (this is quite good and shows engaging content).
Over 47% of the desktop users were brand-new; 58% of the mobile users were new.
The bounce rates of 24% and 32% means that when these users arrived on the first page, they "bounced" or left the site.
Overall, it gives you some great top-level insights into your visitors from Facebook.
Social – Network Referrals
You can also compare the stats we just went over above to other social networks and see which ones are bringing you the most useful traffic.
Just click on Social > Network Referrals.

Specifically, check out how great the time on site is for Facebook and how many pages per visit they have. Facebook is the clear winner on amount of visits, and more importantly, the time visitors spend on the site (well, WordPress actually wins that one, but five visits is pretty insignificant).
UTM Parameters
Now let's get a bit more intense.
If you're running advertising campaignsThe campaign is the foundation of your Facebook ad. This is where you'll set an advertising objective, which defines what you want your ad to achieve. More to sell something to customers via Facebook, you're likely using the Facebook conversion pixel, which Jon has spoken about a lot. If you're not, then get to it!
Outside of the Facebook PixelThe Facebook pixel helps advertisers track events that occur on their website and reach people who performed those events with ads. More, the second most important thing to close the tracking gap is ensuring that you've got your ads tagged with the proper UTM parameters from Google. UTM parameters are simply tags that you add to a URL. When someone clicks on a URL with UTM parameters, those tags are sent back to your Google Analytics for tracking.
So, instead of just seeing what traffic came to your site, you can separate between source and break it down by medium.
So, you see something like this: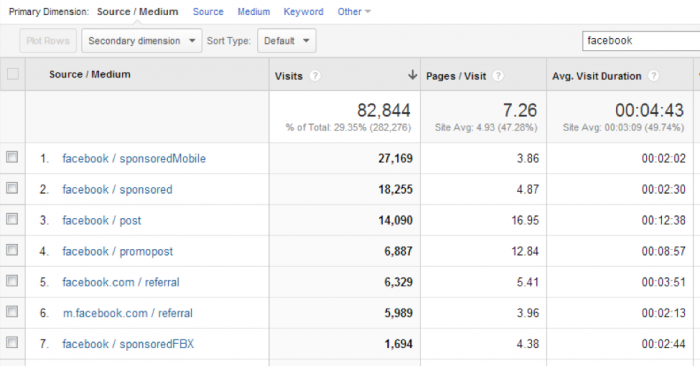 Notice all the different structures in there? That's because we've used the Google UTM builder, which is found HERE.
Once you've got your tracking in place, then you can get to setting up goals on Google Analytics. This allows you to do things such as tracking the number of transactions from a certain ad and how much revenue it's brought you. If you haven't done that just yet, check out this blog post to get started.
In the next post, I'll discuss how to see what your Facebook ads are doing for your full conversion path to purchase!
Your Turn
Are you using Google Analytics to track your effectiveness on Facebook? Let me know what creative strategies you're using in the comments below!