About a week ago or so, I began hearing reports of marketers losing the ability to promote a Facebook post to Fans only.
Previously there were two options:
People who like your Page
People who like your Page and their friends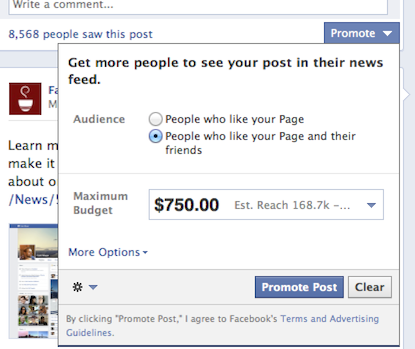 But now that first option is no longer available for some. Mari Smith was the latest to report this change.
I don't have the change yet. It's not clear if this is a permanent change that is inevitable for all of us or if it's a test.
But I wanted to write this post to provide my thoughts on it and how you can adjust.
The Change is Stupid
Yeah, I said it. Were you expecting that?
Like many marketers, I tried the "People who like your Page and their friends" option when Promoted Posts were rolled out. Like many marketers, I quickly changed course.
The backlash to such advertising within News Feeds is brutal. Some are either ignorant to this impact or somehow still see value. But I don't.
The concept of Promoted Posts is a good one. We only reachReach measures the number of Accounts Center accounts (formerly users) that saw your ads at least once. You can have one account reached with multiple impressions. More a small percentage of our Fans for many reasons (let's not get into that debate now!). You can reach more of them by promoting your post.
So why in the world would Facebook remove the option to target Fans only? This completely opposes the original purpose of Promoted Posts — to reach more of your Fans.
I don't want to spend money to reach non-Fans with my post. All I wanted was to reach more of those who wanted to see it in the first place but weren't online.
So this is a very curious move. And as soon as the option to target Fans only is removed, the value in it for me is close to nothing.
That said, all hope is not lost. This is not the end of the world. Let me explain…
Understanding Promoted Posts
First of all, it's important that you understand why this isn't a big deal. If you're a serious marketer, you're better than Promoted Posts anyway. Maybe this will be the push you needed to start getting more serious.
Promoted Posts were created to make advertising easier. It's a cookie cutter option aimed at the rookie advertiser. It really wasn't intended for people like you and me.
It saves a hell of a lot of time. It's easy. It's convenient. But you have no or close to no options for customizing things like bid type, targeting, placementA placement is a location where your ad is shown. Examples include Facebook's mobile Feed, Messenger, Instagram feed, Audience Network, right-hand column, and more. More, length of campaignThe campaign is the foundation of your Facebook ad. This is where you'll set an advertising objective, which defines what you want your ad to achieve. More and a whole lot more.
What the typical marketer doesn't understand is that when you click "Promote" and create a Promoted Post targeted at Fans and their friends, three ads are created:
Your post is promoted within mobile and desktop News Feeds of Fans
Your post is promoted within mobile and desktop News Feeds of Fans and their friends
A Sponsored Story is generated within mobile and desktop News Feeds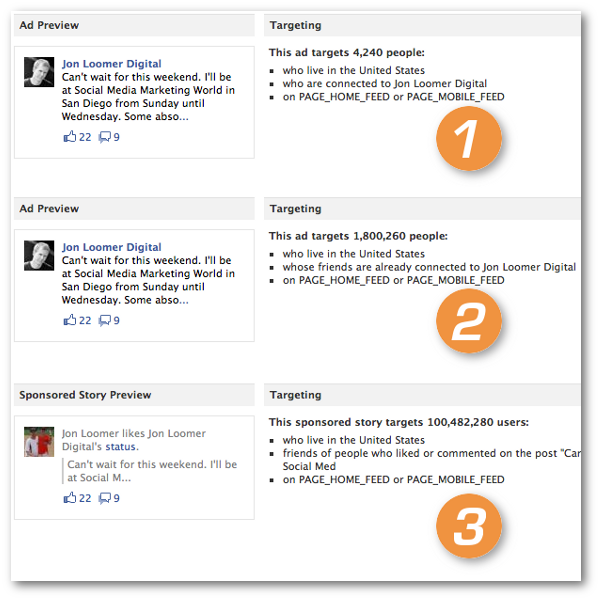 It's really not rocket science. Facebook is just creating three very basic ad units for you. To simplify the process, you have very little ability to customize these ads.
With the change to remove the Fan-only options, those options are now even more limited.
But here's what you can do…
Solution #1: Delete the Extra Ads
Go into the Facebook self-serve ad tool to view this campaign. Promoted Posts can be spotted as their names follow this format: Promoting "[Text from your post…]"
Click into it to see those ads.
Now, Facebook doesn't allow you to pause or edit these ads. They're jerks like that. But you can delete them.
So go ahead and delete the ad or ads that you don't want. In this case, it's at least the ad targeting friends of Fans. But you may also want to delete the Sponsored Story if you want to focus only on Fans.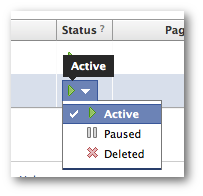 Problem solved.
Solution #2: Use Power Editor
Sure, you can just delete the ad or ads you don't want. But like I said earlier, you're no marketing rookie. You're better than Promoted Posts. You shouldn't be using these anyway.
If you promote these posts using Power Editor, you have far more control.
News Feed: Desktop, Mobile or Both
Track Conversions: Use for posts that drive users to your website
Countries: One country at a time or your main countries
Age: Your target demo
Sex: Your target demo
Precise Interests: Focus only on those with certain interests
Custom Audiences: Target Fans who are also on your email list
Language: Target only users who speak your language
Pricing & Status: Options of Optimized CPMCPM measures the cost per 1,000 impressions. It's a good metric to evaluate competition level and costs to reach your audience. More, CPM and CPCFacebook reports on CPC (All) and CPC (Link Click). The first refers to all clicks and the second on all internal and outbound links. More
Luckily for you, I wrote a tutorial recently specifically about how to do this.
Power Editor: An Alternative to Facebook Promoted Posts
It's Not That Big of a Deal
So is this change annoying? Absolutely. But it's really not that big of a deal.
I'm hoping that the result is that you realize you shouldn't have been creating ads this way in the first place. Don't trade in control for convenience.
How about you? What do you think? Is it a big deal?