Remember when I asked aloud whether photos engagement on Facebook was overrated? Well, this happened…
An "Engaged User" is anyone who clicked on a post. So that includes liking, commenting, clicking a photo, playing a video or clicking a link. "Talking About This" includes any action that would create a story for friends to see (liking, commenting, sharing, responding to a Question or Event).
Think I'm filtering by photos only? Think again. Though they make up less than 24% of the content I shared, photos are my entire top nine pieces of content when it comes to engaged users. The next item is a link before yet another photo shows up on the list.
If you've noticed that I'm sharing more photos to my Facebook Page lately, there's a reason: People engage far more often with my photos than any other content. So no, I don't think that Facebook photos engagement is overrated.
My recent influx of photo content is not by mistake. Insights tells me that photos are where engagement is at.
Dating back to March 28, I have shared 109 pieces of content that fit the following qualifications:
Not influenced by advertising
Targeted at all fans, not a specific location
Nothing that would artificially influence results
Since advertising will positively influence results and targeting will negatively influence results, it was necessary to remove both from the equation. I also removed the status update that was part of my EdgeRank experiment since I don't feel it accurately reflects how people interact with that type of content.
My remaining 109 posts are broken down as follows:
Links: 49
Photos: 26
Status Updates: 26
Videos: 8
Let's compare each type of content in terms of Engaged Users and Talking About This for an even clearer picture. This is based on averages: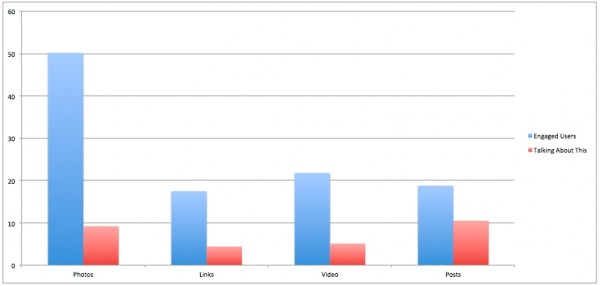 And if you want to see it in a table, here you go:
| Content | Engaged Users | Talking About This |
| --- | --- | --- |
| Photos | 50.2 | 9.2 |
| Links | 17.5 | 4.4 |
| Videos | 21.8 | 5.1 |
| Status | 18.8 | 10.5 |
What can we decipher from this? Well, people are very willing to like and comment on status updates, but the problem is that it's a fully contained piece of content. That's about all they can do.
Slightly fewer people may like and comment on photos, but far more click within it. Understand that I add links to my content within the description of some of the photos I share, so engagement includes clicks on these links.
Also, the typical link share doesn't produce much engagement. I get the fewest Engaged Users and Talking About This from links, and I still share links far more than any other type of content. It looks like this will need to change.
I did a similar study a few months back and videos were driving far more engagement (though in a small sample size) at the time. Currently, they just haven't been that effective.
Why Photos Engagement is Not Overrated (with a caveat)

First of all, engagement of any kind is good. Even if your fans are doing nothing else but clicking around within your post — not liking or commenting — they are at least preoccupied and interested. This is good.

But you certainly can't only share photos that focus on this type of behavior. Eventually you need to drive them to something that leads to fulfillment of a business goal.

That's why it's important to mix in photo sharing that includes links. I'm convinced that this is more effective than simply sharing links through the Publisher. To prove it, I'll be keeping a much closer eye on it.

How about you? Do you see greater levels of engagement on photos you share than any other content? How does that impact your strategy?