[Special thanks to Andrew Voirol of The Social Diner for pointing me to Facebook's cool use of albums.]
On Facebook's Facebook Page, they created an enormous image on their Timeline to celebrate reaching 1 Billion users.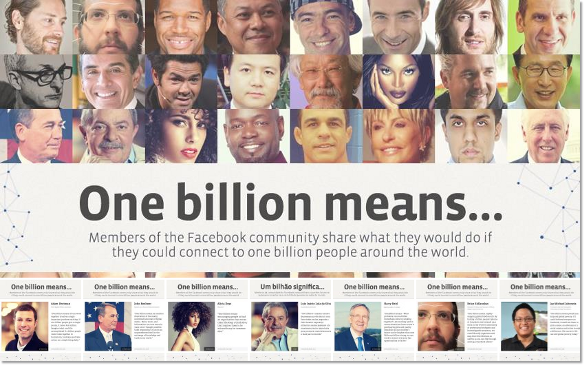 As you likely know by now, the largest area you can "Highlight" on your Page Timeline is 843×403 pixels (see this reference of Facebook Timeline Dimensions). But upon close inspection, this image is actually 843×521.
How did Facebook do it?
I initially assumed they did it custom. They were able to do it because they are Facebook.
But as I looked closer, I realized that this was actually a highlighted photo album. What appeared to be one photo was actually eight. And amazingly, they were all 960×720 pixels.
I was immediately on a mission to duplicate this feat. You can see the result on my Sandbox Facebook Page.
For step-by-step instructions, take a look at the infographic (make sure to pin it on Pinterest!) and video below.
Get the layered files and images here as a starting point.
Make sure that once you've created your piece of art that you let me know by either commenting here or tagging my Facebook Page!