You know what's powerful? Social Proof.
Provide proof from satisfied customers that your product works. Provide proof from experts in your field stating that you know what you're talking about. Provide proof from the community that your content has value.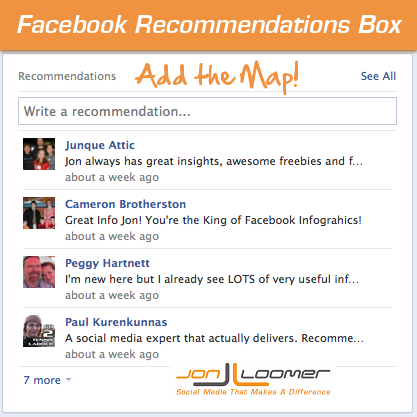 That's why you see so many testimonial pages on websites. It's also why third party apps are springing up on Facebook that provide ways for Fans to recommend Pages.
The reason such apps have been created was that it seemed that the Recommendations Box on Facebook Pages were going away. Somehow disappearing, and no one knew how to bring them back.
I couldn't tell you if this is a recent Facebook development or if I just stumbled on this by dumb luck, but nearly any Page owner can have a Recommendations box. The solution is so easy it's silly.
1. Go to Admin Panel > Edit Page > Update Info
2. Enter a Physical Address
3. Check the Box to "Show this map on the Page."
And that's it.
For whatever reason, Facebook only allows Recommendations for Pages that have not only provided a physical location but chose to display a map within their applications. If you uncheck the box to display the map, the Recommendations box disappears.
If you don't want to show your actual address, there is a semi-workaround. Facebook needs to find your address on the map for this to work, so you can't enter a bogus address. You can enter your home address first until the map comes up, then enter something more general. For me, the map stays.
The downside of that is that the map for the legitimate address is still there, even though you changed that address. If you really don't want to share that, it's something you'll need to weigh.
But you can also bury the Map at the bottom of your applications. Most people don't look at anything other than your first four apps anyway. That doesn't mean no one will, but it's hardly going to be visible.
The exception to this trick is any business classification that doesn't allow you to enter a physical address. There are a few. But you don't need to use the "Local Businesses" classification. I got it to work with "Websites & Blogs."
If you still have trouble, I've heard of some people who got it to work once entering a couple "Sub-Categories" on the Update Info page. Worth a try at least.
Personally, I find this to be a very valuable addition to my Page. If you try the steps above, let me know if it works for you in the comments below!