Some Facebook Page admins can now target their posts based on the following criteria:
Gender
Relationship Status
Education
Interested In
Age
Location
Language
So… now what?
What are the details?
When will someone use this functionality?
What value does it add for the user?
How value does it add for the Page admin?
In the end, I have my doubts about the value of this feature in its current form. But let's dive in…
Page Post Targeting: The Details
So this is what I now see when I start entering a post into the Publisher of my Facebook Page: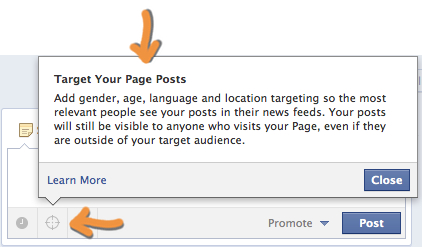 If you don't have it yet, you will soon. Facebook rolls things out gradually.
Now when you're entering a new update, simply click on the Targeting icon to select any of the targeting options listed at the top of this blog post. From there, you have the following options…
Gender: Male/Female (well, yeah)
Relationship Status: Single, In a Relationship, Engaged, Married
Education: In High School, In College, College Grad
Interested In: Men, Women
Age: Create a range
Location: Enter Countries, Region/State or Cities
Language: Enter the languages you are targeting
Something important to understand here: When you target men from Canada, only men from Canada will see your post in their News Feeds; however, anyone could see that same post if they visit your Page.
That presents a lot of questions for me. I'll address those shortly.
How Will This Be Used?
On the surface, this sounds like a great feature. Here are a few ways that it might be applied…
Contests: Let's say that only people in the US are eligible for your great contest. There's no reason to blast everyone with it and disappoint those outside of the US.
Anti-SPAM: If you have found that the vast majority of SPAM comes from particular countries, you can get around these people by targeting outside of those areas.
Split TestingSplit testing (or A/B testing) allows you to test changes in Facebook variables like ad creative, audience, or placement to determine which approach performs best. More: You can promote the same piece of content, but in different ways to various audiences.
What Value Does it Add for the User?

In theory, this could make content more relevant for users. If Page admins can cater their content to specific demographics, you may be more likely to engage with it. Likewise, users may appreciate not being bothered with content that doesn't apply to them.
What Value Does it Add for Admins?

In the use cases above, this feature may help prevent confusion around contests; it can help weed out spam; and it can help you cater your messaging to specific demographics. That all adds up to value.

Another consideration is EdgeRank. If your content is now more relevant to your target audienceThis is the group of people who can potentially see your ads. You help influence this by adjusting age, gender, location, detailed targeting (interests and behaviors), custom audiences, and more. More, the percentage of engagement should go up. That, theoretically, would lead to a higher EdgeRank, resulting in reaching the people you want to reachReach measures the number of Accounts Center accounts (formerly users) that saw your ads at least once. You can have one account reached with multiple impressions. More more often.
My Open Questions

I have a whole lot of questions about this. Let's start from the top…

1) It's only partial targeting. Sure, you target people in their News Feeds. But anyone can see that content if they come to your Page. So if you cater your content based on demographics, you'll probably need to spread out when you post it. Otherwise, you'll have the same piece of content published over and over on your Timeline. The alternative is that you could hide items from your Timeline, but now this is becoming more and more work.

2) Are you cutting out the wrong people? Profile demographics aren't perfect. If you think your post applies most to men aged 18-35 from the US, what about the people who lie about this information? Or don't provide it? Or how about those who fall just outside of that demographic who would have loved to interact with your content?

Another example is around SPAM. Maybe you've isolated India as a country that provides most of your SPAM. But what about the legitimate accounts from that country? You don't want to cut them out.

3) Does the value outweigh the effort? This is a lot of work. Every time you write a post, you need to make a half dozen clicks or so. And if you are split testing, you are duplicating your efforts and possibly hiding posts from your Timeline. Is all of this going to result in some significant benefit?

At this moment, I'm slow to embrace this feature. Maybe it will be awesome. Maybe Facebook will improve upon it. I actually wrote a post a while back about the need for Lists for Pages. This is actually a step in that direction, but definitely no where close to the ease of use I was wanting.

What do you think? Is this a feature you will be using? How will you apply it?