[The following is a guest post from Jim Belosic, CEO of ShortStack.]
Lots of business owners get really excited during fall and winter, in anticipation of the holidays. People are in the mood to shop, so the the holiday season is a great time to host a contest, acquire new customers and drive lots of sales. But did you know that your business can take advantage of the summer season in the same way?
In February I shared with you five just-for-fun apps that your fans will love. Following the theme of my last guest post, today I'm going to cover five more app ideas that are perfect for the Summer season.
1. Holiday app
There is something to celebrate once a month during summer: Father's Day, Graduations, Fourth of July and Labor Day. Plus, there are about a hundred kooky "national holidays" like Sidewalk Egg Frying Day and Embrace Your Geekness Day. I promise I'm not making those last two up! Just Google "July 2013 holidays" and you'll find a long list of silly celebrations.
The point is, you don't have to wait for a major holiday or season to come around for your business to join in on the holiday fun. In fact, there are a couple of benefits to celebrating lesser known holidays. During the traditional holiday season, between October and December, your business is like that unknown singer who is trying out for American Idol. It's difficult to stand out because thousands of other hopefuls are standing in line to try out, too. But if you decide to celebrate "Sidewalk Egg Frying Day," you stand out in the crowd.
The holiday app concept also works well when businesses choose to celebrate holidays that align well with their industry or brand. Take, for example, the California Avocado Commission For Cinco de Mayo. The California Avocado Commission had a contest app that featured three recipes that used California avocados.
And for National Moscato Day on May 9th, Sutter Home Wine had a save-the-date app where users could spread the word about the day with their friends.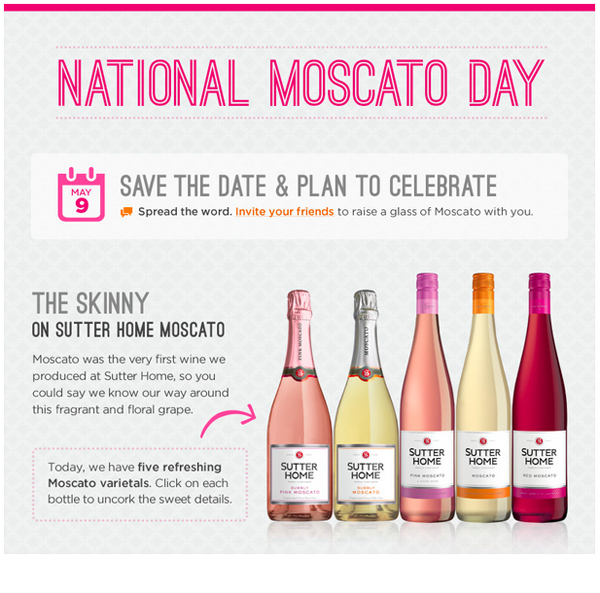 Both of these apps, by the way, were designed using ShortStack by the awesome agency Red Door Interactive. Shout out out to them for their great work and for letting me feature their apps!
2. Summer promo app
If you're a Groupon or Living Social member you probably notice that around this time of year you start getting loads of deals from tanning salons, swimwear brands, gyms and other exercise facilities. Why? People are getting motivated to get in shape so they look their best for upcoming vacations, reunions, weddings, etcetera.
Now is a great time for businesses to get creative with Summer-themed promotions. If you're a company that doesn't want to pay to share your offer, a Facebook app that hosts your deal is a great alternative. Take a note from the upscale San Diego yoga studio Yoga Six. Their app, also designed by the folks over at Red Door Interactive, targets new students who can purchase their special one-month unlimited yoga pass for $79 directly from the app.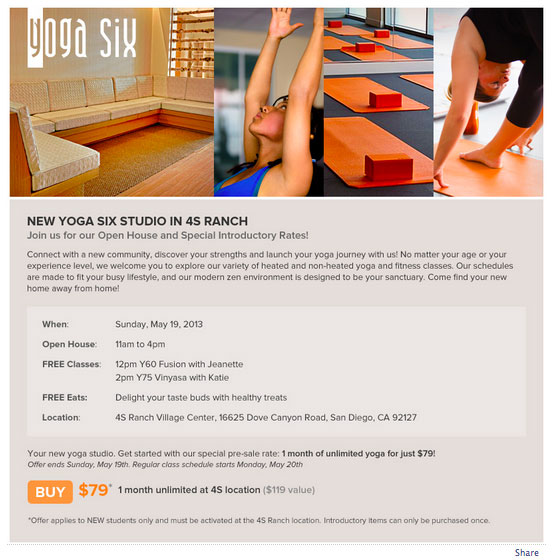 3. Facebook exclusive app
According to the ladies I work with at ShortStack, Kate Spade New York does social really, really well — and I agree. Even though I don't follow Kate Spade New York on Facebook (no offense, Kate, I'm just not a handbag kind of guy!), there's a reason I often reference their Page: they're total pros at keeping their fans happy and engaged. Businesses, even outside the fashion and retail industry, can take a lesson from what they do.
Instead of running promotions just around the times of hyped up holidays, Kate Spade NY features a promotion or an exclusive item on their Facebook Page every single month. Only fans of Kate Spade are allowed access to the exclusive. This keeps their Page relevant, their fans interested and it gives them the opportunity to tailor their promotions and exclusives to the season. For example, Kate Spade New York's May Facebook Exclusive is very Summer appropriate, a wicker print tote bag with a pops of pink trim. At the bottom of the app users can click the "Shop Now" button to purchase the tote!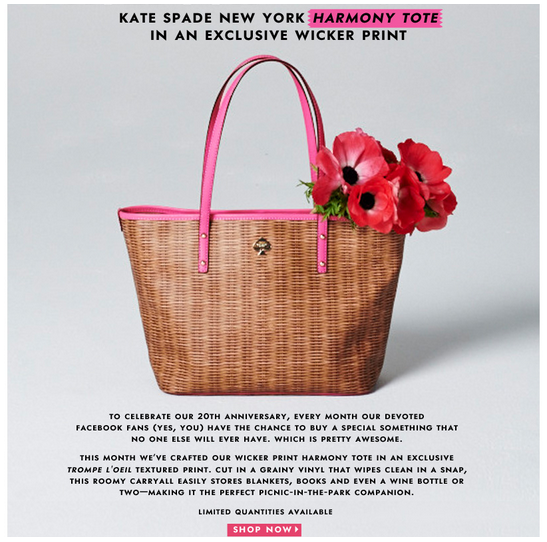 4. Newsletter subscriber app
You know those people who get all their Christmas shopping done the day after Thanksgiving? Creating a newsletter subscriber app this Summer will put you on par with those folks! Launching your app now gives your business enough time to build a solid list of new email subscribers. Come October, November and December you'll be prepared to tackle the holiday season with full force.
One effective way to grow your email list quickly this Summer is to encourage your current Facebook followers to become email subscribers. To do this, design a Facebook app (similar to Marie Forleo's newsletter app below) that has a simple custom form, an effective headline and an easy-to-read list of what your business is offering in response to an email opt-in.
5. Customer appreciation app
For all those awesome people saying nice things about your business on the web, use a customer appreciation app to say "thanks!" Try using this kind of app is a more unconventional way.
For example, instead of creating this app to be featured on your business's Timeline, publish the app, but only allow Page admins to view it. Then, when someone on Facebook– or any other social network– says something nice about your business and you see it, you can send that person a link to your "secret" customer appreciation app. Only the users that have been shared a link to your app will have access to it.
You can design your customer appreciation app to reveal a special promotion code or, like in the example we did below, use a custom form for users to fill out to receive an exclusive gift.
Speaking of customer appreciation, what about some reader appreciation? If you made it this far into the post, I want to give you a chance to win a ShortStack shirt!
In the comments below, share if you plan on launching — or already have launched — a new app this Summer. In your comment, also leave your email address or Twitter handle. I'll contact the comment winners on Monday, May 20th via email or a Twitter direct message.
Note: If you're reading this post after May 20th, the contest will be closed.
Good luck and I look forward to reading your comments below!