Facebook announced at a press event in San Francisco yesterday that the Open Graph is now available to developers. "Starting today," said Eddie O'Neil in the Facebook Developers blog, "developers can build apps that let people add anything they love to their Timelines – whether it is eating, traveling, shopping, running or taking pictures."
Facebook also announced the availability of 60 apps that would showcase this integration. I've listed them below. Some links go directly to the Facebook app while some go to the partner website where you'll first need to establish an account.
This will undoubtedly make your Tickers noisier in the coming days. That said, according to a report from Mashable, you can opt out of sharing this information.
You should pay close attention to how you share with these apps. I installed a few and most defaulted to sharing with "Only Me," like the screenshot below…
Yet, when I installed Goodreads, it attempted to share publicly by default…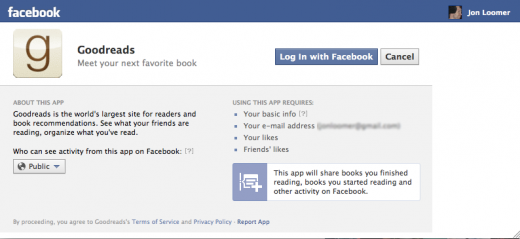 This concerns me since my default privacy setting is "Close Friends," so it is odd that it would default to public. Could be a glitch?
Anyway, keep an eye on that. I'll be testing my apps out in the coming days to see how they share in the Ticker as well as how they show up in my Timeline.
Check some out yourself. What do you like? Are you okay with the frictionless sharing? Does it add value? What groups are you sharing with? What do you think of the Timeline integration?
Music
Spotify
MOG
Rdio
Turntable.fm
Jelli
iHeartRadio
Soundcloud
Slacker
Songza
Rhapsody
Earbits
Saavn
News
Washington Post Social Reader
The Guardian
Buzzfeed
Yahoo! News
WSJ Social
The Daily
Digg
Rockmelt
Wetpaint
The Independent
IBNLive with Friends
Joinsmsn
USA Today + Me
InHindi
Giving

Causes
FundRazr
Artez Interactive
Travel

Where I've Been
Wipolo
Airbnb
Gogobot
TripAdvisor
Food
Urbanspoon
Yummly
Foodily
Snooth
Foodspotting
Shopping and Fashion
LivingSocial
Payvment
GiftRocket
Pinterest
Fab
LAX World
Oodle
Polyvore
GiantNerd
Pose
Sneakpeeq
Lyst
Fitness
RunKeeper
MapMyFitness
Entertainment
Words With Friends
Castleville
Bubble Island
Flixster by Rotten Tomatoes
Hulu
ScoreBig
Goodreads
Draw My Thing
StubHub
Diamond Dash
Kobo
Ticketfly
Dailymotion
Cinemur
Snapstick
Zeebox
Ticketmaster
Other
BranchOut
Ford – Grab-A-Badge
Color
Chegg
[s]edition
Grockit
Ford – Mustang
Artfinder
Appsfire
Autotrader