[The following is a guest post from Amy Porterfield.]
Earning likes and fans is critical to building your community of potential brand advocates. But you don't own your Facebook presence; Facebook does. And when you post there, you're competing for your customers' attention — along with scores of other brands and messages.
People naturally multi-task on social media sites, watching videos, clicking on images, liking, commenting, sharing, you name it. You get their attention for a few short seconds at best.
That's why list building is the most powerful activity you can do on social media.
Because when you move your conversation with a fan over to email, you're no longer competing with a sea of noise. You control the message.
So with Facebook, along with creating a community, you can also move your fans into your sales funnel as leads. And my favorite tool to do that is Facebook Offers. Here's how.
What Are Facebook Offers?

Facebook Offers are yet another Facebook ad type that goes into the News Feed. Previously, they were only available for local businesses (and they're still a great way to drive foot traffic) and functioned much like coupons, but now you can use them to drive web traffic, too.

Here's an example of a Facebook Offer in the News Feed: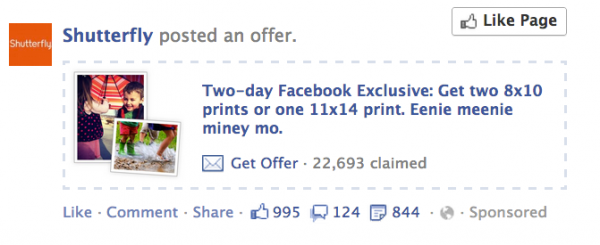 They're incredibly easy to set up — all you have to do is click inside your status update box (note: you need a minimum of 100 fans to use Offers) to get started.
When a user claims an Offer, they get an email explaining how to claim it. That's right — email! Which is why Offers are actually a killer online lead generation tool. Unlike the other Facebook ad types, Facebook Offers don't just stop on Facebook.  They move into the personal email boxes of those who click "Get Offer."
(Note: Facebook does not give you the names and emails of the people who claim your Offer. You collect that info when you lead the user to an opt-in page from your Offer.  Keep reading for details.)
In addition, offers get 48X more viral impressions on average than photo or video, since users are more likely to share an Offer — and Facebook automatically creates a social story every time someone claims one (more here in this SocialCode analysis).
How to Use Offers to Collect Leads

Offers can be set up for anything, on or offline. Think bootcamps, webinars, e-books, discounted programs, etc.

But rather than use them to sell a $1,000 program for $20 off, I use them to get people to opt in for a content-rich, free giveaway offer, like my webinars. The opportunity to build my list is much more valuable than the sale at this stage, because non-fans and friends of fans don't have a relationship with me yet and aren't likely to buy.

So I can optimize my ROI by gathering leads now — and crafting great email content later. That's what list building is all about: building a relationship and nurturing it over time, inside your customer's inbox.

Here's the two-step strategy overview:

#1: Create your must-have Offer. From the status update box, Facebook's self-serve system walks you through the steps. Anyone who claims your Offer is sent an email with the Offer text. You can't customize this, but you CAN customize the text of the Offer itself.

TIPS: Upload a compelling, SQUARE thumbnail. Write a great headline and insert your lead generating landing page link. You'll also want to limit the time and the total number of Offers available to create some urgency.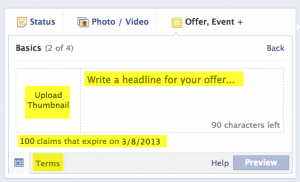 #2: Promote your Offer. You must do part two before Facebook will make your Offer live. I suggest that you don't promote your Offer while you are creating it, but afterward.
To promote your Offer after you set it up, click the button to "promote later" and then go into your ads dashboard and set up a Page Post ad and drill down on your targeting. I usually focus on fans vs. non-fans (depending on who I want to reach), age, gender, location and Precise Interests (this feature allows you to target fans of other Facebook pages).
Once you pay to promote your Offer, it gets out into the News Feed and right sidebar on Facebook of fans, friends of fans and non-fans (depending on how you target it).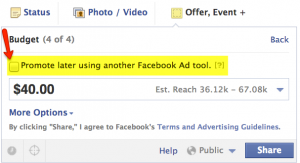 To recap, rather than send people who claim my Offer to a sales page, I send them to a page that collects names and emails in exchange for something of value, like a free ebook, webinar, or exclusive discount.
But how do I make sure my Offer converts?
Optimizing Your ROI

Here's a great example of this strategy in action from my friend David Wood, who got a whopping 600 opt-ins for just $40 bucks.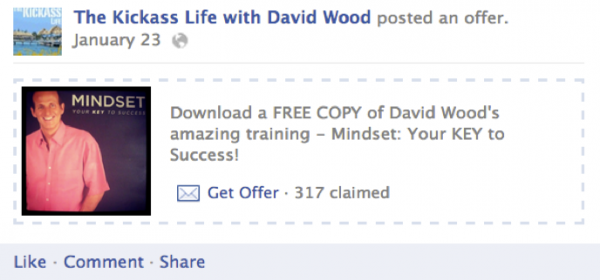 He's offering a free giveaway to premium self-help content — with a compelling thumbnail and clear, irresistible headline — and then he sends all the people who claim his Offer to a great landing page.
But let's take a look at that landing page, too, so we can understand why David doesn't just get claims, he gets opt-ins (that is, people who claim the offer actually give him their emails).
The structure and copy of the landing page is just as important as the Offer and giveaway: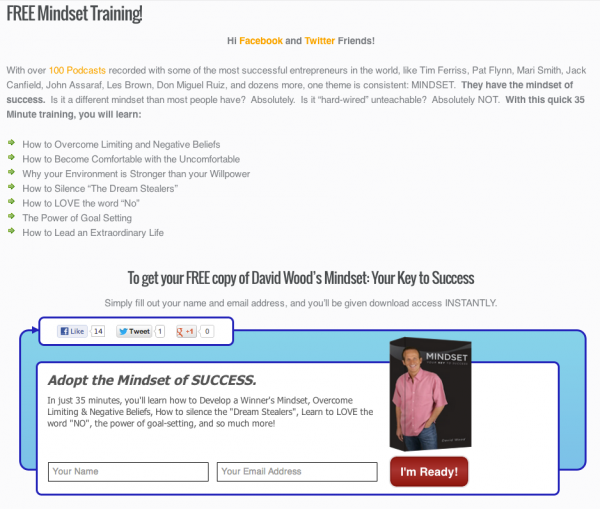 There's a reason David's Offer worked. It's powerful, but it's simply not enough to get into your prospect's inbox. You need to be strategic to get more eyeballs on the Offer AND encourage more people who claim it to take that next step and opt into your list.
So here are a few tips and tricks, culled from experts like David, that can help take your Offer to the next level:
Benefits-focused copy. My friend David (above) increased his opt-in conversions from 48 to over 75% just by making some copy tweaks to his opt-in page. Copy matters. Focus on benefits and answer the questions, "What's in it for them?"
Clear landing page with bold call to actionA call-to-action is a button or link on your ad that suggests the action you want your audience to take. Examples: "Learn More" or "Sign Up." More. David used a tool called Optin Skin to create his lead generating landing page. Do you have any confusion about where to opt in to get his free giveaway? I don't. Creating a great landing page customized to your Offer is key.
Pin your Offer for additional clicks. You're already paying to promote your Offer — why not leverage Facebook's free tools too? By pinning your Offers post to the top of your Page, you can ensure it is the FIRST one fans, non-fans and other Page visitors see, right under your cover photo.
Get laser-focused with your targeting. As previously mentioned, set up your targeting inside your ads dashboard and focus on fans vs. non-fans, age, gender, location and Precise Interests.
Bottom line? For less than $100, you can start using Facebook to actively generate leads at a fraction of the cost of most advertising opportunities. If you have a Facebook community and great content, this is a no-brainer.
Have you tried Offers yet to promote a free giveaway? What results are you seeing?