[UPDATE: This new minimum of 100 Likes also applies to Promoted Posts.]
When Facebook Offers were launched last year, only brands with at least 400 Likes could participate. But lately, I had been hearing chatter about Pages with fewer than 400 Likes suddenly being able to create Offers.
Was it a bug? Was Facebook just toying with these people?
It wasn't clear since the availability was not — and is not — consistent for such Pages. But as we all know well, that's how Facebook rolls out changes (S-L-O-W-L-Y).
When in doubt, check the Facebook Help Center. Here's what I found…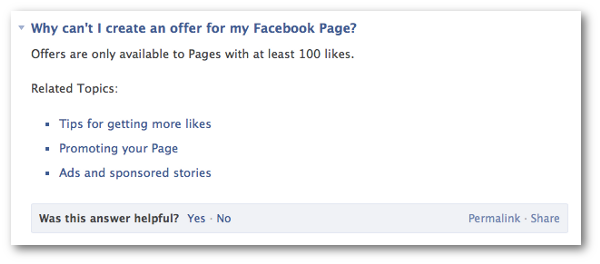 That's right, all you need is 100 Fans now to create your own Facebook Offer. Have more than 100 Fans and still don't have access? Well, I guess you'll have to wait!
If you're not familiar with Facebook Offers, they are an official way to provide discounts to Facebook users for your product or service — with redemption occurring either online or offline. Offers are distributed to users through the use of Facebook advertising.
Here are a couple of posts to get you started…
Do you have fewer than 400 Facebook Fans and now have access to Offers? Try them out and let me know how it goes!