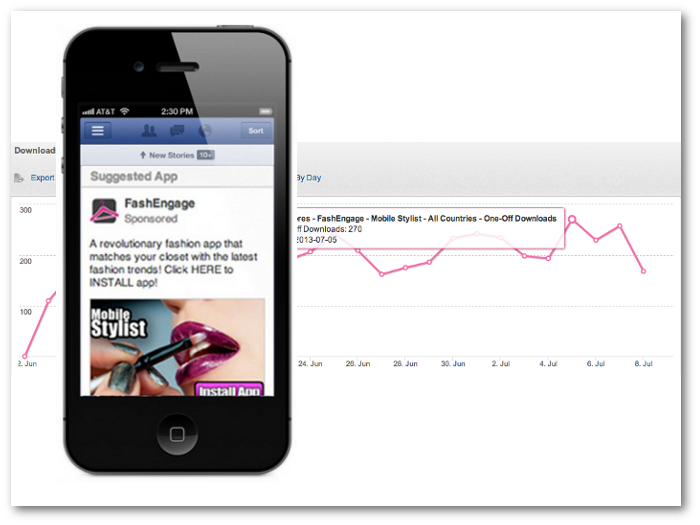 [The following is a guest post from social media consultant Blake Jamieson. ]
The mobile app market is becoming a very competitive space. App developers are competing for downloads and overall app traction.
In an ideal world, your app would be amazing, go viral immediately, and get a 7-figure acquisition. But as we know, this rarely happens.
If you want to boost your user growth, using Facebook Mobile Install Ads can be a great option. The CPI (Cost Per Install) varies based on target demographic, but I have consistently acquired new app users for under $1 each.
In order to run Facebook Mobile Install Ads, you will need to create a Facebook app that communicates with your iOS (or Android) app. If your app uses any type of Facebook integration (signup via Facebook, share to Facebook, etc), then you already have the required Facebook app.
You also must complete your app details page before your can begin advertising. This just requires basic information about your app, how it integrates with Facebook, and a few different sizes of assets and screenshots.
You can access your app details page by going to Developers.Facebook.com > Apps > Edit Settings > App Details.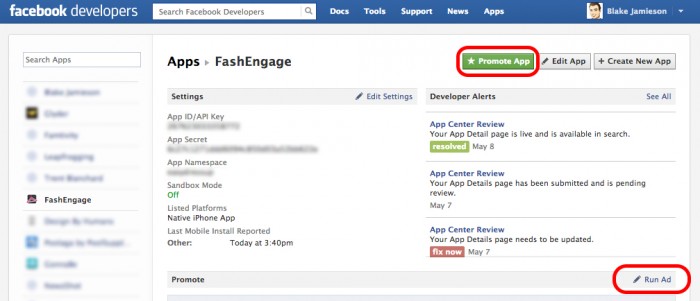 Once you have submitted your app details page, you can create ads within your Facebook App Dashboard or within Power Editor. Use the 5 tips below to run a successful mobile ad campaignThe campaign is the foundation of your Facebook ad. This is where you'll set an advertising objective, which defines what you want your ad to achieve.!
1. Test Your Audience With Page-Like Ads First
Even though I have consistently gotten CPI well below $1, I always start by testing creatives with page-like ads first. This helps me identify which creatives resonate with my target demographic.
These page-like ads are shown on the sidebar of desktop browsers, so the context is a little different than mobile news feed ads. However, the top performing sidebar ads tend to do as well as install ads.
Note: Sidebar ads display at 100×72 px, and mobile ads must be uploaded at 600×360 px. If you are using stock photography, make sure to purchase an image that is large enough for mobile ads. For stock photos, I like to use Photodune because their images are very affordable.
2. Use All of the Allowed 20% Text (on Image Creative)
Similar to the 20% text rule Facebook puts on timeline cover images, your mobile ad creative can have a maximum of 20% text. Facebook measures this using a 5×5 grid. Of the 25 tiles, only 5 of them are allowed to contain text.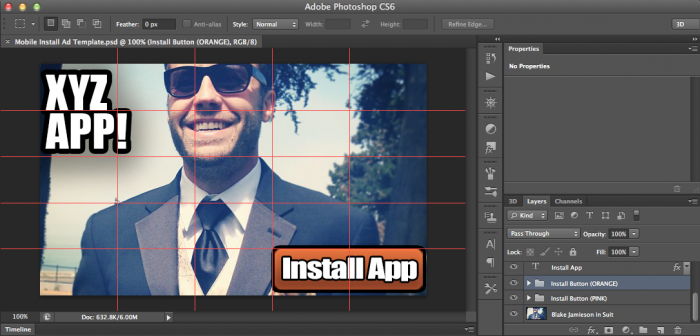 I created a Photoshop template (.psd) that includes guides, text for your app title, and a few variations of an 'Install' button. You can download the psd file HERE. After you click the link, you will need to click File > Download.
3. Segment Ads by Age (every 5-10 years)
In my experience, age plays a major role in CPI. I have found that a younger audience tends to have a much higher CTR and lower CPI. This seems intuitive, because the younger generation is more familiar with mobile apps, the iTunes App Store, and open minded about new technology.
For a fashion app I work with, I have seen the best CPI when targeting women under 30. Test different age brackets and see what makes the most sense for your app.
4. Put 'Click to Install' or Similar Text in Your Ad Copy
When someone clicks on a mobile install ad, they are taken to the iTunes App Store. You want to make sure that everyone who clicks on your ad understands that they will be taken away from Facebook.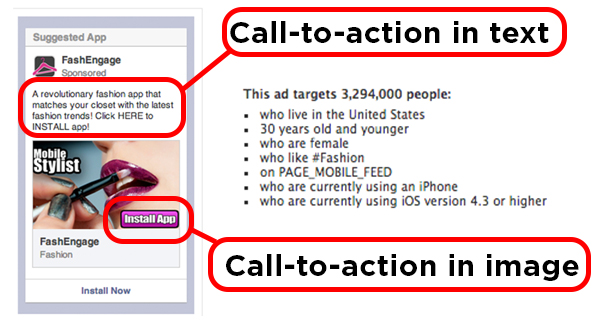 By adding 'Click HERE to Install' into my ad copy, my Click-To-Install conversion jumped from  20% to 37%.
5. Calculate Your Effective CPI and CPA
When running mobile install ads, you will see your CPI in your Facebook Ad Dashboard. However, when running mobile ads, you will notice that total daily downloads will be more than what Facebook shows. This is because your app will get organic installs from climbing the app store rankings.
App rankings are calculated based on installs. So the more paid installs you get (either from raising budgetA budget is an amount you're willing to spend on your Facebook campaigns or ad sets on a daily or lifetime basis. or lowering CPI), the more organic installs you will get as well.
When tracking success of your mobile campaign, make sure to calculate your effective CPI as well as your CPA (Cost Per Acquisition of a user).
Keep in mind that when someone downloads your app, they do not necessarily become a user. Depending on your signup process, there will be one more conversion (downloads-to-signups). Knowing this conversion percentage will allow you to determine your CPA.
This is how I calculate effective CPI for paid advertising:
Track daily app downloads without any advertising. I normally try to track the data for at least a week (longer if possible) to figure out how many average daily downloads the app gets. Personally, I use Distimo for download tracking, but you can use whatever analytics option you choose. In this case, our app got 10 downloads/day organically.
Total Downloads Shown in Facebook Insights: 3,759
Total Spent on Mobile Advertising (for selected time period): $2,291.88
CPI Shown by Facebook: $0.61
Total Downloads Shown in Distimo: 4,857
Average Organic Downloads (for 28 days): 280
Total Paid Downloads (Total Downloads – Average Organic): 4,577
Effective CPI (Total $ Spent / Total Paid Downloads): $0.50>
If you monetize your app (via freemium business model, virtual goods, etc), you should know how much revenue one new user is worth to your business. From there, you can compare your revenue-per-user to your cost-per-user. If your revenue is higher than your cost, Facebook mobile install ads may be a great way to speed up user acquisition! #boom
You can check out FashEngage in the iTunes App Store HERE