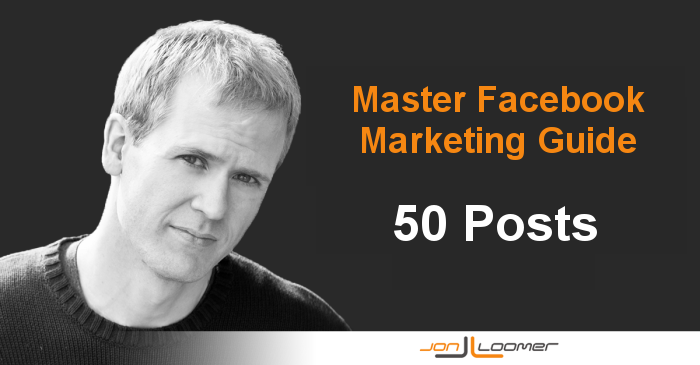 Looking back on 2013, it's amazing how Facebook marketing has evolved in a very short period of time. And I know that this makes keeping up difficult.
That's why I assembled this list of the 50 most popular blog posts published on this website about Facebook marketing. If something happened in 2013 related to Facebook marketing, it's been documented on these pages. And I show you how to execute.
The final product is a fun trip down memory lane. But it's also a terrific resource. I encourage you to go through this list and mark off the items that you need to bookmark for later!
[Tweet "Here are the 50 most valuable Facebook marketing lessons and tutorials of 2013. Bookmark this guide!"]
50. Facebook Ads Glossary: Reference of All Important Terms [Infographic] – This is a post that I expect to be one of my most popular going forward, but it just snuck in before the bell to make this year's list. This is a great reference to help you keep track of all of the most important Facebook advertising terms and features!
49. Facebook Ads Reports: A Tour of a Powerful New Tool – One of the most powerful, yet under-the-radar, Facebook marketing updates of 2013 was the new Ads Reports. If you aren't using these reports now, make it a priority in 2014!
48. Problem: Update Article with New Image Size for Facebook Optimization – Facebook made an update to link thumbnail image sizes in 2013, allowing them to stretch across the width of the News Feed. This is an AWESOME update for publishers, but a problem quickly emerged when updating old blog posts to take advantage of the new size. Facebook continued to pull the old image! Here's the solution.
47. 4 Steps to an Effective Facebook Sales Funnel – Making money on Facebook isn't as simple as creating ads that promote your product. Here is the process I use that I find extremely effective!
46. Facebook Reach Insights Reporting Bug: It Doesn't Matter – I have a long history with the Facebook Reach metric. If you sensed I was annoyed during the latest dust-up, it's because of what we've seen before with Reach. Read this one for a little history lesson!
45. 14 Steps to Succeeding at Facebook Marketing – It's become popular for bloggers and even some mainstream websites to publish the claim that Facebook marketing doesn't work. Such articles show a lack of understanding. Marketing on Facebook is incredibly powerful, but only if you know how to use it. So this was my attempt at laying out a roadmap for the uninformed.
44. Why Our Obsession with Facebook Page Post Reach is All Wrong – Ask any Facebook marketer what metrics they look at most, and they're bound to mention Reach at the top of the list. This is a major mistake, in my opinion. In this post, I explain why we have it all wrong and why Facebook is partly at fault for the obsession.
43. How I Got 35X ROI on Facebook Ads – Forget Likes and Reach and Clicks. Want to show that Facebook has value? Show a positive ROI. I did exactly that with my own campaignsThe campaign is the foundation of your Facebook ad. This is where you'll set an advertising objective, which defines what you want your ad to achieve. More under the spotlight!
42. How to Create a Saved Audience in Facebook Power Editor – The self-serve ad tool is getting better, but it's still no Power Editor. The Saved AudienceA saved audience allows a Facebook advertiser to save often-used targeting settings to easily use later. More (or Saved Target Group) feature is one reason Power Editor continues to be the only way I create Facebook ads.
41. How to Measure Facebook Advertising Success: Monitor These 5 Metrics – Forget CPMCPM measures the cost per 1,000 impressions. It's a good metric to evaluate competition level and costs to reach your audience. More, CPCFacebook reports on CPC (All) and CPC (Link Click). The first refers to all clicks and the second on all internal and outbound links. More and Click Through Rate. If you focus on these metrics, you're bound to fail. Monitor these five metrics instead!
40. 3 Facebook Metrics That Don't Mean What You Think They Mean – You talk a lot about these metrics, but there's a big problem: You don't know what they actually mean!
39. Domain Sponsored Story: How to Promote Shares From Your Website – Want to drive traffic to your website? Here's a Facebook advertising option that very few publishers are taking advantage of. I'm constantly running one of these ads, resulting in a bump to my website traffic. Here's how to do it yourself!
38. Facebook Insights: Consumer vs. Engaged User – Do you know the difference between these two metrics? Most people don't! In fact, I didn't without a little research.
37. An Experiment: Testing Facebook's News Feed Filtering Algorithm – Is Facebook screwing brands, keeping them out of News Feeds of their Fans? To test this, I decided to take a closer look at my own News Feed. Would it be dominated by friends? Were brands forced to pay to reach me? You might be surprised by the results…
36. Facebook Hashtags for Brands: What You Need to Know – One of Facebook's big developments this year has been hashtags. Well, it's largely been a bust so far.
35. Facebook Insights: Monitor These 8 Ratios – Look beyond Reach. If you want to compare the success of your posts, start using these ratios.
34. Facebook Conversion Specs: How to Optimize for Page Post Ad Actions – It's an advanced Facebook marketer's feature that very few people use. You can trust Facebook's default optimizationHow you optimize impacts who sees your Facebook ad. Facebook will show your ad to people most likely to perform your desired action. More, or you can override it by optimizing for your desired action with Conversion Specs. Here's how!
33. Increasing Facebook Likes: You're Building a Number, Not a Business – Are you focused too much on number of Page Likes? If so, it's bound to bite you eventually due to lack of results.
32. The Most Amazing Thing You've Never Heard Of On Facebook, If You're a Direct Marketer – Dennis Yu caught my attention with this post!
31. 6 Things Facebook Marketers Need to Stop Doing – Facebook marketers complain and worry about too many things outside of their control. Here are six of the things that are impeding our success.
30. FBX: How to Create Retargeted Facebook Ads with PerfectAudience – Did you know that you could create Facebook ads targeted at people who visited your website? That's FBX in action, and here's how you can create your own.
29. Alternatives to Wildfire and NorthSocial for Facebook Page Applications – Some of the bigger players offering Facebook applications for brands have shifted their focus to a higher price point. As a result, this post was necessary to help those who were priced out find a replacement.
28. Facebook Timeline Promotions Are Now Legal: What You Need to Know – You no longer need to use a third party application to run a Facebook application. But are Timeline contests the way to go?
27. Facebook Lookalike Audiences: Target Users Similar to Your Customers – Did you know that you can create ads that target Facebook users who are similar to your paying customers? This is how to do it!
26. The 4 Problems with Facebook Hashtags – Facebook hashtags still haven't caught on. Six months ago, I pinpointed several issues that have prevented the promising feature from taking off.
25. The NEW Facebook News Feed: Everything You Need to Know – Remember when Facebook announced the "new" News Feed? Yeah, that was more than nine months ago. I still don't have it. Do you?
24. The New Facebook Insights: What's New, What's Awesome and What Sucks – Facebook performed a facelift on their web Insights product, improving what previously existed while also providing some new functionality.
23. The Problem with Facebook's 20-Percent Text in Ad Images Rule – If you've created Facebook ads, you've undoubtedly encountered annoyances with the 20-percent rule. It's a ridiculous rule when it comes down to it, and here are just a few of the reasons why.
22. 5 Reasons You Should Use Power Editor to Create Facebook Ads – Are you still using the self-serve ad tool? Here are a few reasons why you need to switch to Power Editor when creating Facebook ads.
21. Facebook Promoted Posts: A Proven Strategy to Target Fans and Non-Fans – Nearly every time I publish a new blog post with a link share to Facebook, I promote it with ads. Here is a look back at the strategy I implemented back in August.
20. 10 Powerful Facebook Ad Tools and Features Used by Successful Marketers – If you're a marketer who is finding success on Facebook, it's likely you're doing most of these 10 things. If your'e still struggling, you should take a close look at this list!
19. How to Get Around Facebook's 20-Percent Text Rule on Ad Images – We've already established that this rule is ridiculous. But what's even more curious is that it's not so much about the amount of text you use but where you use it. Here's how to get around the rule!
18. How to Use Google Analytics to Track Facebook Referrals – If you truly are an advanced Facebook marketer, you use Google Analytics to measure the full impact of your efforts. Here's how!
17. 10 Very Recent Facebook Changes You May Have Missed – Facebook's been making changes at a breakneck pace of late. Did you miss any of these?
16. How to Engage Your Audience and Grow Your E-mail List with Facebook Contests – Great suggestions from Andrea Vahl on how you can grow your email list with the help of Facebook contests!
15. How to Sell on Facebook: A Detailed, 9-Step Guide – Do you use Facebook to sell your products or services? Here's a guide to help you get started.
14. How to Use Facebook Graph Search to Learn About Your Fans – One of my favorite Facebook marketing tricks! Do you do this to learn more about your Fans and to assemble a targeting list?
13. How to Build a Facebook Audience From Scratch – Not surprising that this was a popular post. If you're starting a Facebook Page from scratch, here's how to hit the ground running.
12. Facebook News Feed Algorithm Change: No More Memes or Asking for Likes – It's not clear if Facebook is enforcing this, but always something to consider if memes and calls to actionA call-to-action is a button or link on your ad that suggests the action you want your audience to take. Examples: "Learn More" or "Sign Up." More are parts of your strategy.
11. Power Editor: An Alternative to Facebook Promoted Posts [Tutorial] – You're not still boosting posts are you? Of course, you still need to promote those posts, but there's a better way to do it!
10. 11 Powerful Ways to Increase Relevant Facebook Likes with Ads – Sure, you need to increase your audience. But it's not all about the number. You need to build a relevant audience, or you're throwing your money away. Here's how to do it with the help of ads!
9. How to Maximize Organic Reach in the Facebook News Feed – Thanks to increased competition in the News Feed and an apparent algorithm change, it's becoming increasingly difficult to reach the News Feed organically. Do you give up? Nope, you do these things!
8. How Much Should You Spend on Facebook Ads? – I get asked this a lot! Truth is that you don't need a big budgetA budget is an amount you're willing to spend on your Facebook campaigns or ad sets on a daily or lifetime basis. More to make an impact with ads. But here's a good guide to get you going.
7. Facebook Ads Conversion Tracking: How to Create an Offsite Pixel – If you ever sell using Facebook ads, you must use Conversion Tracking. Otherwise, you're just guessing. Here's a step-by-step tutorial on how to set up your pixel so that you can optimize for and track offsite conversions.
6. 5 Reasons You Should STILL Create Facebook Tabs for Your Page – You no longer need to use a third party app to run Facebook contests. Studies have shown that only 2% of your Fans return to your Page after liking it. So there's no need to continue creating Facebook tabs, right? Wrong!
5. Stop Using Facebook Text Updates and Photos to Share Links – Back when everyone first started using text and photo updates to share links, I held strong that sharing links the old fashioned way (thumbnail and preview) was the way to go. And this was even long before the thumbnail was updated to take up the width of News Feed.
4. Facebook Image Dimensions for 9 Ad Types Across Desktop and Mobile – Need to know what image sizes you need to use for your Facebook ads? Here's a helpful reference!
3. Facebook Ads Tip: How to Create a Dark or Unpublished Facebook Post – The most successful advertisers create unpublished Facebook posts. Don't know how to create them? Here's your guide!
2. Facebook Link Thumbnail Image Dimensions [Reference] – Facebook updated thumbnail images to take up the width of the News Feed. This was a huge development for publishers. But do you know what image sizes to use? Here's your guide!
And my #1 blog post of 2013? Drum roll, please…
1. The Secret Process to Increasing Facebook Likes – I guess this shouldn't have surprised me. People want to know how to get more Facebook Likes. They obsess over that number, and I'd argue most focus far too much on it. But I'll gladly help educate on the proper way of building a relevant audience. Here is what I do!