A potential client once asked me how much time they would need to dedicate to their Facebook marketing efforts in order to be successful. I told them that it would take at least a couple of hours per day. His response:
I don't have time for that.
It's a conversation I've had several times over. And up until recently, the response I received frustrated me to no end.
It takes time to nurture a community on Facebook. Your strategy also shouldn't live on an island, and should integrate efforts on your website, other social networks and your email marketing. So I saw "a couple of hours per day" as being a very conservative estimate.
The problem, of course, is that many people simply don't have the time. In those cases, I've been far too quick to shrug and say that it's not worth trying.
I've come to the realization that there is a place for these people on Facebook. While their potential success may be limited by the time they put into it, that doesn't mean they can't make an impact.
No Jumping From a Plane

I finally understood this on a weekly call that I have with my business coach, John. He presented a potential client and asked what I would recommend for them. I gave my song and dance about how it's a commitment. His response:

He's not jumping from an airplane

It took me a second, but I got it. Up until that point, I was only giving one option. To be successful, you had to put on your parachute, fly up into the sky, and jump 10,000 feet from an airplane. All this person wanted to do was jump off of the diving board.

I have to accept that not everyone has access to the airplane. Not everyone has the time to practice how to jump. And not everyone has the desire to jump in the first place.

I was putting everyone into the same category. That was a mistake.

Let's think of the typical entrepreneur. No staff or assistant. All of the person's time is spent speaking, traveling, consulting and developing business. Sure, you and I may think that there's always time for blogging and Facebook in there, but some people will never agree. How can such a person still benefit?

Here are the eight things that someone with limited time can and should do to establish a viable Facebook presence…
1. Create a Page

Okay, this is the easy part. But while it may seem obvious, many still miss this step and instead try to run their business identity through a profile. While this is more doable these days with subscriptions, I still strongly advise setting up a business Page since there are benefits that are not available to personal profiles.

Go here to create your Page.
2. Fill in the Details

There are several text boxes that you can fill in to explain your business. Use them! People visiting your Page will want to find out more about you. If they can't find that information, they'll get frustrated and leave. Additionally, use keywords relevant to your business since this can help you get discovered on search engines.

Make sure you fill out the following:
Founded date
Address
About (this will appear under your Cover Photo)
Description
Mission
Awards
Products
Contact info (phone, email, website)
Take your time on this! Since you will not be updating frequently, you are putting all of your efforts into how you explain your business.
3. Focus on Imagery

Look at your Facebook Page as you would a website. You need to create a good first impression. That starts with a warm profile photo, an interesting cover photo and the tab icons.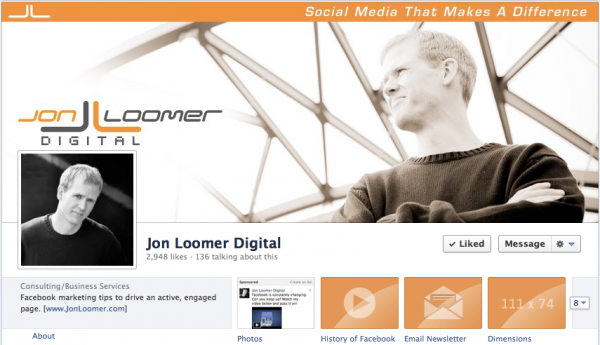 These things need to be consistent with your company branding, sticking to a theme and color scheme. They also need to look professional. If you need to hire a photographer and a designer to get these done, do it!
Again, since you aren't going to spend a lot of time nurturing an audience, your focus should be on generating business based on first impressions. So how you convey your image will be critical.
4. Tell Your Story with Milestones

When did you open your business? When did you make your first dollar? Who was your first client? When did you receive your first award?

Tell your story!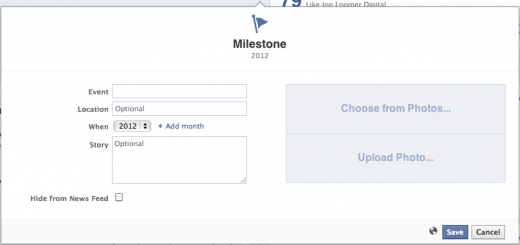 Use Milestones to map out what you've done and who you are. Look at this as a visual LinkedIn profile or résumé. Choose engaging photos to complement the stories you tell with those Milestones. Make it something people will want to read!
5. Add Three Tabs

Under your cover photo, there is space for four icons. These represent your photos and three tabs of your choice.

This is your chance to collect leads, display your portfolio, tell about who you are, etc. What goes in these three boxes will depend on your goals. Here are a few ideas:
A video of you introducing yourself
An image gallery of work that you've done
A contact form or email subscription form
A list of services and price points, with form
Your eBook, white paper or other download
Each tab should satisfy a business goal. These three tabs should represent your three priorities for your business and your Page.
This will take some technical know-how. I personally use ShortStack to build all of my tabs. But again, feel free to spend some money to have someone do this for you.
If you don't have the time or ability to build your own tabs, let me do it for you. Fill out the form below for a quote:
[gravityform id="18″ name="Free Consultation" title="false" description="false"]
6. Update Once Per Week

I know, you're a busy person. But set aside some time once per week to update your Page.

Don't skimp here. Post something interesting. Share a photo, a video, an interesting link or a story. Don't just broadcast, but ask for your fans' opinions on what you're sharing. When possible, have it lead to business.

During that window, also expect that some people will reply to your post. Take the time to thank them and respond. No, this isn't going to take hours. Assuming your audience isn't huge, it will only take a few minutes.
7. Add Facebook to Your Business Card and Email Signature

Now that you have a Facebook Page, you must tell the world! Put a link to it in your email signature and list the URL on your business card. If you don't think it's important enough to share in these places, then it's not important enough to have.
8. Spend $50 Per Month on Facebook Ads

The problem with the first seven steps is that if you aren't actively engaging your audience then it will be difficult to grow. And the main goal of your Page is likely business development. So let's develop some business.

You need to be aggressive here. Drive potential business to your Page with Facebook advertising. BudgetA budget is an amount you're willing to spend on your Facebook campaigns or ad sets on a daily or lifetime basis. More about $50 per month for this purpose. Send these people to one of the tabs you created earlier that describe your business and/or services, complete with a form. Skip the small talk.

While most Pages are focused on number of fans, that's irrelevant to you. Whether or not they like your Page doesn't matter that much. You want them to fill out a form so that they get into your potential business pipeline.

I assume you've never run ads before. Once again, I can do this for you. Fill out the form below for a quote:

[gravityform id="18″ name="Free Consultation" title="false" description="false"]
In Conclusion

I know, you came here expecting shortcuts. You wanted it to be easy. It's easier, but you're going to need to do some work up front.

No, you don't need to spend multiple hours per day or even per week to make an impact with Facebook. But just as you need to spend some time thinking through how you want to portray your business on a new website, you should take the same time here. You'll need some budget to build it and possibly grow with Facebook ads. But otherwise, you can get by with limited effort… once it's up.

Do you know of businesses that have been successful on Facebook with limited effort? Let me know below!