Mashable announced earlier today that Facebook would bring recent stories options back to the news feed. Well, that didn't take long…
Just a few minutes ago, I noticed the subtle new option at the top of my news feed.
And if you click on the link for more info, you get this…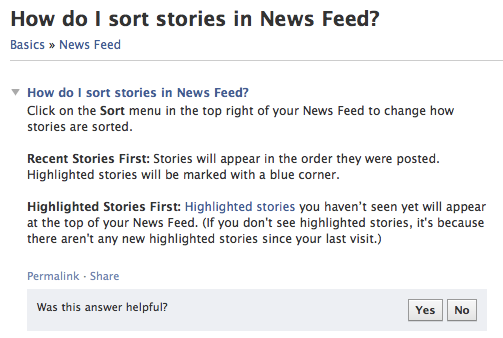 It's not complicated. You now have the options of either getting the Recent Stories or Highlighted (or Top) Stories first. This is a good move.
Initially, I was totally cool with the new, compact News Feed. Particularly in the first few days when it seemed I was on Facebook constantly, I didn't see how annoying the change could be. Over the past few weeks, I've become increasingly confused and frustrated by the order of what is displayed. I've wanted an option to view my news feed chronologically again.
Ask and you shall receive, eh? Although… I guess I asked telepathically. Thank you, Facebook.
How about you? Happy about the change?